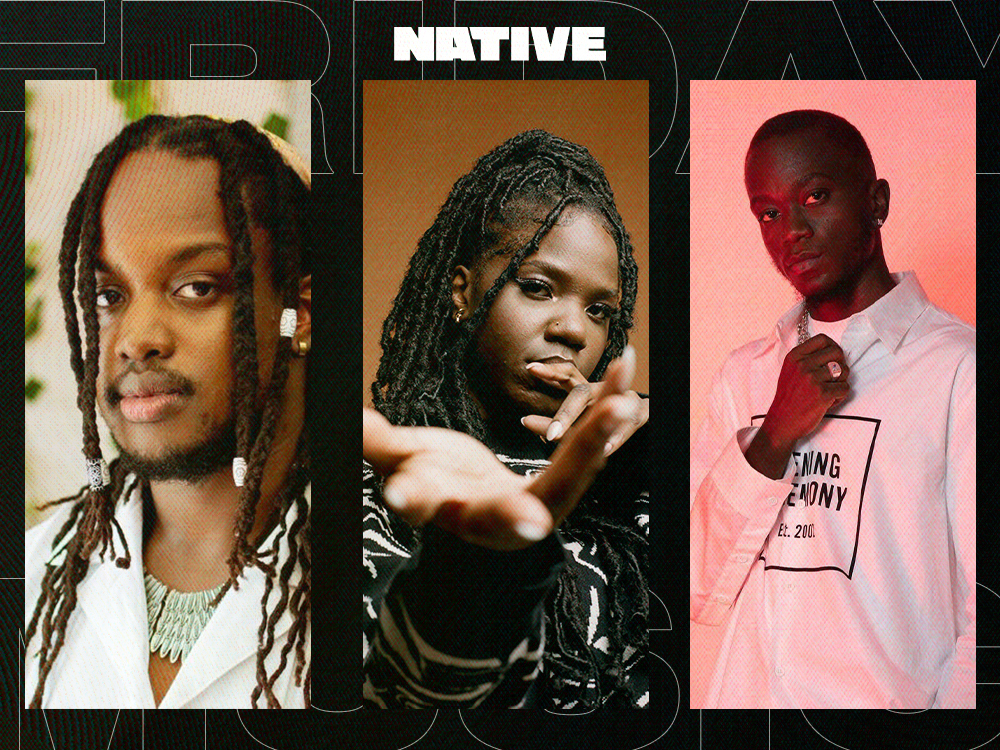 New Music Friday: New Projects From mau from nowhere, ENNY, Mellow & Sleazy & More
tunes for the weekend
The wheels of Afropop never stop spinning. More than ever, artists are utilising their creativity for the satisfaction of music fans around the world. These projects serve the purpose of preserving a moment (or moments) and distilling them into sonic pleasures. On this week's New Music Friday, there are exciting new releases from Kenyan genre-bending artist mau from nowhere, British-Nigerian rapper ENNY, South African 'Piano auteurs Mellow & Sleazy and Felo Le Tee, and more projects from across Africa. Get into it below.
MAU FROM NOWHERE – 'THE UNIVERSE IS HOLDING YOU'
On his debut album 'The Universe is Holding You,' Kenyan-British artist/producer mau from nowhere interrogates existential concerns, ranging from romance to loss of self. The uNder alum incorporates his rapping and singing skills into the self-produced genre-defying project, which features guest appearances from African acts including Maya Amolo, NAiLA and MAUIMØON, among others.  'The Universe is Holding You' contains previously released singles "Try," "Dogtail," "Ghost," "I Like," the Maya Amolo-assisted "s_t_l" and "Refuse Refuge."
Uzoma Ihejirika
ENNY – 'WE GO AGAIN'
British-Nigerian rapper ENNY provided one of the brightest moments in 2020 with "Peng Black Girls," a wholesome and inclusive celebration of black femininity. She followed up with the impressive 'Under Twenty Five', a coming-of-age project that purposefully expanded on the soulful foundations of her sound. Today, ENNY drops her sophomore project, 'We Go Again', an impressive feat in portraiture that finds the rapper healing from the emotional turmoil of toxic relationships and asserting herself as a dynamic person on the previously released lead single, "Champagne Problems." British-Guyanese rapper Loyle Carner joins the previously released closer, "Take it Slow," as the project's only guest.
Dennis Ade Peter
MIZZLE – 'NOW YOU KNOW'
Nigerian artist Mizzle (real name Anifowoshe Temitayo Michael) has been on the grind since pushing his production and singing skills on social media by recreating musical patterns of mainstream acts and releasing his 'In The Dark' EP in 2021. He returns with another EP 'Now You Know,' staking his claim as a promising act with his unique take on contemporary Afropop. The 6-track project has only ODUMODUBLVCK as a guest feature and all songs are produced by Mizzle.
Uzoma
FELO LE TEE & MELLOW & SLEAZY – 'THE III WISE MEN'
In just close to two years, South African producer duo Mellow & Sleazy have earned their stripes as leaders in Amapiano. Co-pioneering and playing a huge role in popularising the Bacardi-tinged strain of 'Piano, the pair are known for their inventiveness and a consistently growing catalogue of hits. A week before releasing the sequel to last year's 'Midnight in Sunnyside', their latest drop is a joint project with 'Piano veteran and fellow hit-maker, Felo Le Tee. 'The III Wise Men' is packed with guests, including NATIVE uNder alum Chlèy, MaWhoo, Masterpiece YVK and several other notable names in South Africa's ever-expanding Amapiano scene.
Dennis
HUNTER ROSE – 'BUTTERFLY'
South African act Hunter Rose has curated an enviable catalogue of music that delves into the sweetness and complexities of love and relationships, with both personal and collaborative bodies of work. She continues in that path on her latest EP 'Butterfly,' merging her R&B/Soul sensibilities with elements that borrow from Jazz and Funk, among others. 'Butterfly' asserts Hunter Rose's dedication to finding pleasures in romance and discarding the negativities that sometimes come with it. 
Uzoma
KWEKU SMOKE – 'OLD COMPOUND'
Kweku Smoke is one of the most prolific and exciting acts in Ghanaian rap at the moment. Often rapping over booming trap and drill beats, his voice possesses a serrated edge that adds a lived-in colour to his bars. After dropping two EPs in 2022, he's opening his account for this year with 'Old Compound', a 6-track project paying "homage to the blocks that built him." Unlike last year's guest-laden 'Big Shmoke', he mostly goes solo on this EP, with the sole guest appearance coming from Ghanaian pop star Kuami Eugene on the romance-themed "Be Mine."
Dennis
Featured image credits/NATIVE