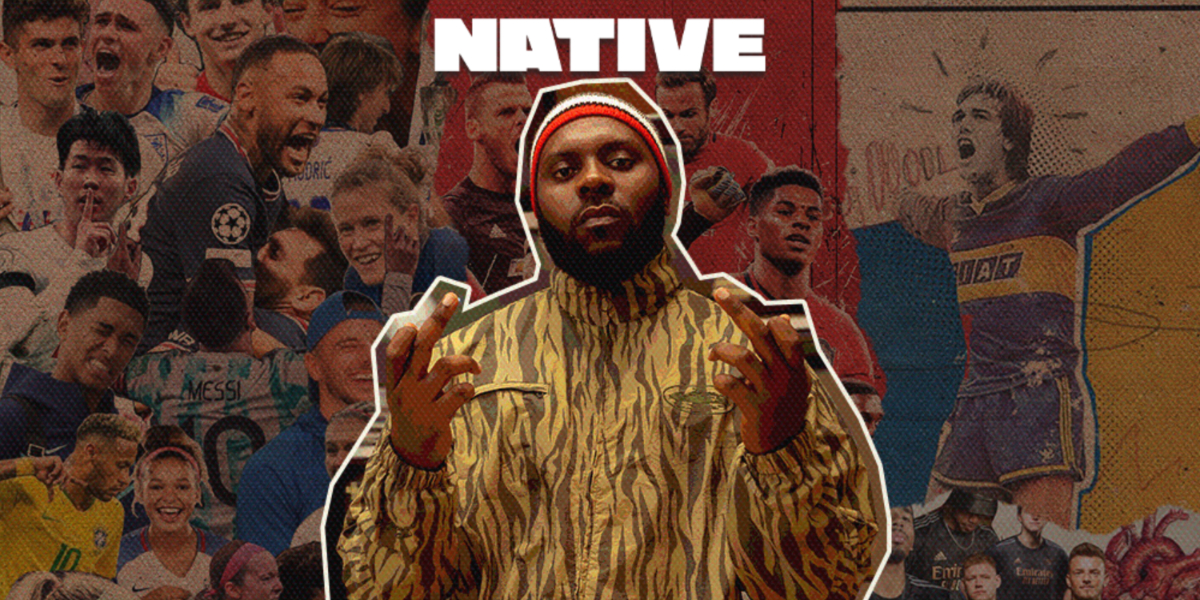 A Look Back At Odumodublvck's Best Football References
The rapper's fascination with football enlivens his bars
When it comes to rap, metaphors are a potent device. Being technical writers, comparing someone or something to another thing allows rappers the space to illuminate perspective in a surprising way. ODUMODUBLVCK is one such rapper; since entering the heralded Abuja scene before the turn of the 2020s, the rising artist has packed an exciting set-up of sporting references in his work, most regularly drawing from the technical aspects of football and as well some personalities in the sport.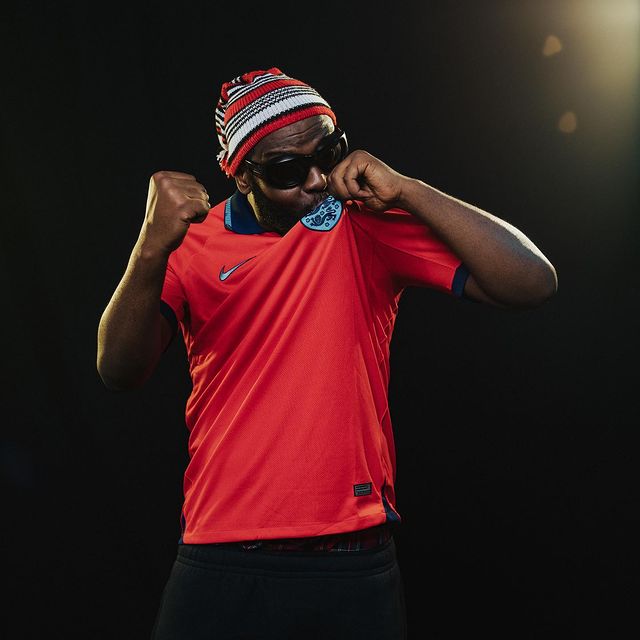 Across the distinct history of rap, several MCs over time have created inimitable portraits of themselves through references. The legendary stature of Mode9 was referenced partly through his several football references, while the likes of Kendrick Lamar and Drake have rested their catalogue's autobiographical heft to their respective hometowns of Compton and Toronto. For ODUMODUBLVCK, the relationship with football is similarly personal, as he'd once nurtured dreams of a professional career before the (in)famous injury turned him onto music instead. 
With "Declan Rice" being the hottest song in the country right now (reaching No. 1 on Apple Music and Spotify), the time is prime to recollect some of ODUMODUBLVCK's best football references. Across the dense backlog of projects he's built from his underground years to his more recent releases flecked with ominous pop influences, there's a lot to unpack in how ODUMODUBLVCK has used football to reiterate his mental strength and the peculiar skillset that makes him one of the most promising torchbearers of rap music right now. 
"DECLAN RICE" – ODUMODUBLVCK
Year: 2023 
Lyric: "Do like Declan Rice."
So far the most penetrative of his footballing metaphors, it's peculiar how there's only one reference on this track. Subverting typical notions of what a track named after an actual person should sound like, ODUMODU uses the acclaimed strength of Declan as the base for his proclamations. The West Ham captain might not be the most popular English international, but he's a dedicated member of the squad and he's the representative figure of its relentless push to the zenith of English and European football. More than most, Rice demonstrates that it's possible to do great things from a small place, and it's an ethos ODUMODU has reflected ever since coming from the Abuja scene. Refusing to fully relocate to Lagos, he's doing like Declan Rice on many levels: staying with the community, tackling the industry hard and leading his people to greatness. 
"KEVIN DE BRUYNE PASS" ODUMODUBLVCK FT. REEPLAY
Year: 2021
Lyric: "As I dey run my race, I dey smell canta/assist my man with Kevin De Bruyne pass." 
Kevin De Bruyne is widely regarded as one of the best midfielders of all time. A captain of English Premier League side Manchester City, he's famed for the breadth of his assists. Pulling diverse range on his playmaking, he's arguably the best creator still active in the game, a quality his teammate Erling Haaland has massively benefited from. ODUMODUBLVCK is likewise a team player, someone who's eager to carry along his peers. Like De Bruyne, he has been recognised for his individuality, but his legacy as he's so far reiterated is to lead his family to the promised land. 
"OYOYO" – ODUMODUBLVCK FT. CH1DZ
Year: 2022 
Lyric: "Soldiers of the kingdom, we dey tackle ojoro."
Asides from footballing metaphors, ODUMODUBLVCK also has a knack for religious allusions. He's often spoken about his strong faith as a Christian, and it's all of these diverse strands of identity that make him so magnetic as an artist. In this cut from 'The Drop,' his collaborative tape with B.O.C Madaki, he pairs both worlds in the quoted lyric, emerging with imagery that's as stark as it is elusive. When he calls himself a soldier of the kingdom, the immaculate force of angelic stories comes to mind, but it's his tackling of ojoro that highlights something of an industry flaw, the hype that previously eluded him. But through his grace and grit, he's making the industry take notice of communities outside the epicentre of Lagos. 
"ODIEGWU" 
Year: 2021
Lyric: "Defend my soul, Celestine Babayaro."
The Super Eagles team from 1994 to the Olympics-winning '96 was one of the best teams in the world. Achieving a continent-high FIFA World ranking of 5th place, its myth is ingrained in the popular culture of not just Nigeria but Africa. An important part of the latter team was Celestine Babayaro, a left-back who sometimes played as a midfielder. Here ODUMODU makes the reference to Babayaro's footballing position, but he also incorporates commentary on preserving his uniqueness as an artist, which isn't an easy feat considering the fast-shifting nature of the music industry. As he's since shown, ODUMODUBLVCK has been delivering on this promise, and I'm sure Babayaro would be proud of his defending. 
"DOG EAT DOG" 
Year: 2022
Lyric: "My baby give me big koroba, she dey lap for my yard/I dey find kaluba, I say make I feel among, Lacazette I dey fire like that."
Bravado is a defining trait of ODUMODUBLVCK's music, but being a versatile lyricist, he knows how to branch out those plains. "Dog Eat Dog" is one of his few records that centre romantic themes, coasting over ODUMODU's vocal background and the laidback production. Regardless of the stripped mood the song imbibes, the rapper uses a football metaphor to enliven one of its hooks. "Lap for my yard" references the famous goalkeeper-resident 'Box 18' in football pitches, an off-kilter way of saying his lady loves being intimate with him, while the mention of former Arsenal striker Lacazette firing like that flips the perspective onto his desires. In one progression, with the aid of the established imagery football provides, ODUMODUBLVCK creates such a stirring, sensual lyric, and the best thing—even the radio can't sanction this.
"DUVAN ZAPATA" – ODUMODUBLVCK
Year: 2021
Lyric: "Muscle full ground like Duvan Zapata/Italo mafia, headquarters dey for Atalanta/Keeper vanish before I load am, with my back to goal, with a shangalo, I scatter the post ah." 
Colombian international Duván Zapata is a burly forward. With his career taking him to different football leagues across Europe, he's currently a player for Italian Seria A side Atalanta FC. Zapata might not be mentioned among the great strikers of his generation but during his prime, his combination of athleticism and technical quality was feared by opposing defenders, and it's that image which ODUMODUBLVCK holds up here. Detailing what is arguably the most outlandish move in football (the overhead kick, otherwise known as Shangalo), he makes a case for his flair while evoking the communal and dangerous association of being part of a mafia. 
"OJUJU CALABAR" ODUMODUBLVCK FT. REEPLAY & AGUNNA
Year: 2021 
Lyric: "I catch you for post, it's a goal." 
When he's not defending his soul, ODUMODUBLVCK is the one making the charge. He's the guy with the ball at his feet, capable of doing anything and going anywhere. He's the one who hits the net, as he reminds us on this cut. Assertiveness has always been a trait necessary for artists to create and it's everywhere in ODUMODU's music. On this particular bar, he opts for simplicity, but the message is clear and confident. 
Featured image credits/NATIVE
---