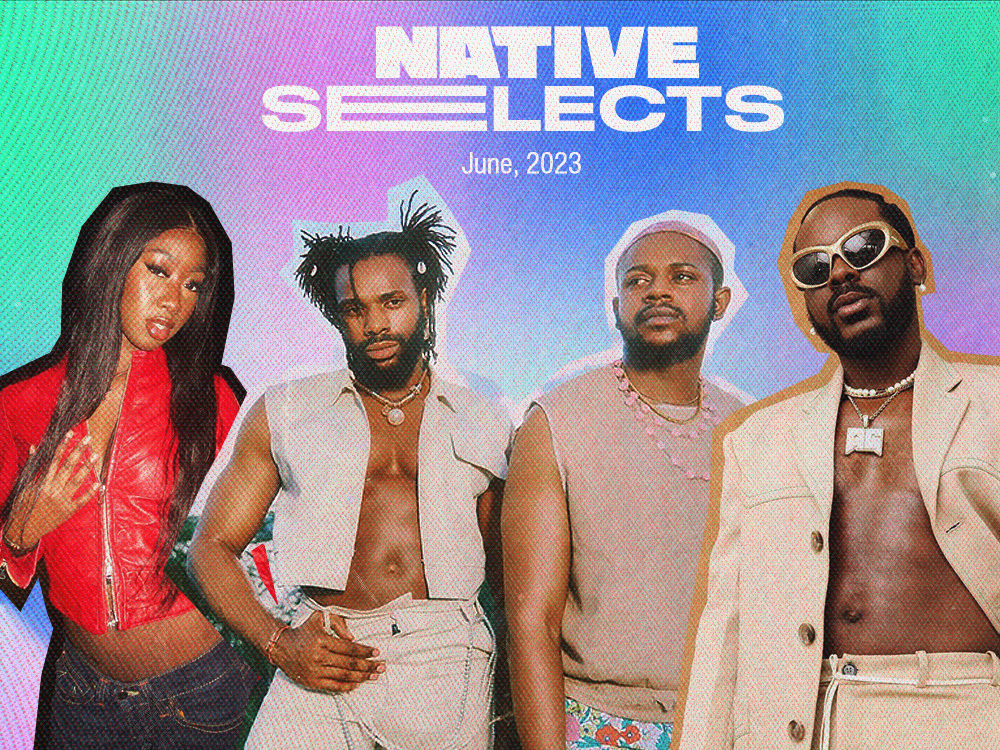 NATIVE Selects: New Music From DEELA, Adekunle Gold, The Cavemen
kickstart your weekend with some new tunes
Every week, new music shows up, sweeping fans and music lovers off their feet while artists gauge reactions to know the effect of their creativity. At the NATIVE, we are committed to keeping our ears on the pulse of the music scene and bringing the best sounds to your doorstep. In our last edition, we brought you new releases from Prince Kaybee, DJ Maphorisa, Spyro and more. Today, we have songs that move from Afropop to Amapiano to R&B, with our select artists showcasing their unending talent and passion for creativity. Lock in!
ADEKUNLE GOLD – "OGARANYA"
Geared to release his new project 'Tequila Ever After', the mercurial Adekunle Gold has shared a single. It's a record as gracious as it is recognising his legacy, arriving that delicate mix through the evocative pen of AG. With warm, rootsy percussions building around his vocals, it's a reminder of the distinct quality Adekunle Gold provides afropop, indeed setting up the forthcoming album in a scintillating way. 
DEELA & FLO MILLI – "TAKE IT UP(REMIX)" 
The rap girlies are back and thriving! Deela's "Take It Up" was already an anthem for a number of reasons. Other than the heart thumping drum pattern created to have your head bopping at the drop of the first note, Deela's lyrics are so brazenly real. Deela is fed up and she's not not sparing any feelings as she effortlessly rides the wave of the beat, "Take it up with another hoe who cares you fucked up." What started as a TikTok comment section interaction has turned into a glorious co-sign from Flo Milli. Deela still takes the first half of the song up until the intoxicating hook, after which Flo Milli taps in. Her light vocals bordering on the higher register beautifully contrast Deela's. Similarly fuelled with passion, Flo Milli expresses her uncaring nature towards an old flame. 
KHAID — "ANABELLA"
One of the most consistent youngsters in the past few years, Khaid's sound has imprinted itself on the consciousness of many afropop listeners. From "Jolie" to "Carry Me Go", his utilisation of everyday narratives to spin poignant stories on love hasn't gone unnoticed. On his new song, he doubles down on the technique, culling Highlife-esque guitars to serenade a love interest. It's ultimately a groovy record with obvious nods to the 2010s Nigerian Pop sound, highlighting Khaid's intentionality as an artist. 
THE CAVEMEN. — "OPEN YOUR MIND/SAVIOUR"
Since entering the scene just before the 2020s, The Cavemen have utilised the iconic genre of Highlife to dizzyingly excellent results, releasing two acclaimed albums. With their sound having caught on the biggest artists and audiences around the world, they've released their first singles of the year. "Open Your Mind" is the quintessential gyration melody, using the genre's typical woodwork to call people to dance. On the other hand, "Saviour" is quite the spiritual record, adapting the sparse movements reminiscent of Ghanaian Highlife to preach their individuality. "I no fit be your saviour," they sing with exhilarating emotion, embedding a classic vibe onto the record. 
PATORANKING FT. POPCAAN – "TONIGHT"
When two dancehall icons connect, nothing short of greatness should be expected. "Tonight" draws a successful sonic line through the local flavours of Nigeria's dancehall riddim to that of Jamaica, by way of Popcaan. Soundtracking a good time is the obvious intent, and both artists are masterful in their execution, their voices melding with the ease of water. Cue in the peculiar beat drop and the whistles in the background, and the song's boppy quality is undeniable. 
EUGY – "CHOSEN"
Ghanaian artist Eugy is known for his colourful takes on R&B, but on his new single "Chosen" he adopts an audibly different gaze. More rap than blues, every lyric assumes the heated poignance of a prophet, as Eugy unfurls the manifestations of the life he's chosen. Almost every line is quotable material and the hook effortlessly complements the forward-facing subject matter, making this one of those soulful records you put on the speakers just after waking up. 
JINMI ABDULS – "SARAFINA"
Once crowned the Prince of Highlife, the Lagos-bred Jinmi Abduls has taken his artistry onto broader sonic plains. Among the genres he's increasingly delved into is R&B, its plush narratives finding a natural ally in Jinmi's affectionate pen. "Sarafina" benefits from these, a mid-tempo record which moves with the truism of a man falling in love. "Oh Sarafina, I dun lose my focus," he sings in the heartfelt chorus, as the building instrumental creates, truly, an epic feeling of desolation and longing. 
GABZY – "HEAR ME OUT"
One of the most exciting R&B artists in Nigeria, the music of Gabzy has long been an intriguing package. Best known for his work with producer Melvitto, the artist has worked broader in the industry, bringing his sound more novelty and freshness in recent times. "Hear Me Out" is a string-based record with soulful finishes, drawing on the popular theme of convincing one's love interest of their genuine desires. Gabzy's vocals embody this feeling, giving the song an intimate core it benefits from. 
ITUA – "FAVOURITE SOUL"
The Dutch-Nigerian artist ITUA has a wide artistic range. Becoming a drummer by the age of nine, he's explored genres from R&B to Soul and afropop in recent years, utilising his distinct life experiences to draw deep meanings from everyday situations. "Favourite Soul" is a stripped, spiritual song, lit up from within by the subtle touches of ITUA's drumming and evocative notes. Even his vocals are in sync with the song's melancholy, in all creating a truly epic feeling through its runtime. 
MUTHAKA & BENSOUL – "SECRET LOVER"
Over the years, Kenya has become one of the prime destinations for discovering great R&B artists. "Secret Lover" joins the unique talents of Muthaka and Bensoul, a warm duet whose replay value is evident with every listen. Starting off the record is Muthaka, whose lithe vocals embrace a sensitive direction, while Bensoul's svelte tone excites in the background before his verse. It's a fine song with sufficient measure. 
RUNDA – "BEAUTIFUL LIES" 
Love contributes to some of the most conflicting emotions. In its happier times, it forms a wholesome haze and when things go sour, life comes crashing, pleasure becoming pain. "Beautiful Lies" captures the bittersweet spectrum of those moments, a truly remarkable song by Runda. With its accomplished soundscape and the artist's vocals meeting beautifully, it's a record that would soundtrack very important moments for its listeners.  
NU BABY – "TAMPICO" 
The Canada-based artist Nu Baby has contributed distinctly to the sound of afropop, from his diasporic base linking hands with the movement's sonic peculiarities. "Tampico" extends that vision; drawing an immersive soundscape by pairing a tropical guitar movement with the usual drums. Moving with the sexy serenade of a dancer, the song mirrors the highs of love which Nu Baby sings about, making it work on different levels. 
Featured Image Credits/The NATIVE