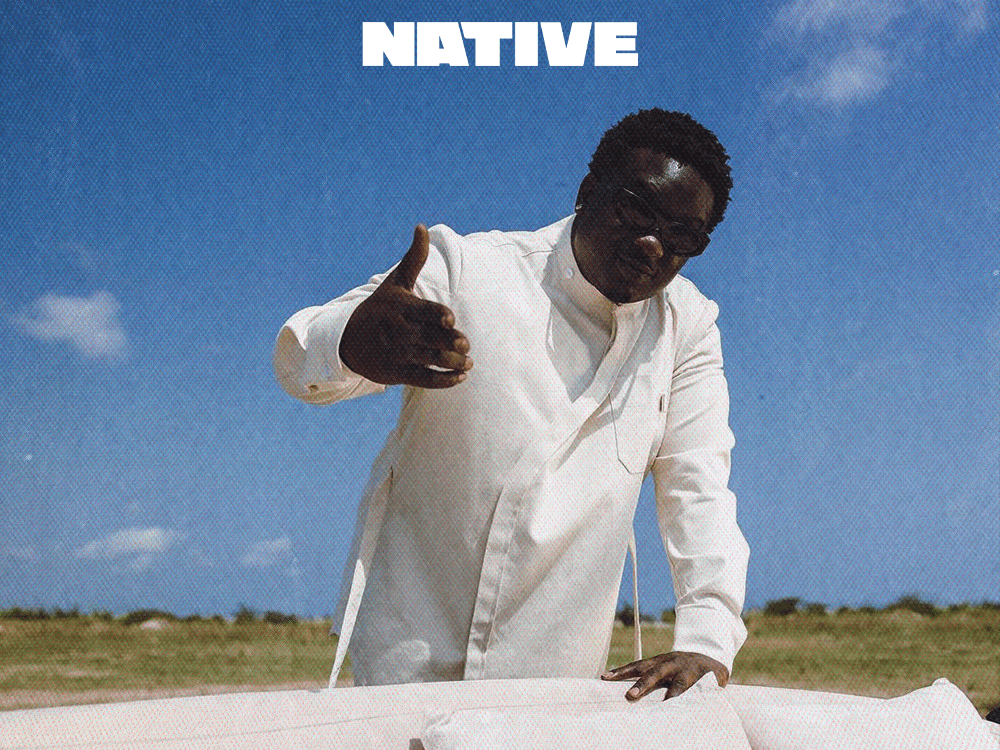 NATIVE Exclusive: Wande Coal Is Embracing Reinvention
"I'm persistent and consistent and I'm happy with what I've done"
Fourteen years ago, Wande Coal stamped his authority on the Nigerian music scene with his 2009 debut album 'Mushin 2 Mo' Hits.' Buoyed by the amazing sonics of Don Jazzy, producer and co-founder of the defunct label Mo'Hits Records, as well as the energetic submissions of other members of the Mo'Hits Crew in D'banj, D'Prince, Dr SID, K-Switch, Wande Coal wrought his immaculate vocals to stunning effect, scoring hits with "You Bad," "Bumper 2 Bumper," "Taboo," "Ololufe," and the likes.
After 'Mushin 2 Mo' Hits', he put out more hit singles, became the foremost star of a newly emergent Mavin Records, then a messy split led to the formation of the self-floated Black Diamond Entertainment, under which he released his 2015 sophomore album 'Wanted.' Over the years, Wande Coal has kept up with the changing tides in the Nigerian music industry, blending his musicianship with the sounds of the times, while retaining his old fans and adding new ones to his portfolio. "I'm persistent and consistent and I'm happy with what I've done," he tells me on Tuesday afternoon earlier this month.
Following a thread of impressive singles and features, Wande Coal released his highly anticipated third project 'Legend Or No Legend'. On the album, he works with both old and new stars (artists and producers) and fearlessly experiments with sounds as he deems fit. In a NATIVE track-by-track, Wande Coal broke down the connections and moments that fuel the songs on the project, revealing an aura of camaraderie as essential to his creative process. For him, 'Legend Or No Legend' is reflective of some of his life journeys throughout the years. "There's a song called "Don't Feel Love"; there was this time I was in a relationship [and] it didn't work out. [The song] was just a way of me showing my emotions," he says. 
"'Dues' is a way of saying, 'I've been in this industry for a while and I really know what I'm doing and I really know what I want.' And you know in the music industry you have ups and downs and sometimes you just feel like you don't want to do this no more but the drive and focus is what I take. When I focus, I just want to do better things and it reminds me of how I started in the game. Also 'Nobody Holy,' 'Nobody Holy' shows how nobody's perfect. I'm not perfect. You cannot just expect everything to be rosy on all levels because everybody goes through their own [bad times] unless they lie that they don't go through their own, you feel me? So, that's how I see it."
In the days Wande Coal debuted with 'Mushin 2 Mo' Hits', the Afrobeats genre was still gestating and constructing the elements that made it the global success it is today. Wande Coal, being one of the luminaries of the genre, admits that while he has adapted to the new changes in the industry, he still upholds his ethos of pushing the boundaries of sound. "I was like 21, 22 when I came into the industry, and I made sure that I made an impact as soon as I came in," he says. "So over the years now, I've been able to show my versatility, being articulate with words, teaching vocab in different slangs and still not deviating from my culture [as Yoruba and Nigerian]."
Numerous Nigerian artists of the current times have admitted to Wande Coal being influential in their sound and style. For Wande, it is an honour to continue to set trends with his career and impact present and future generations. With 'Legend Or No Legend,' he shows his gift by writing all the songs on the album, thereby reaching into different parts of himself to make music that will resonate with the public. "This has always been my MO. From 'Mushin 2 Mo' Hits,' you could tell that all the songs are different," he says. "'I Know You Like' is a different sound. 'You Bad' is a different sound. I would always give you different sounds. That's one. [Secondly], I would always find a way to do something different that would captivate the crowd [and] sounds like 'Kpe Paso,' 'Ebelebe,' 'Nobody Holy,' and 'Dues' would always make that impact. 
"And whether you like it or not, music is so universal to the point that it reaches everywhere, there's no restriction for music. That's what a lot of people don't get. Music is never going to stop. People listen to Juju, people listen to Afrobeat, people listen to Soca, people listen to Reggae – it's all types. So, for me, to be able to touch different zones and people and different nationalities makes me feel happy. That's one thing I want to do and that's what I've been able to do."
One time, while Wande Coal readied the songs for his new album, he came across a Twitter post that posed the question: "Is it right to call Wande Coal a legend?" A lot of people descended on the post with differing sides arguing for or against Wande Coal's status as a legend. Amused by the ruckus, Wande Coal responded to the post, writing, "Legend or no legend, I just love making good music." His words immediately ended the debate. Inspired by that incident, he reached out to his team and informed them of the title of the album: Legend Or No Legend. Wande opines that, for him, the rewards of making music lie in the act itself and how his audience receives his work.
"Being relevant at this time is a success. Having to be present in this time and still doing good is a lot of success," he says. "I've been around the world, I've done a lot of tours, I've done a lot of things, and I'm grateful for where I am. Happiness is success to me. As long as I'm happy, I'm successful. As long as I'm breathing, I'm gonna be successful, you know. The mindset [of success] that people think is that you have to have all the [material] things but for me, as long as my health is okay, I'm successful. That's my state of mind. 
"People have to also love themselves, you know. First, you have to love yourself, regardless of what people say. People measure success with different things but as long as within you, you know what you're doing is good, you have a true heart, you're hardworking and you're prayerful, trust me, you're successful."
In 2018, Wande Coal inked a recording deal with an American company Starstruck Management and its partner EMPIRE, respectively. In 2019, Wande Coal released his first single "Vex", produced by Sarz. He then followed up with his EP 'Realms' in 2020, that had a continental hit; "Again".
Last year, Wande Coal was featured in EMPIRE'S first compilation project alongside other independent and EMPIRE-affiliated artists such as Kizz Daniel, Asake, Tiwa Savage Olamide, Black Sherif and Fireboy DML, among others. Wande Coal believes that the relationship between him and EMPIRE is "organic [and] meant to be."
"EMPIRE is a family. I remember the last time they took me to America, I was in a studio; they had like seven studios in one building. It was crazy," he says. "And then they had a different hallway [where] you could go eat [and] you go chill. You know how you go to a school and it's just music that you're doing? That's the relationship and the idea that I love about working with them. They give you a space where you can come out there and work, and not just work with yourself but work with different producers, work with different artists, [and] work with different A&Rs. It gives you an open space to explore."
The eight years between 'Wanted' and 'Legend Or No Legend' has taught Wande Coal that his music has a spiritual element to it, which is what he believes gives appeals to listeners and adds longevity to his career. He has enjoyed tremendous success with 2016's "Iskaba," 2017's "Tur-Key Nla," 2018's "So Mi So," 2019's "Gentility" with Melvitto and 2020's "Again" as well as 2021's "Come My Way." "I've noticed that my type of music grows on people [and] it gets to a lot of people, [and] I'm happy that my music does that," he says. He also acknowledges the differences in the music landscape compared to when he started and is appreciative of his success.
"Back then, it wasn't about social media. It was about your talent. It was about doing the necessary things to be out there," he says. "Right now, it's about networking, it's about social media, it's about influencing people. I feel like it's a good thing. And also it's not [only] about that [social media and networking], the music has also grown from back then to now. The Afrobeats of then is different from what is happening now because right now, the international scene is involved in the process, which is a good thing that I've noticed over the years. So aside from social media, the music has also crossed over to the other side. It's a blessing in disguise, everything is working and aligning."
Beyond making music, Wande Coal hopes to utilise his position to assist new talents to hone their craft, most especially in the areas of writing [with and for them], creating concepts and A&R. He also shares his plans for promoting 'Legend Or No Legend.'  "I have different concerts already set down for me to perform in Europe, London, America and East Africa," he says. "And what I'm most excited about are the East Africans because I always want to feel that I'm African. I love that part of me because home is key for me."
Featured image credits/NATIVE