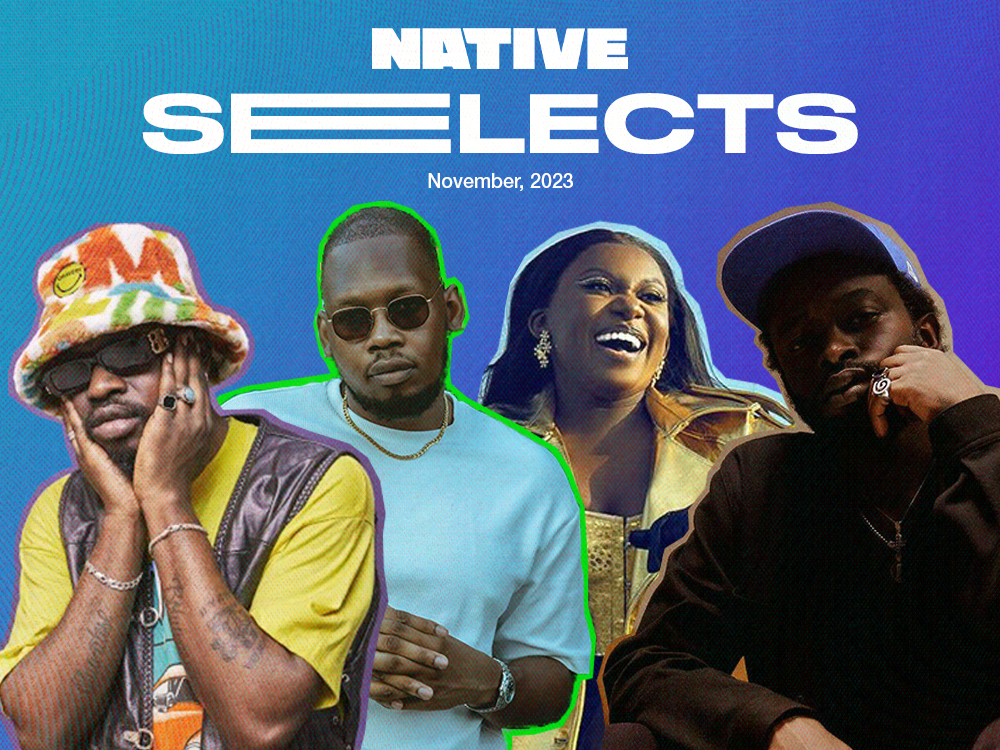 NATIVE Selects: New Music From Boj & Ajebutter22, Tim Lyre, Niniola & more
new music for the weekend
It's that time again. Every week, new music shows up, sweeping fans and music lovers off their feet while artists gauge reactions to know the effect of their creativity. At the NATIVE, we are committed to keeping our ears on the pulse of the music scene and bringing the best sounds to your doorstep. In our last edition, we brought you stellar new releases from Blaqbonez, Maya Amolo, Bantwanas, Shatta Wale and more. Today's NATIVE Selects features singles from BOJ & Abjebutter22, Tim Lyre, PDSTRN and more. Lock in!
---
BOJ & AJEBUTTER22 – "DITR" 
Boj and Ajebutter22's chemistry has never been up for debate. Since the pair first collaborated back in 2013 with the scene-stealing "Omo Pastor," the duo has gone on to deliver a slew of stacked releases including two iterations of the 'Make E No Cause Fight' EP. To round up the year, the dynamic duo link up once again since their last offering in 2019 with the third installment to the 'Make E No Cause Fight' series. DITR," the project's final track is an instant standout for many reasons. An acronym for 'diamond in the rough,' we see the pair take on what they're best at; serenading women. Ajebutter22 leads the Spax-produced track with an admirably smooth flow over the drum-led mid-tempo instrumentals. In their typical anecdotal fashion, "DITR" is coloured with various scenarios the crooners promise to show up for their love interest.
TIM LYRE – " WHY EVILS" FT TAY IWAR 
Tim Lyre is on a roll. After serving up his debut album 'Worry <' last year, the singer returns with an impressive 8-track project dubbed 'MASTA' before the year runs out. The project is packed with features from South African Amapiano crooner, Khanyisa, Minz and, the project's intro "Why Evils," is an instant favourite. Tim opens the track in a pensive state as a daunting piano chord invites audiences to listen closer to his words. He dabbles between singing and rapping as he questions life's evils while narrating an interaction with his love interest where he beckons on her for patience. Tay Iwar's mellifluous vocals perfectly contrast Tim's as he croons of needing a break from life's daily struggles
DUMOMI THE JIG – "MARIA" FT. NINIOLA & BLACK CULTURE
The Queen of Afro House is back. Niniola joins Black Culture and Dumomi the Jig for a new single titled "Maria." The track, introduced in by lush, twinkling chords takes a groovy spin with the dance-led beat and hypnotic bars by Dumomi the Jig. The Nigerian-born rapper expertly rides the wave of the beat with rhyming puns as shamelessly rains praises on his love interest, "Trying to meditate but cannot concentrate, be like I don nearly Crace for your sexy waist." He swiftly transitions into a melodious hook as he desperately croons for a chance with his love interest. Shortly after, Niniola takes over for a soft and sultry rendition.
SUMMER PEARL – "GREEN EYES" 
UK based Neo-Soul artist, Summer Pearl, unveils another layer of her artistry with her 13-track LP, 'outmysystem,' a melting pot of smooth Jazz, Hip-hop, Soul and Reggae. On "green eyes," the project's second track, Summer's buttery vocals croon over lulled piano chords and a light drum rendition, shortly followed by a shifted Hip-Hop flow. She explores a series of theme surrounding love as she sings praises to herself, "I'm like a broken record, I get scratched in all the best places/And as you continue to play me, my green eyes replace it."
PDSTRN – "OFFER" FT. VECTOR 
This Vector-assisted live performance features a series of melodious guitar strings, accompanied by a groovy drum pattern and PDSTRN's head-bopping rap cadence. "I fit give you offer wey you no fit decline, this feeling you no fit fight/E day my shoot the thing you dey find," he croons on repeat at the start of the track. Vector swoops in for a brief rendition over a slow tempo production.
OXLADE – "KATIGORI/PIANO"
Master producer, P.Prime helms the production on "PIANO," the latest single from Nigerian singer Oxlade's recent two pack release. The house leaning soundscape houses Oxlade's lush vocals which he uses to make promises and apologise to his love interest. Interestingly, but in typical Oxlade fashion, he accompanies his croons with comical chants and adlibs in the background. "KATIGORI," on the other hand, takes a more self-reflective approach. Oxlade is ready to face the uncertainty of the future, armed with the confidence of an expert as sets himself apart from his peers in the industry.
DELASI – "PERCEPTION" 
"Perception" leads this Ghanian artists self-affirming two pack release, ahead of his forthcoming extended play dubbed 'The Audacity of Free Thought' slated for release early next year. The groovy track is established by a rhythmic drum patterns and locally sung chants, shortly followed by silvery piano notes and Delasi's soft croons. He expertly explores the electronic-funk soundscape as he passes on a message of encouragement in the hook, "You can do anything, just believe in your dreams." He doubles down to express his feelings of joy and freedom once he successfully drowns out the naysers and their expectations.
KEAMO – "UNFOLD ME(AMAPIANO REMIX)"
Keamo's originally RnB single, "Unfold Me" takes on a new Afro-House face with assistance of Zambian DJ-producer, DJ Lowa. The previously slow-tempo single has now morphed beautifully into upbeat, energetic single, padded with Keamo's honeyed vocals. Through the course of the track, she addresses her muse, urging them to amicably part ways.
EGO ELLA MAY – "HIGHER SELF" 
The penultimate track off 'FIELDNOTES PT III,' this contemporary jazz singer explores the concept of self-love, encouraging her listeners to engage with the practice to enable them tap into higher versions fo themselves. As the track closes out, she melodiously hums, "Falling with yourself is all that you'll ever be, Falling with yourself is the only recipe."
JULIET ARIEL – "HOLIDAY" 
As the year draws to a close, Congolese singer, Juliet Ariel is reiterating the need for a holiday on this upbeat Signal-produced track. "Body no be firewood, don't want to stress, wanna keep it cool," she quips as she expresses her need to unwind after working through the year.
SELA VIE – "CHASING THE PAPER + MONEY"
Nigerian singer-songwriter, Sela is focused on her bag as we see in her recently released two pack single dubbed 'Chasing the paper + Money.' Through the course of the brief listen, we Sela tuneful R&B inclinations shine through on "Chasing the Paper" with groovy drum patterns. For "Money" on the other hand, she taps into a groovy reggaeton sound as she quips on staying focused on chasing the bag.
Featured Image Credits/The NATIVE