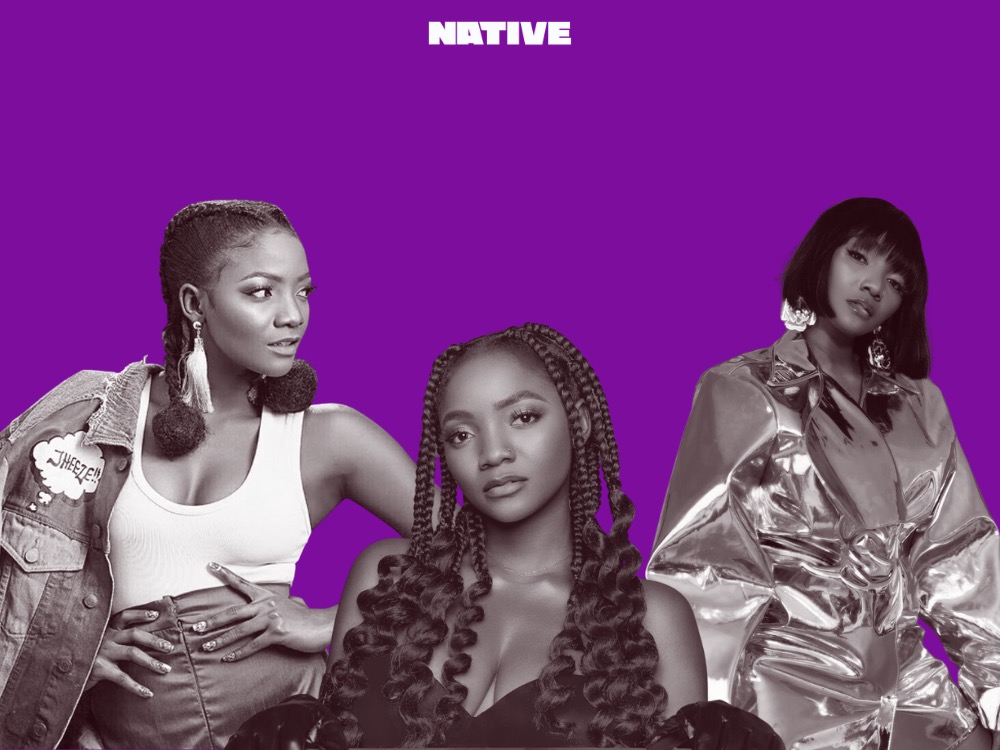 NATIVE Exclusive: The Vulnerable Art & Heart of Simi
masterfully bare across her fourth album 'To Be Honest'
Simi has always said her mind. Since earning her first act as a gospel singer 14 years ago, she has since retained her knack for emotional honesty as a pop star. If anything, her almost clinical sense for observation and exhilaration have blossomed with time. Those have been the defining qualities of her trajectory which has seen the 34-year-old power her way into a slew of classics and transcendental hit songs, and placing Simi in a sweet spot as one of Afropop's most important figures. 
That's why her fourth studio album, the recently released 'To Be Honest,' was received with such praise. Simi has been working on her fourth studio album since she got pregnant with her first child. During her pregnancy, she had to postpone its creation, and only now–three years later–is it being released. "I don't think the story itself changed," she shared with the NATIVE a few weeks before the album's arrival. "It was more of the energy that I wanted to tell the story with. I kept feeling differently about it, I kept changing my mind."
View this post on Instagram
When she announced that her album was titled 'To Be Honest', she shared it alongside a handwritten note detailing the journey from uncertainty to utmost confidence in the album she wanted to create. "I paused my impatience, listened to only the voices in my head, trusted in only the instincts I was born with," she wrote. "Now, when I listen in the dark, or in all the places the sun likes to shine, alone or with everybody else, it just feels right".
On first listen, the album's direction is masterfully distinct and lean. There are just three features, with Simi's writing remarkably reminiscent of a carefree poet's. The album offers vignettes into her life's trajectory, from growing in Surulere to getting her idols to hear her music, a detail which colours the warm assurances of "Story Story". She's defiant and positive on "Born Again", flexing her famed versatility over electric Dancehall-paced production. Elsewhere, she's typically vibrant and vocal, enunciating deep-seated desires with unvarnished honesty. 
"I wanted to tell my story about coming up in the industry," she says of "Story Story", which was the first song from the album she recorded. "I remember when I first got my break, a lot of people were saying 'wow, she just came from nowhere' [laughs]. A lot of people think that you start singing when you blow but there's a lot of work that has gone into the craft, you know? And I just felt like it was a good opportunity to tell my story; I know it doesn't have everything, and there were some lines that i had in there and people on my team were like, 'just take it out, this is too controversial' and so I kept revamping the song till I finally got the feel I wanted". 
A similar sense of detail went into the other songs, most especially "Loyal". Simi reckons it was the most difficult she had to make considering it had featured a different singer initially. "That song has been through fire and water," she recounts with a knowing laugh. "I didn't want to bring the same energy, and I wanted someone I knew would sound amazing on the song. So I changed my verse, the beat is different." It was Simi's team who then recommended Fave, the Nigerian singer who is no stranger to internet virality, a fated pairing to which Simi says: "She came through for me last minute and I sent the song to her and she just killed it."
Speaking about the dearth of female artists she has collaborated with, across her music catalogue, a detail which many fans and detractors have picked up on, she says: "I don't think it's that deep, I work with who I vibe with. I don't work with someone because of [gender]; if the vibe works, it works. She later continues, "I'm very vocal about women's empowerment, and I think that's the angle people come from when they say 'oh, you don't put women on' but there's so many ways I'm supporting women. It doesn't have to be when I'm singing. I don't sing to prove a point". 
Simi has undoubtedly had her share of social media vitriol. Even with its relative gains, social media is still a breeding ground for toxicity as much as it's been a tool to check against problematic opinions. Simi has been on both sides of the divide, most frequently the former. Yet she's still present there. "To be fair, I don't really share as much as I used to," she admits. "When I'm on socials, I mostly just vibe and share my work. I'm not as vocal as I used to, and it's not even necessarily about the toxicity. People talking about what you're saying and all–I feel social media has its pros but it also has lots of cons if you're not careful. I can't remember the last controversy [I was involved in], even me I'm tired", she says, laughing. 
Simi speaks with the wisdom of one that has been through the wringer and come out on the other side. Motherhood has invaribly had some effects on her life. To this, she says:
"I think the older you get, the less you just–I mean, like if I have something I need to say, I will say it. I know myself."
Still, Baby Deja colours the fluttering happiness of the album. "Easy" features the adorable gibberish of the soon-to-be two-year-old child, literally the last vocals on the song after a scintillating performance from her superstar mother. The latter months of Simi's pregnancy coincided with a pandemic, and rather than go the typical route of taking time off, she released "Duduke", a ballad named after the melodious beats of her expectant mother's heart. 
She revealed her belly bump with the massively popular video. "At the end of the day, my pregnancy was part of my life," she says. "It's not like two months, and you just quietly hide. That's a big chunk of your life so we tried to find a way to incorporate my life and my team was like, 'let's make a song about my baby'. I struggled with that a little 'cos I didn't know if I wanted to share that much, but I'm really glad that I did. I'm a private person and just finding that balance is an art in itself. It takes proper timing, and my husband and I were on the same page, so that definitely helped". 
View this post on Instagram
Growing up in Ojuelegba, Simi was not too disturbed by the jagged edges of its popular culture. She didn't face "much judgement" for her artsy interests, something she attributes to her being a gospel musician at the time, mostly to be found inside the church or at home. People misconstrued her petite figure and soft-spoken nature for weakness, but she has never let anyone go without correcting their perception. "Part of it is inherent, follow come", she says of her strong sense of self. "But also I think just noticing that people respond to you the way you respond to yourself. The way that I carry myself, the way I view myself and the way I love myself. The energy I receive is closely tied to that."
Simi definitely entered the pop scene with the right energy. Following her signing onto X3M Music in 2014, she made her presence known with singles like "Tiff" and "Jamb Question" before releasing the classic 'Simisola' two years later. As everyone knows by now, the album demonstrated her astounding skillset: a killer voice, vivid sense of melodies, and a poignant pen which effortlessly invoked the grand structures of an epic into personal experiences. Like her major influences Asa and Lauryn Hill, the emotional subtlety of her themes did not obscure her technical prowess as much as highlight them. R&B was her dominant playing field, but broader flourishes from contemporary Pop lined the seams of 2019's 'Omo Charlie Champagne', a colourful album dedicated to the memory of her father Charles Ogunleye, who died in 2014.
2014 was also the year of 'Restless', her debut EP made entirely of five covers. Taking the production of songs like Rihanna's "Man Down" and Adele's "Set Fire To The Rain", she gracefully incorporated the nuances of Nigerian experiences through witty lyricism. Simi released the second tape in the series in 2020, with features coming from hubby Adekunle Gold, WurlD and British-Nigerian rapper Ms Banks.
"When I made the first 'Restless' EP, I wasn't signed at the time," she explains. "I was really restless, desperate just to let out the frustration I was feeling and I was thinking, 'how could I do this?' Covers are really great but I wanted to put a spin on it. And at that time I think I just found my sound so I did the covers by switching all the lyrics, and kept the beat. So I feel like anytime I'm trying to do something different but I'm not sure and I feel a little restless, not having quite a concrete idea, I'm going to make a project called 'Restless'". 
The creation process for 'To Be Honest' was markedly different from the virtual exchanges she had with Sess, who produced the majority of 'Restless II'. She was introduced to Blaise Beatz by Adekunle Gold, and have sat in a number of studio sessions with P Priime. These two, she says, were very invested in the overall process beyond just providing her beats. She's already close friends with Pheelz. The other producers Ozedikus and AYK Beats also contributed towards the album's lived-in atmosphere, providing flawless sounds for the personal direction Simi leads on. 
With this album, Simi moves again into the centre of discussions about Afropop. Not just commercially (she's always had that), but with the stylistic strength of the project. The fine chemistry between the emotional relatability of the songs and their waist-turning vibes (watch out, TikTok) is helmed by some of Simi's sharpest writing ever. Her vocals are growing fuller with luminous sheen, a natural evolution from the tinny embrace of earlier years.
Our conversation ends with me asking what she perceives as the biggest change in the music scene she emerged into and what's possible now. "Afrobeats has become such a force, you know? Everyone can see the fire we're capable of, and that comes with respect," she says. "I think it's because they just realised they couldn't really replicate what we had, so now they have to collaborate with us to get the vibe. And that's so magical because, you know how Nigeria is; it's having so much of stress. So for our entertainment sector to give us as much joy as it's giving us, it's so amazing and I'm glad to be in the industry at this time. I obviously want to make my own contributions to the movement. I'm not necessarily the follow-trends person, but music-wise it's important to blow and the idea for me is just not to lose my signature in the process". 
Featured image credits/NATIVE