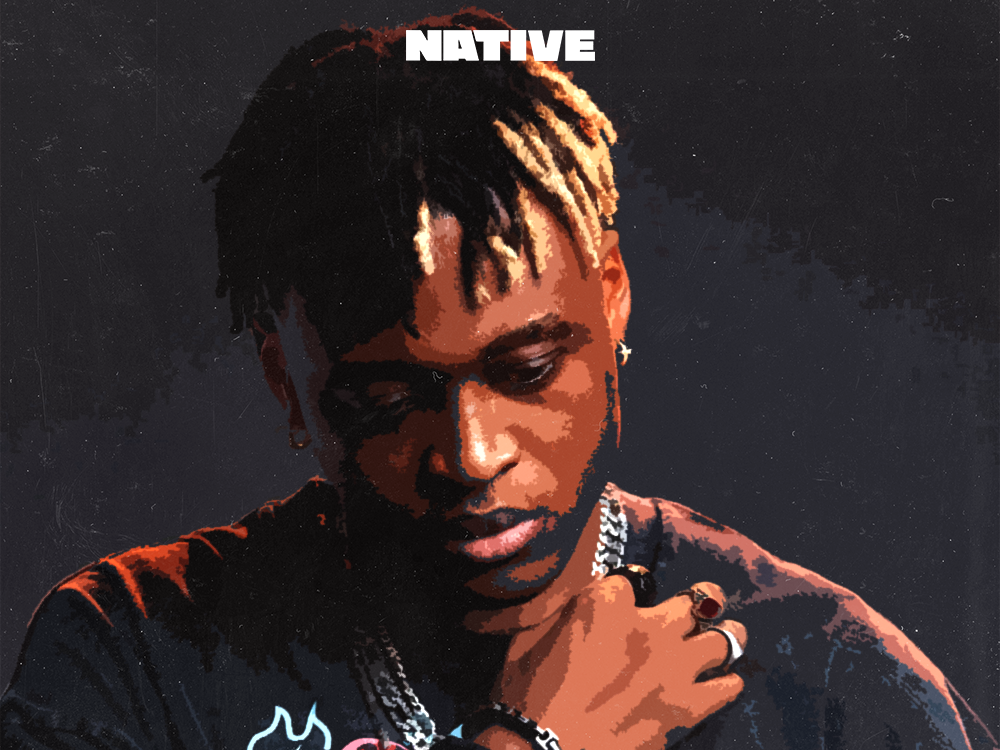 NATIVE Exclusive: Cheque Is Making All The Right Moves
"I want to show people what I can do."
Cheque's foray into music was unplanned. As a scholarship student at Obafemi Awolowo University, books were his only companion and entertainment. During a three-month strike declared by the Academic Staff Union of Universities (ASUU)—a casual phenomenon in Nigeria's dysfunctional tertiary education system—he met a schoolmate who lived in the same street as him. They began a friendship and, one day, Cheque paid this schoolmate—who is now known in the music sphere as Zamorra—a visit and found him rehearsing for a rap battle. Cheque would follow Zamorra to rap and singing contests on campus, and soon, he, too, caught the bug for music.
Cheque's early musical iterations were far from exceptional. "I was very awful at that time," he says. "But I could picture myself becoming one of the best one day." Cheque forged on with intent—taking up the stage name Kyle B—and striking connections with more students-cum-entertainers on campus: Fireboy DML, Yhemolee, Asake, Blaqbonez and Jaido P, to name a few. Still, for all the efforts he poured into music, Cheque never considered it a viable career option. "It was when I finished school that it dawned on me this is what [I'd] do." In 2018, Cheque and Fireboy DML came to Lagos and signed a one-year contract with a music label. After the expiration of the contract, the label couldn't retain Cheque and Fireboy DML, and it fell on the two hopeful acts to navigate their careers.
"It was at that time we met one of our friends and we started staying with the friend, and then we were making Instagram freestyles all the time," Cheque says. It was those freestyles that caught the attention of Olamide, veteran Nigerian artist and CEO of YBNL Nation, who snapped up Fireboy DML as one of his newest signees. Cheque didn't have to wait too long for his breakthrough, though; Phyno, another veteran Nigerian artist and boss of Penthauze, found one of Cheque's Instagram freestyles and DMed him. In 2019, Phyno signed Cheque to his label, alongside two other artists – Nuno Zigi and Rhatti.
Cheque immediately got to work. In a single year, he released four singles that showed his versatility as a rapper and a singer. "Pain Away" and "Jekasoro" placed him in Afropop terrain and "Abundance" and "Energy" beamed light on his suave Hip-Hop flows. Both characteristics have become identifiable to Cheque and, with more iterations, he has continued to polish his skills. In 2020, he released 'Razor,'  his debut EP under Penthauze. The project gave Cheque his breakthrough hit in "Zoom," a sweet Trap banger about speeding past detractors and ill comments. The song won Cheque more acclaim and boosted his confidence as a performer but deep within him, insecurity gnawed at him.
Months before he dropped "Zoom," Cheque, in a bid to treat acne, applied a cream that badly burnt his face. The mishap caused him to withdraw into himself. "I became very conscious whenever the camera came to my face," he says. "I looked down most times when shooting music videos  and hardly smiled at the camera." While he battled with his insecurities, Cheque continued to make more music. "History" with Fireboy DML and "Call Me Baby" preceded the release of his debut album 'Bravo,' which, alongside Fireboy DML, featured Ayra Starr, Olamide and Jackboy. "History" was one of the standout songs on the album. It told a story of perseverance bound by friendship.
"I realise that whenever I'm with Fireboy, I'm close to my highest chakra," Cheque says. "I feel unstoppable because we know each other's strengths so well. When we make music, there's no hindrance, the song finishes so fast, the melodies just pop out so fast and so easily." It is a camaraderie that Cheque also shares with other artists who were his pals in university; take for instance his guest appearance on Blaqbonez's "Best Friend" off 'Sex Over Love' (2021). "It's like a film trick because you never see stuff like that coming," Cheque says about the successes of his friends/colleagues from OAU. "I would be jealous if it was not me; these are the people that we used to look for 200 naira rice to eat. Now [we] are driving cars and living in great houses. It's crazy, I'm not gonna lie. At the end of our careers, I think we deserve a great movie or series."
The gratitude and joy that Cheque feels about his current state are the core parts of his latest EP 'Chequemate.' The project's title is a stylised word for "checkmate," a winning move in a game of chess. With his face completely healed, Cheque's insecurities have disappeared and he feels that he's at his most powerful. "If you go [through]my social media right now, my teeth are probably open to the camera, smiling. That's who I naturally am," he says. "Anybody seeing me now is not seeing a fake person; they are seeing who I really am. Which, in turn, gives me more confidence to keep making music the way I want to make and present it."
The six tracks on 'Chequemate' foster a storytelling thread of beating the odds and emerging victorious. From the anthemic "Hustler" with Fireboy DML to the love tune of "Sunflawa" with Crayon to the celebratory "God Bless Me," the project is meant to inspire listeners to take the best shot at their dreams. 'Chequemate,' which was supposed to be an album, is the first instalment of the EP series, with a sequel scheduled for release later this year. While Cheque loves for his music to find an audience, he considers himself his first audience.
View this post on Instagram
"I've never tried to prove any point to anybody because when I make music, all I do is make sure people understand what I'm saying," he says. "I don't feel like I need to prove any point because criticism is very good. If somebody says I'm not good, it's alright with me. I don't have a problem because I don't want to please everybody. Pleasing everybody is a waste of time. Even Jesus didn't please everybody."
Although Cheque is generally noncontroversial, once in a while he lets out his feelings on social media about the state of Hip-Hop in Nigeria. "The reason they say [Hip-hop[ is dead in Nigeria is because most heads fail to recognise the vibe has changed, they still wanna rap like it's 2010 or previous," he posted on X (fka Twitter) in July 2021. "Well…it's all melodies now. Get with the program and help your culture." Earlier this year, he engaged in a mild faceoff with Abuja-based rappers. For Cheque, the Nigerian Hip-Hop scene is striving but is yet to operate at full capacity, no thanks, he believes, to awards organisers. 
"'Zoom' was by far the biggest hip-hop song [when]it came out in this country [but] they didn't recognise the song at all. They put songs that we know that the people at home are not inclined to give a fuck about," he says. "And that kills the genre because you refuse to acknowledge the song that they all love. You put hardcore rap that nobody can sing any of the lines and you'd just be seeing songs with low numbers and nobody's really listening. There's no impact."
Cheque also admits that he's aware of the murmurs about Phyno not favouring Igbo artists after his former label mates Nuno Zigi and Rhatti (who are Igbo) left Penthauze. "I don't feel any type of way," Cheque, a native of Ondo State, says. "When people say Phyno doesn't help [Igbo artists], I feel this thing is about mentality. Doing music, to me, is a crazy concept because it takes a lot of emotional strength to keep driving. You have to have a reason and great mental strength to wake up and keep recording. You need to have that and I feel like that's one of the things that still keeps me going. Phyno helps everybody. He signed two Igbo guys and me, so [he's] definitely helping Igbo guys."
'Chequemate' is the beginning of a new journey for Cheque. He has overcome his battles and cast aside his worries to focus on the bigger picture: becoming as great an artist as he can be. With the support of his label (as well as his distribution partner EMPIRE) and the warmth of his best friends, Cheque has the world in his palms. His manifesto is clear when he says, "I have hidden myself for a long time but now, I want to show people what I can do."
Featured image credits/NATIVE