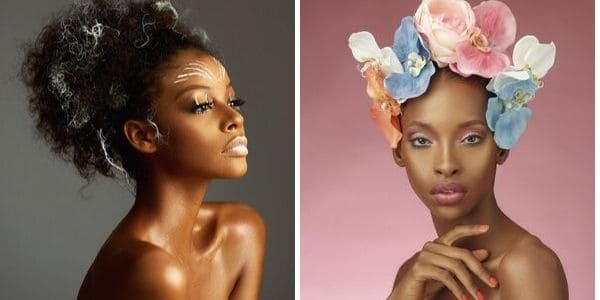 Meet Laila Cadne, the Nigerian makeup artist behind S'oge
The NATIVE sits down with the talented editorial make up artist
It was not long ago that Laila Cadne's atelier social media debacle graced our timelines. Every so often clashes like this happen in the creative industry where credit is not given to those who serve as our inspiration.
Despite this, Laila Cadne continues to amass a great deal of clientele who she adorns in her unique editorial makeup. Speaking to the NATIVE, Laila reveals that her love for makeup began in 2014 following her teams success at Fayrouz L'original Competition. She was originally more interested in visual arts, however, living with a mother who was a distributor of Mary Kay products helped her nurture her talent for editorial makeup.
https://www.instagram.com/p/B1qSYR9lRcs/
Among the faces she has beautifully made up over the years include singer Gigi Atlantis, who she worked with for a promotional shoot, adorning the singer with pink graphic liner, purple highlighter and gems. The collaboration was seamless, as Laila was able to bring Gigi's mood board to life and it followed the same editorial direction Laila was used to. Her use of gemstones is far from being Euphoria-inspired, she makes known over the phone, she has always played with gemstones in her profession as an editorial makeup artist, way before it hit mainstream media in the hit tv show, Euphoria. 
https://www.instagram.com/p/Bvr3wbcB4p4/?utm_source=ig_web_copy_link
She has also worked with model Aduke Shitta-Bey, the muse behind her internet famous editorial S'Oge, which was inspired by her desire to juxtapose vintage with the modern style. According to Laila, S'Oge is the millennial woman who is decorated with accessories and makeup that are from the 80s; made clear with her micro-thin brows and native attire.
Her fascination with combining vintage and modern styles also translates in her other editorials; her experience with Denola Grey was strikingly similar. She combined the gold flakes editorial look with his native attire for the model's D.R.O.M.P. visuals. Working with male features did not prove difficult, as she was able to bring his vision to life with the use of a gold mask and flakes that fell away from the face to mimic the wind.
Laila Cadne is a prolific makeup artist, and always looking to expand her clientele and take on new projects. When I ask her about her future plans for her brand, she excitedly announces her plan to keep creating mind blowing editorial look that will help shine spotlight on makeup in Africa. 'I reach out to people if their essence matches the ideas I'll love to create' she reveals, as she would rather curate makeup looks then later source for a muse which can bring her looks to life.
Check out some more of her work here:
https://www.instagram.com/p/BzyQf2JF_kX/
https://www.instagram.com/p/B2JUwXDFzRV/?utm_source=ig_web_copy_link
https://www.instagram.com/p/B0ISSIvlGGd/
https://www.instagram.com/p/Bl0y_caDjRo/
---
Tami is a lover of astrology, music and women. Tweet your fave female artistes at her @tamimak_
---