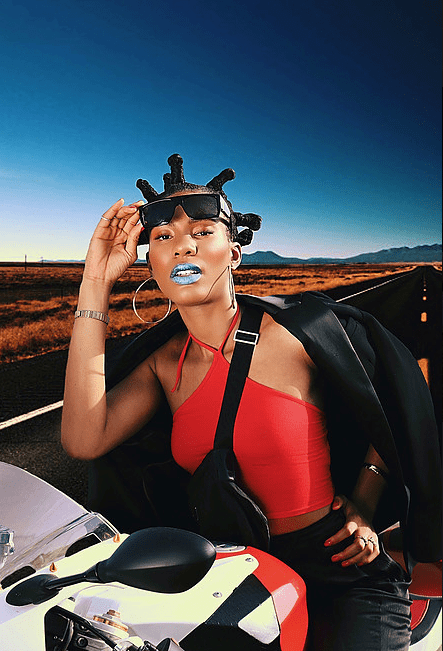 Phugo is seeking to shake up Abuja editorial scene with 'Electro'.
Challenging status quo
Lagos cast a very huge shadow over the creative industry in Nigeria, so much so, that it is common knowledge that to truly advance as a professional in any creative field in the country, you eventually have to make the move to Lagos and conquer it. But not everyone ascribes to this, and many creatives are trying to change things by creating collaborative collectives of their own in their own cities. Abuja especially has risen up as a counter point to Lagos, with its stellar Bantu Collective, and its growing couture fashion industry. Phugo, Abuja-based creative direction duo consisting of Phoebe Ben-Kalio (makeup artist) and Ugonna Nwaka (stylist/production designer) want to do the same for Abuja's art/photography scene.
The Nigerian editorial aesthetic is pretty stolid at this point, obsessed with an illusory 'luxury'. Dead eyed models, faux opulent backgrounds, predictable poses. There is little or no incentive to reference other cultures or people. Phugo is changing that with it's first editorial collaboration called "Electro."
We defined her as an alternative, cosmopolitan girl who still maintains her African roots. She is adventurous and daring, a millennial attribute – hence the biker imagery and bold colors.The styling and concept of the shoot was inspired by Aaliyah's music video aesthetic. The late singer's style was very cool and effortless which we channelled through the clothes and accessories, and makeup was equally drawn from late 90s to early 2000's pop culture.
These photographs were taken in central Abuja (Wuse), an area which lacks the depth and otherworldliness we aspired for on this shoot. Yet natural light would be more effective than a studio shoot, hence Amy (photo assist & post-production artist) drew inspiration from Midwestern desert campaigns and pop-fiction narratives, similar to Charlotte Rutherford's 'Desert Cowgirl' campaign for Skinny Dip Ldn. Amy states that her editing process was instinctive as all the elements needed to recreate the "mise en scene" were present from the lighting, to the styling, bikers and makeup.
Personally, we're intrigued by the art direction and the photography is stellar, but for global standards, this pretty par the course, especially with the resurging interest in afrocentric fashion. We'll just have to watch and see if Phugo make good on their promise to disrupt the status quo.
Art Direction: Phugo @itsphugo
Photography: Ogoh Clem & Amy Limor @ogoh_clem/@amygoesthere
Post Production/Retouching: Amy Limor @amygoesthere
Makeup Artist: Phoebe Ben-kalio @phoebebenkalio
Stylist: Ugonna Nwaka @ugonna_