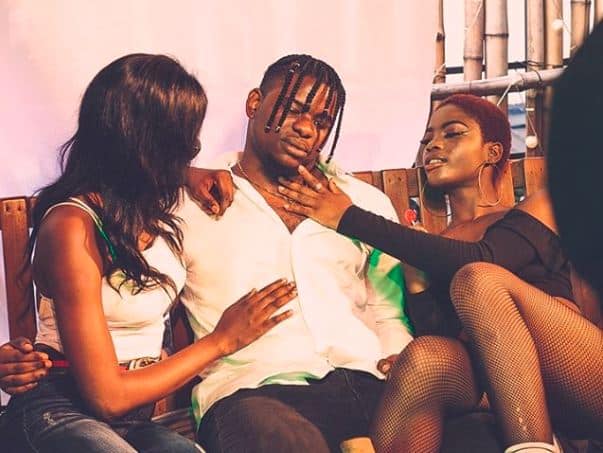 Essentials: Kiienka's 'Spaceman' EP
Kiienka shares 6-track debut project featuring Blaqbonez, PsychoYP, VEEN and more
Kiienka's music tips its hat at the lo-fi school of trap, doing a slightly goth take on Hip-hop. Earlier this year, he released "PSA" featuring VEEN and Dr Barz who joined him for a reflective and cocky bop that seemed designed to make a car ride feel like a party. He has now followed up the single with a 6-track project, 'Spaceman', featuring Ogranya, Blaqbonez, PsychoYP, Kobi Wolf, VEEN, K-Sly, Ilovechaz and Txby.
https://www.instagram.com/p/ByQH5_JAbG_/
The guitars on the opening track, "Drama", are soaked in the sunset and the synths sound almost neon, produced by Ocean to set a sombre mood for Kiienka and Ogranya's lamentation about the drama that often comes with relationships. Kiienka self-produces the next track, "No Smoke", a more upbeat cut with the catchy percussion harmonies and hi-hats beat inspiring energetic performances from Kiienka and Kobi Wolf as they sing/rap of their crew love and accomplishments. The project, however, reaches its peak on PsychoYP assisted "Can't Find Me" and VEEN and K-Sly assisted "Moves". While "Can't Find Me" finds Kiienka and PsychoYP flexing and bragging over the bouncy mix of strobing synths and 808 drum machines, "Moves" is designed to fit in club DJ sets with VEEN and K-Sly's dance-inclined lyrics.
On "Expensive", Ilovechaz joins Kiienka and VEEN for a catchy trap song that keeps 'Spaceman' freewheeling through the genre's ostentatious intentions as they trade bars describing their fancy lifestyle. Kiienka, however, returns to his reflective sensibilities on the closing track, "You", featuring Txby and Blaqbonez. "You" highlights the proficiency of a romantic trap cut as all three artists express their vulnerable emotions over the 808 riffs, base drums and synth samples. With 6-track project debut, Kiienka wants you to have fun while listening to this, but he also doesn't shy away from being straight-up mushy and sombre.
You can stream 'Spaceman' below.
Featured Image Credits: Instagram/kiienka
[mc4wp_form id="26074″]
---
You are meeting Debola at a strange time in his life. He wandered into a dream and lost his way back. Tweet at him @debola_abimbolu
---