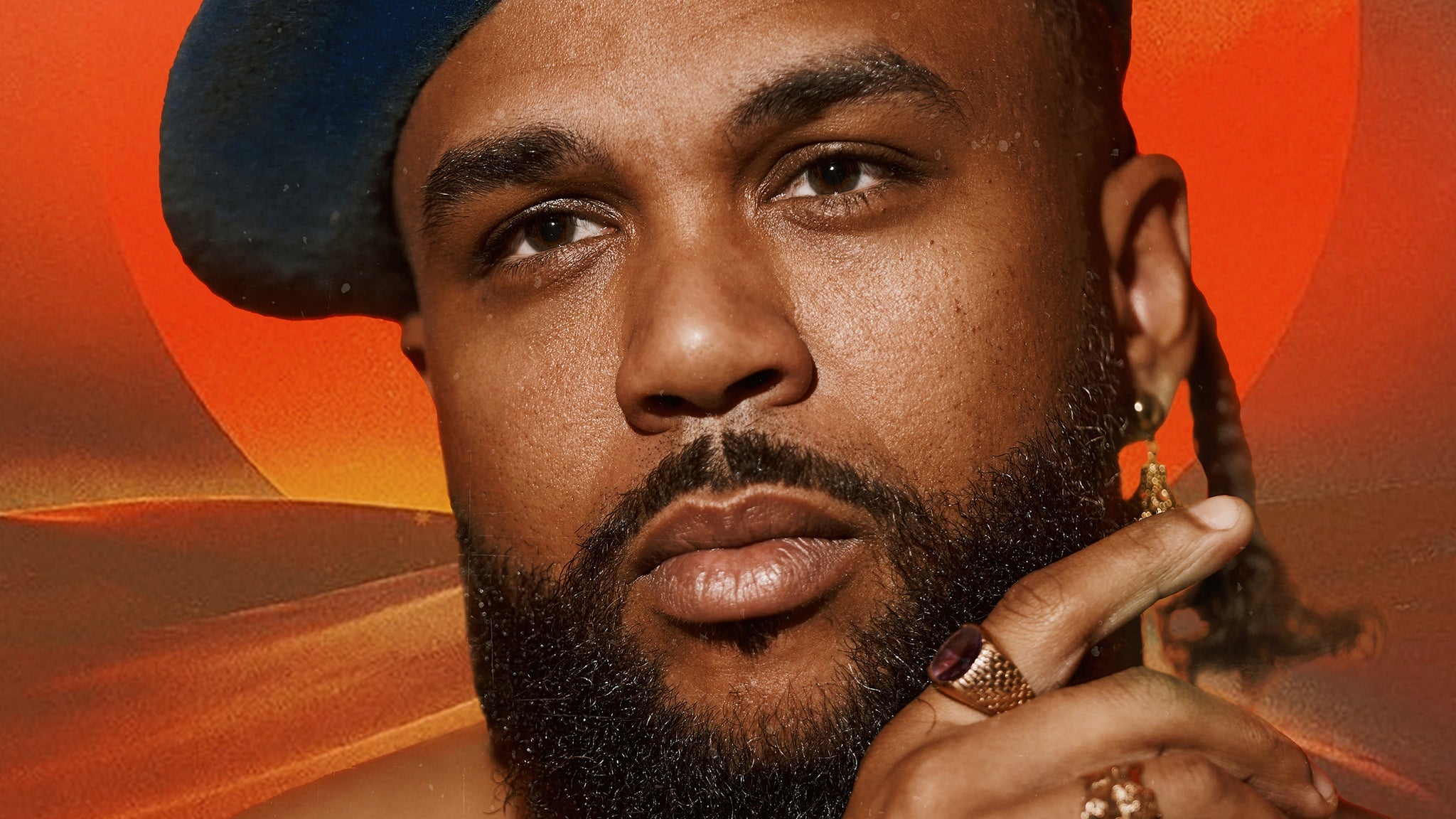 A 1-Listen Review Of Jidenna's 'Me You & God'
A Funk-indented suite of lovestruck songs
The last time Jidenna released an album, he was serving as the guide along metaphorical yet increasingly tangible highway between urban America and Africa. '85 to Africa' came out around the time when pop music from West Africa was receiving wider attention on sustained momentum. That was the year Burna Boy and Mr Eazi performed at Coachella, and Davido's then 2-year old "Fall" was getting serious radio airplay and fringe song of the summer considerations.
Four years have passed, we've lived through a pandemic and Billboard's dedicated Afrobeats chart is one of the many indicators of just how mainstream pop music from the continent has gotten in the U.S. For a new album, it would be easy to envision Jidenna capitalising on the upward trajectory of Afropop, but that doesn't seem to be the route he's taking. In the teaser trailer for the newly released 'Me You & God', he hints at an album inspired by a romantic situation insulated by the bubble of the Coronavirus pandemic.
Pre-released singles, "FRONT END" and the Bootsy Collins-assisted "SAFE" have hinted at a musical direction heavily indebted to Funk music, with contemporary rap and R&B cadences to accompany his portrayal of romance in the 2020s. I wasn't fully won over when I heard those singles but I was intrigued, and intrigue is a good enough premise to go into 'Me You & God' with an open mind.
In usual 1-listen review fashion, all reactions are in real time while the music plays. No pauses, rewinds, fast-forwards or skips. 
View this post on Instagram
"MiSS BEHAVE"
First track was just a bleep, hopefully it's not my internet. [Editor's note: It's not the internet, it was a 2-second bleep.] This is a sunny groove, wouldn't be out of place on a Free Nationals album. There are no theatrics in Jidenna's voice to start but the charm is dripping. Oooh, this hook has some sexy to it. I share this man's raunchy enthusiasm at the top of the second verse, LOL. The beat has switched into something a little more electric and somewhat a cappella-ish, that's the best description I can think of right now.
"FRONT END" (feat. Gardens & Villa, Roman GianArthur & Sensei Bueno)
Interesting way to open things up, the sequencing is giving me endorphins. "I wanna tell you from the jump, you're a motherfucking vibe" is such a 2020s R&B lyric, very stock. I really wasn't digging the vocal manipulations on this song when I first heard it because I found the lyrics a little too vacuous, just felt like anyone could be singing these songs to anyone. The bass guitar riffs are to die for, though. Still not all in on this one, but I wouldn't mind not skipping it if this album presents higher points and I feel like replaying.
"BLUSH"
Oh man, those grainy sounds caught me. The production on this album is something, and I like that Snoop Dogg reference because this is definitely some breezy California bounce. I like the details in this first verse, the devotion is tangible. "When I love a women, I ain't afraid to commit" is real talk. I wasn't buying that hook until those high-pitched runs hit. This song will probably make many listeners want to be whipped. Hehhh, that "I love you, no homo" line is cringe, dawg. Still an early highlight.
"RiPE"
Another nice touch with the sequencing. Funk Music is consistently tantalising, there's almost no way to fuck it up, especially when you find the right bass guitar riff and a nice drum pattern. This is a spoken word interlude with Jidenna's voice heavily pitched down. I don't know that I feel great about it, but a couple of lines that you could use in rinsing a love interest have caught my ear.
"SAFE" (feat. Bootsy Collins)
Has Bootsy Collins ever graced a Thundercat album? I want that, stat. I digress. More vocal manipulations, but this one sounds better. "I think I might just go outside" was such a daring thing to think and actually do during the pandemic. I heard a line about reparations and I chuckled a bit, maybe because I would also lazy around with my favourite person if a shit ton of money landed in my lap. Is that Bootsy Collins singing or Jidenna doing an impression? I think I will listen to this a few more times just to figure it out. The drums on this are bonkers. Might be keeper.
"MAYBE SWANKAFORNiA"
Acoustic guitar being strummed, need to hear the drums. Ah, there they go. More California vibes, you can literally hear the beaches and palm trees on this song. This is the vision of two bodies constantly grazing under some pleasant heat, I just don't know that I want this much vocal manipulations at play. This needs another listen, too.
"PULLOUT"
This definitely isn't Jidenna's voice. I'm interested in what this beat builds up, definitely has that spacey vibe already. Oh, I get it. This is the pensive moment that comes with a partner being late on their period and you're wondering why you even decided to have sex anyways. I don't think Jidenna and his collaborator aren't regretting the sex, just weighing the consequence of their actions. I like this.
"SWEETBiTTERS"
Spanish guitars never go wrong where sexual attraction is concerned. Flashbacks are the absolute worst, LOL. "We end up fucking just to break up all the fuckery" reminds of those TV couples that do the pause thing during their argument just so they can have sex. I like the rapping in this verse, the perspective feels very lived-in. Thinking about it, this album feels like a logical follow-up to "The Other Half," the final track from Jidenna's last album, where he talks about the difficulty of men fully letting their guard down. This song is obviously more of a deep cut but it might be the best track on here, so far.
"SiTUATION"
Sounds like some psych-funk in here. This sounds like something lifted from Steve Lacy's iPhone, and I mean that in a good way. All these vocal manipulations aren't doing much for me because I don't hear their functionality beyond being stylistic choice, which adds a nice wrinkle to Jidenna's artistry but I need to be gripped and reeled in. At the risk of being wrong, I'm going to say this is St. Beauty and they're killing it. This is the comedown from the high of a romantic situation, but the regret doesn't feel earth-shattering. Needs a revisit.
"SUMMER HUNGER"
Maybe I'm making it up but I'm hearing some bluegrass in here, LOL. I heard the best love elevates a person into the best they can be. I AM DEAD, LOL! "Even rich niggas got to eat" as the basis for cunilingus is funny. I like the swing in these drums by the way. Actually, this is a bop. I mean, you won't catch me yelling the lyrics outside but I'll sneak into one of my playlists. "You scared the fuckboy out of me" is an ear-catching bar. Love can do great things to men, apparently.
"YOU SCARY"
Final track. This has been a really breezy listen and I'm digging the grand build to this beat. That electric guitar is a nice, if chintzy, touch. "I'll be yours forever and a day" is the stuff fairytales are made of. Yo! I want this to be longer. This is a serene switch, not a terrible way to close things off.
Final Thoughts
Jidenna has returned with an album for the lovestruck—and those who believe in the effect of being lovestruck. Like I mentioned earlier, this album feels spiritually connected to the closing song on '85 to Africa', a deeply introspective song where Jidenna digs into his toxic patterns as a romantic partner. "We dominate to overcompensate/our bravado dripping with overconfidence," he rapped on that song, with an explicit understanding that these issues comes from failing to fully give into the other person and the situation.
'Me You & God' is a portrait of what happens when a previously guards falls into a romantic relationship without any reservations. For Jidenna, that means the joy is boundless, their corner of the world feels sunnier even under the dark cloud of a pandemic, and breezy Funk Music has to be soundtrack. Largely helmed with long-time collaborator Nana Kwabena, the musical arrangements mostly features thick slabs of delicious bass riffs and vintage drum packs.
The formula is pretty simple, romantic bliss meets summer-ready music, but Jidenna's choice to experiment with technologically-enabled vocal tricks is quite the distraction. It also doesn't help that several songs don't have a solid lyrical base, which makes these voice modulations come off as crutches rather than enhancements. For what it's worth, 'Me You & God' is a mostly smooth listen front-to-back listen. It might not blow you away but it will wash over you gently if you let it.
---