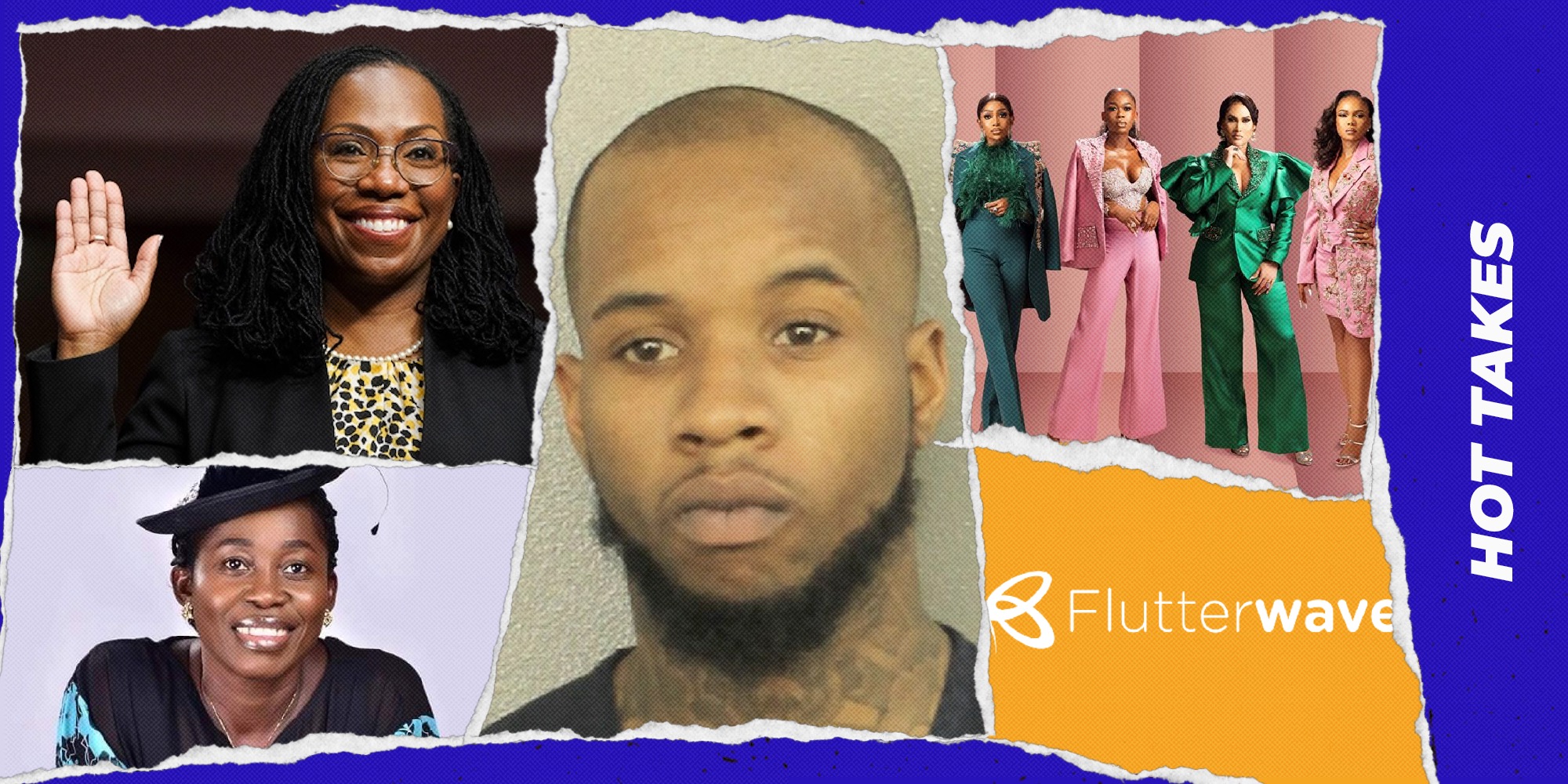 Hot Takes: Real Housewives of Lagos, Flutterwave allegations & more
#ProtectWomen
In the blink of an eye, the first quarter has burned through without respite and we're now firmly planted, knee-deep, in April. The past few months have played host to some of the most absurd and head-spinning happenings we've witnessed in recent times. From Will Smith scuttling from his seat to the stage of this year's Oscars ceremony to wallop Chris Rock with a slap, to the anthology of Oxlade's sex tapes that circulated the Internet, spawning the most hilarious memes and reactions (#Spiderman).
The past few months have redefined the fringes of pandemic and lowered the bar for normalcy. As days become months, it has become clearer that this is reality and not a bizarre dream. The Academic Staff Union of Universities has been on strike for a little under three months, while episodes of nationwide power blackouts and fuel scarcities have become the new normal. Around the country, ritual killings, kidnappings and banditry are all on the rise. Recently, a train on course to the nation's capital was attacked by terrorists, leaving many dead, some injured and others kidnapped without recourse or any glint of hope.
Even on a lighter note, the not-so-Super-Eagles crashed out of the AFCON tournament prematurely and fell at the hand of the Black Stars of Ghana in the World Cup qualifying tie. I saw a meme to this effect, a picture of a debilitated fallen eagle was paired with a caption that went along the lines, "What the Eagle gets when it thinks it can fly higher than a star." This string of malaise even laid hold on our very own starboy who lost out on his two Grammy nominations to the shock and dismay of many.
Everything wey get eagle just dey fall
Super eagle fall
Machala

Omooo

Wizkid
Grammy

— SMD (@smdgideon) April 3, 2022
Away from the news of doom and gloom, and in the spirit of "we move!" and "cruise no dey ever finish," we bring to you another instalment of Hot Takes, the informally toned and incisive column where we dig into the most controversial and mind-boggling happenings in the pop culture scene. In this week's offering, we explore topics such as — domestic violence in Nigeria, the corporate culture in Nigeria's tech ecosystem, amongst others. Strap in and as I take you on an enthralling ride. 
What I'm listening to
At the moment, I've been listening to a lot of Hip-Hop projects, new and old ones alike. I've also been scouring the internet — like a drug addict in need of his fix —for exciting music — new, old, Rock, Classical… anything potent enough to stimulate me. Nigerian pop has been an arid desolate expanse for a minute though there are occasional sparks of excitement every now and then. However, these sparks are too sparsely distributed to trigger a fully blazing fire. I'm a huge Afrobeats nerd, so it sucks to have to turn elsewhere for succour, but it is what it is.
Over the past few days, I've found myself binging on Baby Keem's 'The Melodic Blue', bits and pieces of Kanye's 'Donda', Jaden's 'CTV3′ and Fivio Foreign's 'B.I.B.L.E.' Special mentions to 'Made In Lagos', 'Rave And Roses', "Lemonade" by Vince Staples  and this new Bia and J Cole collab dubbed "London". Of all these music listed out, 'CTV3′ and 'B.I.B.L.E' are the staples in my music pantry. 
Lagos can be incredibly fast-paced and crazy, and having music that primes you to cope with this can be a life saver. That's where Fivio Foreign's 'B.I.B.L.E' comes in for me. Nigeria is also an incredibly difficult place to live in, and like most Nigerians, I often find myself scurrying around for an escape. Those who can afford it jet out every now and then for a breath of fresh air, a moment of respite. Others like me escape through music, and that's where 'CTV3′ has come in handy of late. The tape puts me in a trippy, psychedelic-esque mood. When I'm fully immersed in the record, I feel like I'm slowly exalting, aloft in a breezy delicate mass of marshmallows. Except in reality, I'm either tucked in bed, squirming around under the covers or in an Uber headed to some location in the ever-bustling Lagos Metropolis. 
What I'm watching
Over the past few weeks, I've been incredibly busy, and as such I've been unable to commit to watching a series. Occasionally, I take out sometime to watch a movie. If I'm to be candid, what actually goes down is that I spend the first hour carefully doing reconnaissance and researching the movie to watch, before settling down to watch the movie. 
Last weekend I watched 'CODA,' 'The Bubble' and 'Dune'. Interestingly, 'CODA' and 'Dune' were spotlighted heavily at this year's Academy Awards, with 'Dune' picking up 6 awards. All three movies are incredibly enthralling. 'The Bubble' is a rib-cracking story set in 2020, about a movie-shoot during the pandemic that went horribly wrong. 'CODA' is the story of a girl from a deaf family of four, who's passionate about singing. In the movie she struggles to balance pursuing her career as singer and helping out her family, all the while navigating love, platonic friendships and the intricately delicate web of social relationships that teenagers are often caught in.
'Dune,' however, was the highlight of my weekend. There was a lot of outrage and riveting discussions when the said movie made a clean sweep at the Oscars , raking in 6 awards, but after seeing it, I understand the hype and I think it deserves every award or acclaim it got at the show. From the costuming to the storyline, down to the cinematography and sound, everything was expertly executed. It's one of those movies that slowly reels you into their cinematic universe, carries you along and forces you to think. 
Ketanji Brown Jackson becomes the first Black woman in the U.S. Supreme Court
Ketanji Brown Jackson recently made history by becoming the first Black woman to be admitted into the U.S supreme court of justice. For the longest time, the U.S supreme court mirrored the power dynamics of American society. For years, it consisted of only White upper-class males, over time the court has become slightly more diverse but it remains largely dominated by White men. For context, excluding the newly installed Ketanji Brown, only two other black people in all of America's history have graced the Supreme Court. 
Currently, of the 12 actively serving members of the court, there are only four women (who are all white) and just one Black man. Given this backstory, it's easy to see why Ketanji's appointment to the court has raised so much dust and is already a huge historical moment. Given America's reputation as a paragon of democracy and liberal values, this is a step in the right direction. Another interesting point to note is that the Senate voted 53-47 to confirm her appointment. This shows how divided the house was about setting this momentous precedent. A few years ago, talk of a Black female Supreme Court appointment would have sounded like a pipe dream, but even in this day that this has become a lustrous reality, opposition to this is still strong. This shows that there is still a mountain of work to be done.
Hopefully, in the coming years, greater strides will be made in a bid to achieve an equal society.
The Real Housewives are about to bring all the drama
written by Wonu Osikoya
The highly-anticipated 'Real Housewives of Lagos' is now airing on Showmax and it truly is full of drama as promised. Only one episode in and you can already feel the heat. The show follows the lives of five successful women Laura Ikeji, Carolyn Hutchings, Chioma Ikokwu, Toyin Lawani-Adebayo, Iyabo Ojo & Mariam Timmer, who are living intriguing lives and want more people to have a look into their lives. The show also flaunts money, riches and wealth in the faces of viewers. Marking the 16th version of the 'Real Housewives' franchise and the third in Africa, the Lagos franchise seems to be the most talked about so far as only an episode has steered so many conversations on social media.
I predict this season is certainly going to be as chaotic as you can imagine and also extremely interesting. So far, the season sees Laura Ikeji and Carolyn Hutchings as the most controversial and this is based on conversations and the discussions that have arisen from the pilot episode. Something I noticed while watching was Toyin Lawani's attitude, you can tell she's not ready to fake anything and she's always ready to say things as they should be said, I'm predicting she's going to be a character this season for sure.
It's still quite early to discuss the many characters in the season but mid season, I should have hotter takes on this topic. In terms of production, I think the production team did quite well for the first episode and going forward, I hope to see more screen time on Laura, Iyabo Ojo and Chioma. The final character Mariam Timmer has not been introduced but hopefully by the next episode we should get into her character.
The continued terror of domestic violence in Nigeria
Last week Gospel singer Osinachi Nwachukwu's life came to a painful end. The celebrated singer was most popular for her song "Ekwueme" which is a staple in Nigerian homes and churches and has garnered over 71 million views on YouTube. Initially, her death was attributed to cancer, but as the days turned, more details unraveled. Her death is now attributed to domestic abuse meted out on her by her sinister abusive husband. Based on multiple reports from friends, family (including her children), church members and neighbours, her husband was perennially abusive towards her — both physically and verbally — during the time they spent together. 
Following her death, social media has been beset by a wave of domestic abuse videos, bringing to cognition a looming dark reality of Nigerian society. Abuse is ubiquitous in Nigeria. A conspicuous ghost. When high profile cases, like this one pop up, the reactions are of utter bewilderment and shock, but abuse in this part of the world is so glaring and furnished that reactions of bewilderment border on cynicism. The shocking aspect of this case is the sheer number of people privy to the abuse that the late singer was perennially subjected to, and no substantive effort was made to rescue her from the snares of her abuser.
Nigerian society is communal and the notion of personal boundaries is a woozy one — people unobtrusively comment on everything and actively wade into other people's business, but when it comes to issues of domestic violence everyone looks the other way. Elderly ones will offer lengthy sermons if you do as little as dye or cut your hair in an eccentric way, but insipidly splurt "It's their personal business" when they come across issues of domestic violence. Ironic. 
People experiencing domestic violence are physically and mentally debilitated and they need the strength of a community to lift them from the ravine they're stuck in. Thankfully, her husband has been arrested and the police are investigating the case. 
Nigerian women are REALLY livid about Osinachi's death.

— Jola (@Jollz) April 13, 2022
On the corporate culture at Flutterwave 
Over the past few weeks a slew of high-profile Nigerian tech startups —including Bento Africa and Kuda —have come under fire for their chaotic corporate culture. Flutterwave, Africa's gleaming tech unicorn is the latest tech startup to join the fold. In a sensational article decorated with lustrous CIA-esque receipts and documents, popular investigative journalist David Hundeyin alleges that the CEO of Flutterwave — Olugbenga Agboola who goes by the alias GB — is guilty of financial crimes including insider trading, fraud, sexual impropriety, amongst other things. 
The article has been a hot point of discussion and more details of the case are unraveling in real time. While David has been issuing retorts to those looking to poke holes or demand better ethics in his reportage, Flutterwave has been playing the silence game, refusing to publicly engage even though some have called for them to sue on grounds of defamation. Whether David's story is a sensational ball of fluff or it has real substance to it, it's the latest instance that sends a message to horrible bosses across the country — there are repercussions for the horrible practices that go on within workplaces. 
Six months ago, I started working on a story about @theflutterwave. Along the way, I have obtained top secret documents, recordings and records that tell a very different story from what is publicly known.

My latest investigation on @WestAfricaWeek https://t.co/RqKutOWir4

— David Hundeyin (@DavidHundeyin) April 12, 2022
Tory lanez continues to harass Megan
In 2020, Tory Lanez shocked the whole world when news made out that he allegedly shot at Megan Thee Stallion. Two years later, he continues to leave us stunned. Lanez was taken into custody early this month after a judge ruled that he violated protective orders in his first assault case where he was charged for allegedly shooting  Megan. Back in February, Lanez wrote in a now-deleted tweet,  "Good d— had me f—ing 2 best friends, and I got caught, that's what I apologised for … it's sick how u spun it tho."
According to the judge, the tweet was a violation of the protective order restraining him from contacting or publicly mentioning his ex. He was ordered to pay a fine of $350,000, and his trial is poised to be held in September. This case spotlights how persistent, subtle and insidious abusers typically are. Even after shaking them off, they constantly manipulate their way back to dole out the same damage they did before. This has been the trend in a couple of high profile celebrity cases of late. If rich and powerful survivors of abuse find it difficult to wrangle free from the clutches of their abusers, how much more the average person being abused. Survivors need as much help and support as they can get. 
---