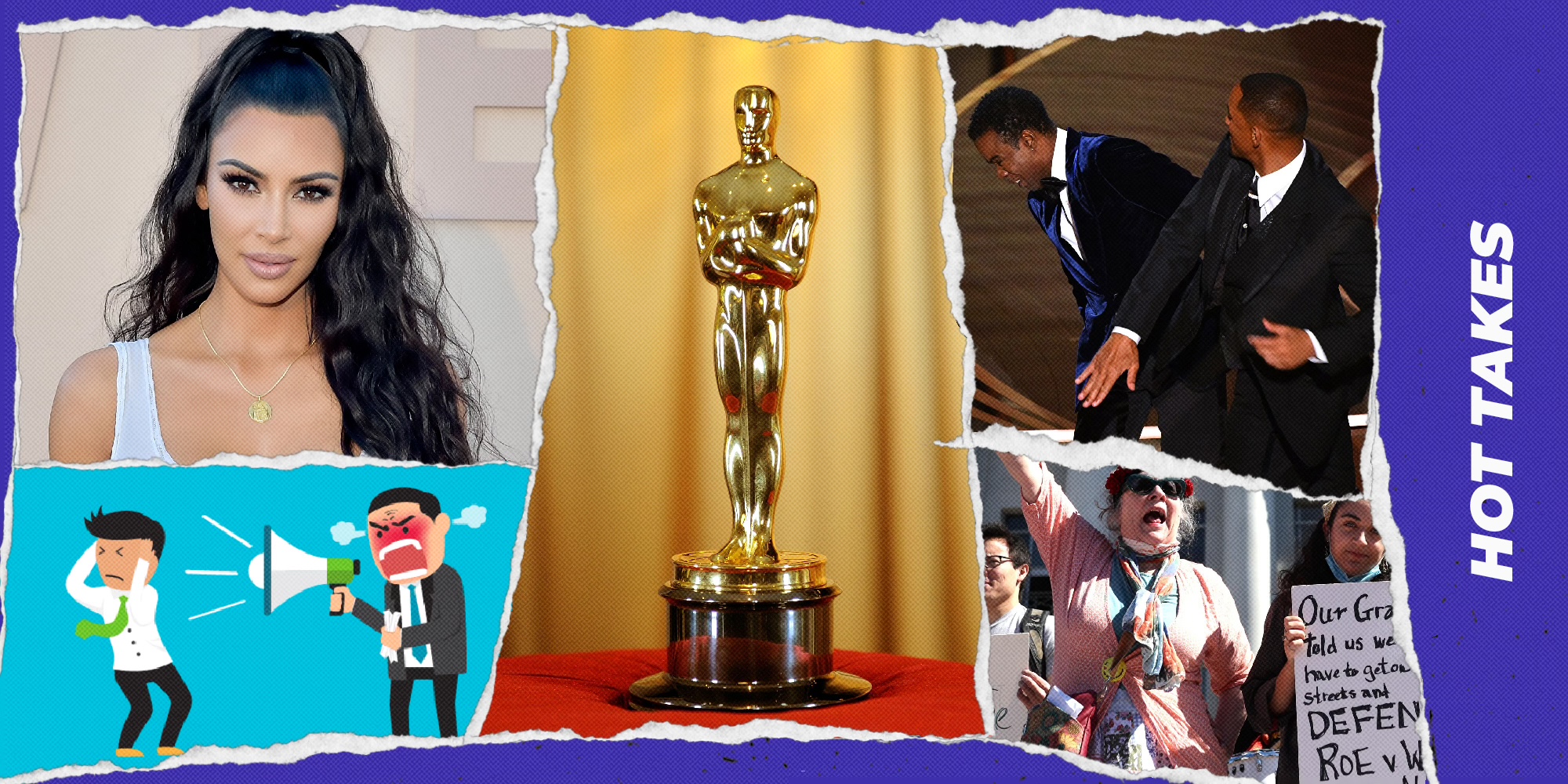 Hot Takes: Horrible Bosses, The Oscars Saga, Hustler Culture & More
all the hottest takes this week
In a blink of an eye, March is drawing to a close, just as most of the year flown by. We're gradually inching closer to Easter and all the fun and exciting activities it brings to our doorstep. A part of me is glad that the month is almost over, as March has felt like a cursed month since 2020 when COVID was declared a pandemic, sending the world into a frenzy its yet to recover from.
My weariness of the month felt justified as I read about some of the bizarre things that happened so far this month, ranging from a celebrity making a tone deaf comment on working women to the horrible treatment of a Black supreme court nominee. The lead up to Aries season, also let us see some more pleasing news however. The time of this specific fire sign seems to ignite a passion in people that makes them more outspoken, as seen by people taking to Twitter to criticise the mistreatment many face from Nigerian bosses and Will Smith's recent actions at the Oscars.
Continue reading to see my takes on some of the most notable news stories from the month.
What I am watching:
The fourth and final season of 'Killing Eve' has arrived. The show has followed the intense relationship between the (now former) MI6 agent Eve Polastri and the psychopathic but delightfully carefree assassin, Villanelle.
The relationship between the two has gone through several changes. It began with a cat and mouse chase where the two women fell into mutual obsession with each other. Season 2 had them become something akin to partners in crime as they played for the same team briefly, before falling out and becoming estranged in Season 3, then finally coming together at the end of the season. Season 4 however began with the two once again estranged, with no clear explanation as to why their relationship regressed once more.
Considering that this is the last season ever, with only two episodes left, the consistent back and forth has truly become exhausting. Unless the final episodes have some exceptional scenes between the two, I can't see how the show will end in a satisfying way.
What I am listening to:
Since I downloaded TikTok, it has been a surprisingly major source for new music for me. The most recent music Tiktok has recently put me on, is an entire film soundtrack from the Disney film 'Encanto.' The film follows a Colombian family where each member is given a magical gift, all except the main character. The film was scored by Germaine Franco, who is notable as the first woman to score a Disney animated feature.
My favourite song from the soundtrack has to be the introductory song, "The Family Madrigal". The song was written by Lin Manuel Miranda and it expertly introduces each character along with their magical powers, while also hinting at the complex issues that plague the family in a catchy and lighthearted song. Another standout for me was the now viral song, "We Don't Talk About Bruno", about the black sheep of the family.
Horrible bosses
We are talking about horrible bosses but your house help can only eat in the kitchen.

— Damilola (@damee65) March 22, 2022
People have taken to Twitter to discuss their experiences with their horrible bosses, with a hashtag inspired by the 2011 film that followed a group of friends who decide to murder their bad bosses. 
Bad bosses have been the bane of many people's existences world wide. In Nigeria however, bad bosses tend to be taken to the extreme. Treating people in subordinate positions badly seems to almost be a part of Nigerian culture, as workers are often faced with behaviour that ranges form dismissive to downright insulting by bosses and clients alike.
The Twitter discussions bring to light the intensity of the mistreatment that people face. It also shows just how prevalent this issue is amongst Nigerians, as it seems like everyone has a story to tell. The passion with which people are beginning to criticise this treatment is reflective of the way millennials and Gen Zs are starting to approach work. More people are beginning to discuss the idea that life does not begin and end with how well you do work wise.  It seems like we are entering a stage where people place more value on themselves and their mental health and reject toxic work culture.
Kim Kardashian and hustler culture.
In regards to the last point, Kim Kardashian definitely did not seem to get the memo when it comes to outdated work culture. She made waves with a statement that quickly became infamous, saying , "I have the best advice for women in business. Get your f—— ass up and work. It seems like nobody wants to work these days."
It is both surprising and completely understandable that she would feel comfortable making such a tone deaf statement publicly. As much hope as there is for younger people in overcoming this mentality that you should do nothing but work, it's something that is deeply ingrained in the minds of many. This is especially true of people like Kim whose familial wealth could easily convince them that the hard work alone that they put in is what has led to continued financial success. 
At first, this statement made me feel a little sad that such a mentality was still so mainstream, and that we have not gone past the idea of the existence of a true meritocracy in society. However, my hope for shifting public consciousness was once again reignited by the amount of accurate criticisms towards this statement and the privilege it holds. Maybe things really will change for the better.
Variety journalist speaks up on Kim Kardashian's claims her "work" comments were taken 'out of context' pic.twitter.com/n09032ifuu

— MTV UK (@MTVUK) March 30, 2022
The Oscars.
The Academy Awards are often a very strange event. Its history has been littered with some truly bizarre viral moments such as the infamous 2016 Best Picture mix up and pre-social media but still noteworthy moments. The 2022 Oscars did not disappoint in giving us a moment that will be dissected and memed for weeks, if not months to come. This moment was when Will Smith punched Chris Rock after the comedian made a joke about Jada Pinkett Smith's alopecia.
There have already been takes ranging from praising Smith for defending his wife so intensely when black women often go undefended even by those closest to them, to criticisms of men being too quick to use violence as a solution to conflict.There is a bit of a conundrum when it comes to viral moments from the Oscar's.
Will Smith may have increased the viewership. The lessening viewership makes this lose lose situation. If it's boring less people will watch. But if there are infamous moments or scrubs or controversies people will continue to lose their respects for the awards. In this case however much of the criticism is falling on Will Smith himself instead of the Oscars as an institution.
The Full Uncensored video of Will Smith's altercation with Chris Rock at the #Oscars pic.twitter.com/cGQ3plSEiz

— Movies (@moreoffilms) March 28, 2022
Ketanji Brown Jackson and being 4 times as good.
There has been uproar from both sides of the political spectrum since Joe Biden announced his intention to nominate a black woman to the Supreme Court. Now that he's actually said the name of the woman he wants to nominate she has been intensely cross examined by the public as well as the Judiciary committee at her confirmation hearing
This reminds me of a famous quote from the show 'Scandal': "you have to be twice as good as (white people)  to get half as much of what they have." as a Black person. Then take into account that she is both Black and a woman, it seems that she will have to be four times as good.
I'd say she's qualified.

Source: @washingtonpost pic.twitter.com/u18lPpQh1b

— Hillary Clinton (@HillaryClinton) March 21, 2022
Oklahoma abortion ban
The Oklahoma House of Representatives passed an abortion bill that is one of the harshest yet. The bill will stop women from getting abortions regardless of how early the stage is whether it's a day or two weeks.
Following on from the other abortion bans also allows for civilians to sue each other and anyone who aids or abets the abortion.  The only exception would be if a woman's life is at risk due to the pregnancy, or if the pregnancy was as a result of sexual assault.
The requirement of proof of a sexual assault in particular makes this law feel like a punishment for women who engage in consensual sex. This feels even more like a punishment when taking into account how difficult it is to prove sexual assault took place at all, even for women who aren't seeking abortion. If this bill passes, it does not spell a bright future for the direction of bodily autonomy for women in the US.
BREAKING: The Oklahoma House has approved a total abortion ban that can be enforced by private citizens.

If approved by the Senate and signed into law, this ban would take effect immediately.

It's a dark moment for Oklahomans' ability to control their own bodies and futures.

— ACLU (@ACLU) March 23, 2022
Featured image credits/