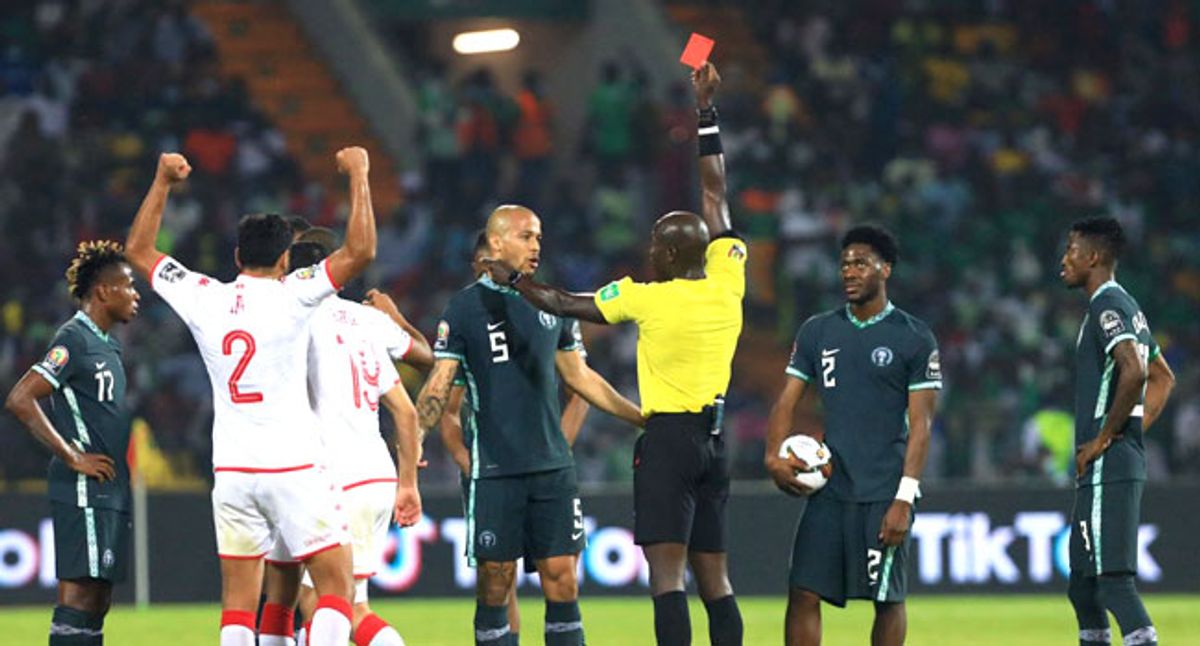 Nigerians react to AFCON knockout with self-deprecating banter
The loss stings, but the jokes are just top notch.
After a blistering start to the 2021 African Cup of Nations (AFCON), Nigeria crashed out in unspectacular fashion on Sunday night, losing to a lone goal against Tunisia in the competition's round of 16. Being the only country to win all three of its group stage games, the Super Eagles emerged as early contenders as the knockout phase began during the weekend, and Nigerians were very much invested in the team's seeming, impending dominance.
Now, short of fulfilling that potential, the team departed AFCON after putting on a generally lacklustre display against the Carthage Eagles, who qualified as best losers from the group stage after winning just a single game. Early in the second half, Super Eagles goalkeeper Maduka Okoye conceded via a long distance attempt by Youssef Msakni, in what really should have been a routine save.
Over the remaining 45-minutes, Nigeria created multiple chances to equalise but failed to convert any, with the comeback attempt made even harder when Alex Iwobi was handed a red card shortly after being substituted into the game. The loss dashed the optimism of many Nigerians who were quite certain the national team would make a deep run into this year's AFCON.
In typical Nigerian fashion, the reaction to the loss was heavily coloured by sarcasm, a coping mechanism Nigerians have adopted to any and every situation. Having served proper banter and caustic comments at several teams who came into AFCON flat, especially neighbouring Ghana who gloriously exited after three straight losses, Nigerians quickly turned that savvy inward.
Twitter was littered with a litany of hilarious comments, with the riffs ranging across two major talking points. While some of the jest was aimed at Maduka Okoye, whose failure to save a relatively direct shot drew the ire of many football fans—mostly male—who were already critical of his goalkeeping abilities, in whimsical relation to his good looks. The other involved President Buhari, who addressed the team hours before the match and was caught in the cross-fire of many tweets, many of which alluded to his incompetence rubbing off on a team that was brutally effective before his call.
Usually, this sort of banter is doled out by fans of opposing teams, but Nigerians have never shied away from self-deprecating jokes. It was expected that Ghanaians would contribute heavily to the barbs, but Nigerians even cut that channel off, with several briefly posing as Ghanaian Twitter users to let their banter off. Nigerians are already infamous on Football Twitter for dishing extremely funny, extremely clever banter and last night was another wonderful example. Sure, the loss stings, but what are you going to do but just laugh? It's not like we can run the match back.
Here are few of the best reactions in the aftermath of the loss.
What in the Vogue Magazine cover save was that?

— ÀGBÀ (@Oli_Ekun) January 23, 2022
What Buhari cannot destroy, does not exist😩

— Cross˚ (@Elkrosmediahub) January 23, 2022
When you carry one of dem Kupe boys go do goalkeeper for Nigeria, this is the result. This Maduka Okoye belongs on TikTok & nowhere else.

— Samo Agbero (@Vader_Wildcard) January 23, 2022
Maduka "if you like no defend, me I no fit stain my cloth" Okoye.

— 𝐓𝖚𝖓𝖉𝖊😈🔺 (@_TundeMoore) January 23, 2022
SUPER EAGLES😡 pic.twitter.com/Ze7xTpxv58

— HAPPY KID (@TheAjibolaGrey) January 23, 2022
Nobody:

Okoye when he saw the ball coming😭 pic.twitter.com/SHbID3TLeL

— Yómà 🇨🇦 (@yhoma_) January 24, 2022
Iwobi should just join NSG

— princewill (@mpakaprincewill) January 23, 2022
How? Say Mercedes Benz enter mud no mean say e be Honda o https://t.co/qA2egr2A0C

— Tola (@adetolaov) January 23, 2022
Maduka when he sees the ball entering the net pic.twitter.com/QUYFO35ygK

— Bidemi (@bidemiquits) January 23, 2022
Everything was going so well until Buhari addressed this team. Wetin be all this.

— ÀGBÀ (@Oli_Ekun) January 23, 2022
Okoye on Instagram vs okoye on the field #NGATUN pic.twitter.com/wg3iWCMDTP

— UgbedeOjo (@Ayamnic) January 23, 2022
[P.S, I'm waiting to see the subsequent fallout from rapper and comic Vader the Wildcard's ongoing short video series, If an agbero had a diary.]
IF AN AGBERO HAD A DIARY PART 6!!!

PLEASE RETWEET WILDLY & TAG YOUR PEOPLE!!!!!!! pic.twitter.com/a54dChwDyk

— Samo Agbero (@Vader_Wildcard) January 22, 2022
---