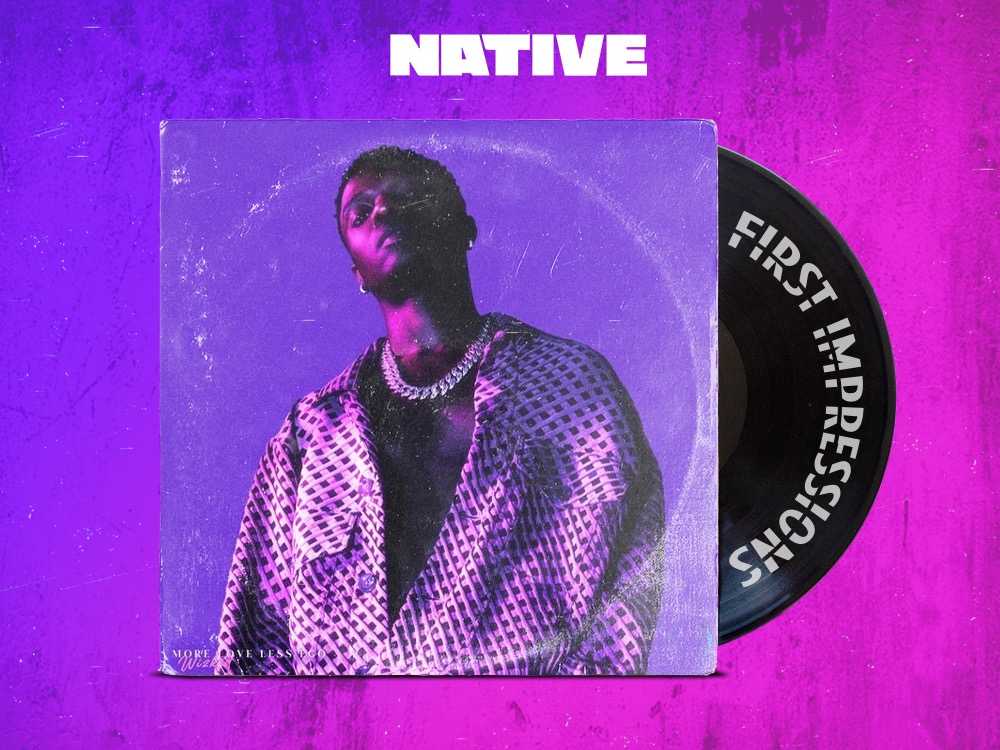 Our First Impressions of Wizkid's 'More Love, Less Ego'
new music from the Afropop sensation
Another Wizkid season is upon us. Two years after the release of his critically acclaimed album, 'Made In Lagos' and one year from its deluxe edition, the Nigerian singer has released its follow-up and his 5th studio album titled 'More Love, Less Ego.' For OG Wizkid listeners, this moment is particularly ineffable given that the singer has a track record to tease the release of projects in the past, only to have these promises fade just as quick as they arrived. 
Now, it seems the past is all behind us and a new era of Wizkid is here once again. Continuing in his penchant for pushing the boundaries of his artistry, Wizkid makes a departure from the amped-up party jams that soundtracked most of his early career days including 2011's 'Superstar' and 2014's 'Ayo.' Speaking about the new album, Wizkid recently told the Guardian that "Everyone fights with their ego and that's where I'm at. I'm still trying to shed my ego, like everyone else," a sentiment he aptly puts forward through buttery smooth vocals and noteworthy chemistry with his collaborators.
Months before the album's release, Wizkid shared a delightful Amapiano-influenced track, "Bad To Me", which was produced by Soso and P2J and showcased the artists infectious vocals and stellar penmanship with catchy lyrics such as "casmigos for my amigos." He followed this up with "Money and Love" which served as the second promotional single off 'More Love, Less Ego' which showcased where the singer was willing to go sonically on the new project. Now, with its official arrival today, a week from its expected date, 'More Love, Less Ego,' still sounds pristine and does not suffer from any deals. Across the 13 tracks, Wizkid enlists a couple of new collaborators – Don Toliver, Ayra Starr, Skillibeng and more, alongside Skepta, and brings them into his colourful world where ego takes a back seat to the pursuit of love and genuine human connections.
View this post on Instagram
BEST SONG 
Wonu: I think I'm still very much drawn to "Bad To Me." The record just simply does it for me, it's a fine balance between laid back and good music and that's what I appreciate the most about it. Close second will probably be "Frames." I'm very drawn to the tempo of the record, so this particular one stands out. 
Dennis: I really like "Special", partly because it's way different from what I was expecting. Because of Don Toliver, I was expecting big 808s and dreamy piano chords, but when Juls' solemn and seductive guitars breezed into my ears, it hit really different. Don Toliver toned down the vocal theatrics he's known for in favour of a more controlled but infectious hook, and Wizkid is just being his casually confident self – these are the perfect fit for this song. "Special" might not be the one that gets the single treatment, but it will be a fan favourite deep cut.
Moore: To me, "2 Sugar" is definitely the best song on this project. It's very easy to be biased towards this track due to the presence of Ayra Starr's enrapturing vocals. Wizkid and Ayra Starr make a stellar combo, with their verses blending seamlessly into each other's. It's definitely a song that will be played on repeat for the foreseeable future.
BEST GUEST APPEARANCE
Nwanneamaka: Wizkid and Skepta is always going to be a good idea. I can go on and on about the stand out tracks they've delivered to us, from the forever jam "Bad Energy(Stay Far Away)" to "Longtime" from 'Made in Lagos'. Seeing Skepta on the tracklist, alongside Naira Marley -who has been quiet for a bit now- certainly piqued my interest. Unsurprisingly, they did not disappoint. Of course, Naira introduced "Wow" with his unapologetically sensual lyrics, followed by Wizkid's infectious vocals and quickly assisted by Skepta's hard-hitting flow. The best tag team you could envision. 
Tami: I've been really excited for the guest features on Wizkid's new album since he began teasing it earlier this year. In true Wizkid fashion, no collaboration or feature is out of place as everyone invited into his sonic world is capable of holding their own, while never obscuring his own vision. I'm really enjoying the Ayra Starr-featuring "2 Sugar," which is packed with saccharine sweet melodies that will ensure it's reliably in rotation at functions. More than this, Ayra's feature on this album is a testament to Wizkid's decade-spanning career which has provided the platform for younger artists to showcase their skills with the world. It was Tems and Tay Iwar on 2020's 'Made In Lagos,' and now, two years later, Wizkid returns to pass the baton to a new generation through Mavin's pop princess, Ayra Starr. This is a huge moment for her, and after the year she's had with the release of the deluxe edition of '19 & Dangerous,' her debut album, it's clear that there's no stopping a celestial being.
STANDOUT PRODUCTION
Dennis: I think I'll go with the lead single, "Bad to Me". The way P2J folds 'Piano into the sultry, recognisable Wizkid aesthetic is genius. Wiz just sounds like he's having the time of his life throughout the whole song, plus the arrangement – crowd vocals on the hook and all the small tricks – is masterful stuff.
Uzoma: There is a lot of interesting stuff on the album production-wise but I'd settle for these two: "Bad To Me" and "Special." "Bad To Me" is a bop with its intriguing Amapiano rhythms. Juls' signature Highlife on "Special" is a welcome diversion from the other slick, Pop-leaning productions. And that Don Toliver managed to flow effortlessly on the track makes the track one of the album's standout tracks.
BIGGEST POTENTIAL HIT
Nwanneamaka: A lot of hype was generated around the track with Ayra Starr around the time of his Apple Music live event in London and listening to the project now, I understand why. Ayra has been having a well deserved moment with her recently released "Rush" and she reaffirms herself as a standout vocalist on "2 Sugar" produced by P2J. The pair seamlessly croon back and forth on the enthralling beat, making the track a memorable number off the project. I would not be mad if "2 Sugar" gets an "Essence" moment. 
Moore: I'd have to say that the biggest potential hit is "Wow". This track has a wonderfully engrossing beat that would easily draw any listener in immediately. Having two heavyweights in Skepta and Naira Marley also puts it at a major advantage. The presence of Skepta in particular makes it likely for the song to connect with British audiences.
BIGGEST SKIP
Tami: I'm not too surprised that there are tracks that I'd rather skip on this album. Wizkid is great at party-starting hits and romantic anthems with Afropop sensibilities, but he's also the king of sleeper hits which have the propensity to grow more engaging and riveting with time. Obvious example being "Essence" with Tems which exponentially blew up a year after its official October 2020 release, leading to Grammy nods and a remix with Justin Bieber. Currently, the first and third track on 'More Love, Less Ego' are getting skips from me. This is not because "Money & Love" and "Bad To Me" are bad songs, they were just two of the album's promotional singles, so I'm more than happy to skip past them to get into the new tracks we've just been gifted by Wiz. "Money & Love," is taking a while to grow on me, but it's got incredible and otherworldly production from P2J himself. Then there's also "Deep," which is full of sexual romp but lacks any tangible lyricism.
Israel: "Pressure" is probably the biggest skip. I wasn't really impressed with most of the track but it has potential. It isn't a big step up from his last Album and I'm honestly not surprised that Wizkid didn't grow as much as I thought he would.
OVERALL FIRST IMPRESSION
Dennis: 'More Love, Less Ego' is Wizkid in cruise control. He started iterating this current form of his sound, one where the ambience is incense with good vibes and colourful musical choices, five years ago with 'Sounds from the Other Side', and it's obvious he's mastered it to the T. The result is a project that is far less inventive than anything he's done, and less striking than his last album. Those are negatives, but the outweighing positive is that Wizkid is supremely reliable. He knows the beats that fit, his conviction in being the ambassador for eros love in Afropop is unshaken, and the melodies are as wondrous as ever. Everything Wizkid does ends up growing on most listeners, so while I don't think 'More Love, Less Ego' will be deemed a classic like 'MIL', it will most likely become another revered project in the Wizkid canon.
Wonu: Wizkid is clear. 'MLLE' is a continuation of 'Made In Lagos.' and this just goes to show that Wizkid has found what truly is his sound. The singer is at his most comfortable yet again and while the body of work is very production driven, he simply still finds a way to slide on the production and show off his talent. 'More Love, Less Ego' is Wizkid letting listeners know he's making the music he believes he should be making. 
Uzoma: Sonically and thematically, 'More Love, Less Ego' is a continuation of Wizkid's previous LP 'Made in Lagos.' Wizkid has found his sweet spot: slick Afro-fusion music revolving around gratitude, family and love. At this point, you get the sense that Wizkid has nothing to prove; he is just here to make the music he wants to make. Will there be an "Essence" moment from 'More Love, Less Ego' ? Time will tell. 
Listen to 'More Love, Less Ego' here.
Featured Image Credits/The NATIVE