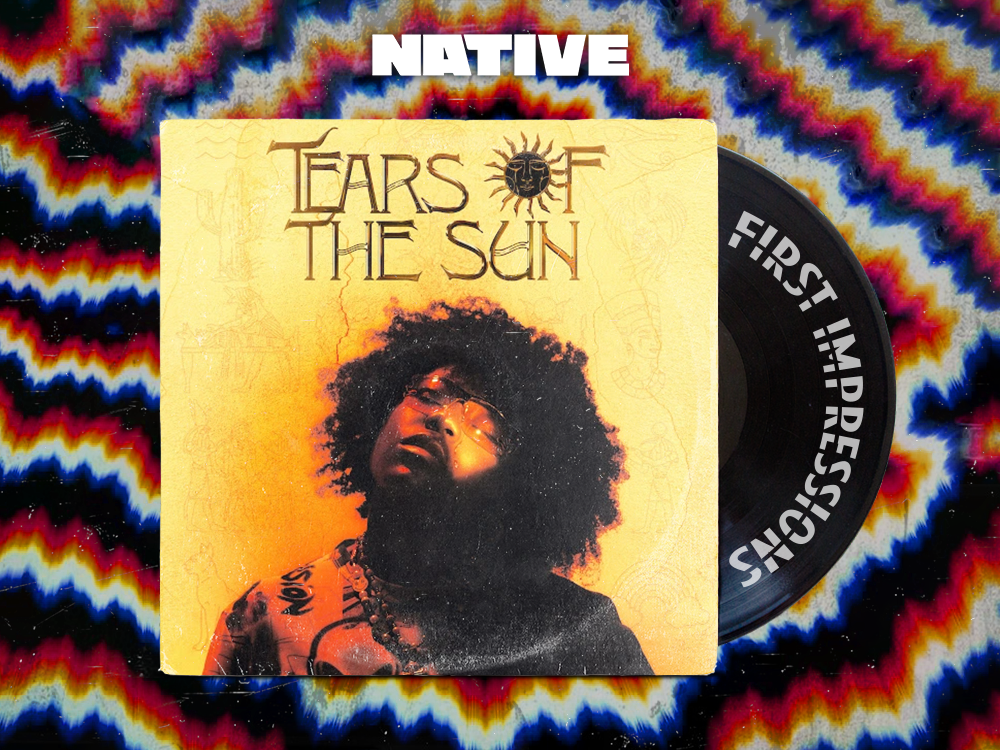 Our First Impressions of Teni's 'TEARS OF THE SUN'
A kaleidoscopic snapshot of her current state of mind
In 2018, Teni, a young entrant to the Nigerian music scene with her impressive catalogue of singles— "Fake Jersey," "Fargin," "Askamaya," and one of her highest charting singles, "Case," to name a few. The array of monster songs made her not just a reliable hit maker but a fresh entrant audiences more than willing to tap into. Consolidating her impressive entries with  "Party Next Door," "Sugar Mummy," "Power Rangers" and the 'Billionaire' EP, Teni was set to conquer the horizon and when her debut album, 'WONDALAND,' arrived in 2021, Teni needed no introduction. In her debut album, Teni's evolution was evident. She steadfastly pushed the boundaries of her artistry, exploring unfamiliar paths without compromising her sound. 
Kicking off the arrival of her sophomore album 'TEARS OF THE SUN'  earlier in the year with two singles, "No Days Off" and "Lanke," Teni raised the anticipation of her fans as to what to expect in the album. In this 16-tracker, her sonic evolution is difficult to miss. With a lot of pop influence, Teni is on experimentation with other different sounds, displaying never-seen-before layers of her artistry which points to her present state of mind which is: unhinged vibes. Touching several issues like love, marriage, life, and legacy, Teni draws her listeners into her world in this latest project which speaks to her commitment to making music that appeals to her audience. 
In typical First Impressions style, the NATIVE team shares thoughts on the album, from best song to stand-out production, biggest potential hit, biggest skip, and more. Tap in!
View this post on Instagram
BEST SONG 
Israel: So far, my best song has to be "YBGFA" because it beautifully encapsulates the struggles Teni has had to overcome and endure throughout her career while making other Black African women like herself feel less alone in their pain and anguish.
Tami: I was really looking forward to pressing play on the Teni album because all the promotional singles have been really engaging and served to further expand on her ebullient personality. 'Tears Of The Sun' has not disappointed and there are a few early favourites already. So far, I'm really loving the strong opener with "YBGFA" which I'm compelled to say is one of the most daring album openers in Afropop this year. It's clear that Teni is prenaturally at ease with her abilities and she's showing off all she's learned in the past three years.
Alex: It's hard picking a single track because the album is on replay. "Yaya Toure" and "Popo" are my most played. Picking the best song out of the 16 songs on the project, I am picking "Popo" for some reasons—first, the storytelling although a familiar topic is quite interesting and succinctly rendered with a beautiful and sharp vocal. Not missing out on the sound, I feel the production team did a thing with the sound of the track. It's catchy and ear-worming. 
FAVOURITE PRODUCTION
Nwanneamaka: "No Days Off" still screams the loudest to me because that is what releasing a new album is about; exploring new things. If you asked me what  Genio-esq beat sounded like, that's what I'd play but this is very out of Teni's range and she held her own quite well. I'm open to hear traverse this soundscape in the future.  
Dennis: I mean, the obvious one is still "No Days Off." It's the wildest experimental swing Teni has pulled off yet, and it still doesn't feel forced. The Jersey Club bounce and chirpy synths are just a show-off from Genio, it sounds as fresh as it did when it dropped months ago. Of the newer ones, I'll go "Capricorn & Taurus," which has a really sumptuous groove, but it's those intermittent additions of tightly plucked guitar chords that gives it an elevating post-disco feel. Plus, Teni tried something interesting with her falsetto on the first verse. One of the more memorable moments on this album.
BIGGEST POTENTIAL HIT 
Shina: Hmm it's hard to pick one from the album but my best possible pick is "YGBFA", a baile funk-influenced inspirational record that is very relatable. This song will immediately catch the attention of listeners as it's the first song on the album. Listeners will have their hands stuck on the replay button for a while before proceeding to listen to the rest of the album. An honourable mention would be "Ino" with Made Kuti.
Daniel B: I believe "Malaika" will resonate deeply with audiences due to its unique blend of familiarity and Teni's distinct style. Despite its significant radio playtime, its impact will be heightened, especially considering the current state of the country. Teni's adept reworking of the popular gospel song, infusing it with her classic style, will make it effortlessly relatable to a wide audience.
BEST VERSE
Shina: Definitely the verse on "YGBFA", the opening track of the album. Teni is very confident and sings about how she is unapologetically African. This is one of the best writings I've seen from Teni.
Sien: It has to be the opening verse from "YBGFA." She lets go of the 'Tyranny of Shoulds' and is focused on doing what she wants and living her own life. Very relatable to a vast majority and I very much believe the song would become an anthem.
BIGGEST SKIP 
Alex: "Holy Matrimony" is my biggest skip. The sound was good, however, Teni didn't catch me on that track because I didn't understand what she was trying to experiment with on the track. I may catch on to it later, but it doesn't appeal to me. 
Dennis: I will not be adding "Popo" to my serato. The song lacks any real drive for me and, as much as I get how the tempo relates to the topic of trust in a relationship, it just doesn't leap off wax or particularly simmer. Teni's best songs unfold in technicolour, this one feels more monochrome to me.
STANDOUT FEATURE
Nwanneamaka: I don't have a slew of options to choose from which says a lot considering the project has 16 tracks. But this is really Teni's moment so im glad to see her basking in all the glory with solo offerings. Of the three features we have, I'll go for Made Kuti-assisted "Ino." The song's rhythmic elements accompanied by Teni's high cadence hums are quite soothing to the ear. Made's signature sax chords heighten the feeling of solace the track gives and I believe the album aims at. Like I mentioned, this is Teni's moment so her vocals run across the track but Made's presence is still clearly felt. 
Israel: I have to go with "Mecredi" featuring Tayc an Artist I had not heard of prior to listening to this record. Their Vocals compliment each other so perfectly and it's definitely a stand-out Song on this Stellar Album from Teni Apata. The duet-style number was woven into the Soundscape of the entire Album really well with the amazing Production on the major elements of the song.
OVERALL FIRST IMPRESSION 
Daniel B:  I really like the project. The production is solid, the featured artists are fantastic, it's precisely what one would anticipate from an artist of Teni's calibre. There's an abundance of fantastic tracks in it, offering a genuinely enjoyable time for both her fans and anyone who appreciates great music.
Tami: Overall, I think Teni's album is a mixture of disarming vulnerability and authenticity. Since her emergence on the Afropop scene, Teni has always considered herself an outlier, capable of saying the things we don't want to say outright and shining a light on her own emotional psyche. 'Tears Of The Sun,' is no different as Teni once again packs in a punch of diary-like ruminations and party-starting anthems that showcase her impressive range. She's expanding her own sound and welcoming more people into her world, the growth is inspiring.
Stream 'Tears Of The Sun' below.
---