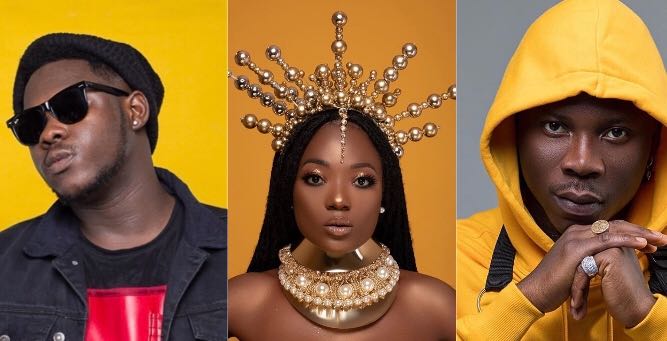 Get to know the Ghanian Artists on Afro Nation Ghana's Line-Up
Have you got your Afronation tickets yet?
Following the success of Afro Nation Portugal over the summer, it comes as no surprise that the festival will be returning to Africa this December, for a homegrown edition. This Christmas, Ghana will be hosting the festival between the 27th to 30th of December in Accra, and you can imagine the excitement it's building up.
Pulling from the line-up in Portugal, there are numerous returning performers, such as previous NATIVE cover stars: Davido, Burna Boy and Teni. They are joined by international artists such as the LVRN golden-child 6LACK, and New-York based Nigerian, Rotimi. However, the most exciting part of the #ANG line-up for us is their commitment to shining a light on the emerging and established talent of the host country. Whilst Nigeria has dominated the mainstream Afro-Pop conversations for the majority of this decade, Ghana's new crop of talent have been making some of the best music coming out of the continent in the last few years.
So, to prepare you for the Afro Nation Ghana experience, if the fear of missing out hasn't convinced you enough to get your tickets, we've produced a starter pack to get you familiar before you land in Accra. From megastars like Shatta Wale to the sprawling Odd Future-esq. La Meme Gang, here is an introduction to all of the Ghanian artists you can catch at the festival.
La Meme Gang
You can't talk about the new wave of music coming out of Ghana, without talking about La Meme Gang. The group has spearheaded the revival of Afro-Pop in Accra, and continues to mesh genres at will, ranging from trap to high-life, and back to pop music, without missing a beat. The dynamic group is made up of #TRYBE alum DarkoVibes, $pacely, Nxwrth, Kiddblack, Kwaku BS and RJZ, who all contribute to the creative process, from writing to producing to shooting videos.
Stonebwoy
Stonebwoy is one name that has been ever-present in the African music scene and doesn't seem to be going away anytime soon. He got nominated for "Best Reggae Album" along with Timaya in 2017 for their efforts on 'Avrakadabra' and though they didn't win, he continues his Nigerian partnership with "Ololo", a catchy high-life infused song featuring Teni. We're hoping to see the pair perform the song at the festival, given that they're both billed. "Ololo"
Efya
Efya first gained our attention with her contribution to Wizkid's "Daddy Yo" and then on Mr Eazi's breakout track, "Skin Tight". Her slick Afro-soul sound has made her one of the most prominent voices in Ghana and made a notable impact on Nigerian audiences. If you like female anthems and politically charged music for women, Efya is ya girl!
Shatta Wale
Shatta Wale has consistently released infectious dance tunes since his break out, and this is why he's one of the biggest stars working today. This year, his feature on "Already", one of the standouts off Beyoncé's The Gift shot him into further prominence. He's the biggest artist in Ghana today and will definitely get the people going once he shows up!
Kwesi Arthur
Kwesi Arthur broke out after Sarkodie jumped on his remix for "Grind Day" and it's been uphill for him from then on, picking up a BET award, featuring on Tim Westwood and contributing a remarkable verse to BOJ's "Awolowo". His project, 'Live From Nkrumah Krom, Vol. II', was also well accepted upon release, and we're looking forward to hearing him perform new music at Afro Nation.
AfroNation Ghana tickets are on sale now. To purchase, click here.
[mc4wp_form id="26074″]
---
You are meeting Debola at a strange time in his life. He wandered into a dream and lost his way back. Tweet at him @debola_abimbolu
---