Join Momo Hassan-Odukale at the Chanel Métiers d'art show in Dakar
Dressed in Abiola Olusola & Nyosi
Last weekend, Momo Hassan-Odukale, Lagos-based creative director and stylist touched down in Dakar, Senegal for Channel's Métiers d'art 2023 fashion show. Counting Wonderland and Lagos Fashion Week as some of her clients, Momo ethos remains putting together spruce looks while spotlighting homegrown brands and designers like Kenneth Ize, Lisa Folawiyo, Patta, WAF Lagos and the likes. With a front row view of Chanel's show on December 8th, Momo sat amongst fashion entrepreneur, Reni Folawiyo, Adebayo Oke-Lawal, founder of Orange Culture and other longtime muses, Pharrell Williams and Naomi Campbell.
Commonly globe-trotting especially within Africa, Momo is no stranger to Dakar as she shares, "Dakar is one of my favourite cities in the world," as she documents her moments prior to and during the show for the NATIVE. Arriving at her hotel, Momo was met with an personalised invitation from Chanel alongside a brand necklace with an African pendant and the iconic Chanel logo. In her usual fashion of representing African fashion designers, Momo's two outfit choices were picked from Abiola Olusola's SS23 collections, having to make a difficult decision between the crisp RIBAYI silk dress and the AINA set with a yellow organza apron, draped over a delicately beaded bralette. Opting for the latter and pairing with a pair of blue heeled mules, Momo evidently made the right choice.
View this post on Instagram
With some spare time on her hands, Momo headed to Lulu Cafe dressed in Nyosi Brand's Sayi Daisy hand-dyed Adiré dress after which she went jewellery shopping at the local market to purchase some rings. "My jewellery was stolen recently so I'm just getting back all of my favourite piece," Momo shares. Just hours to the show, Momo hit the next stop for a solo sushi date to gather enough fuel for the show slated for later in the day.
Chanel's Métiers d'art 2023 fashion show breaks records for what is hoped to be the first of many. Being the first European fashion house to stage a show in Sub-Saharan Africa and Dakar couldn't be a more perfect place. Home to an expansive world of contemporary art, fashion, film, dance and  music to name a few, Dakar is an influential art capital both within Africa and on an international scale. "More than just a show, this event will be part of a three-day cultural program accompanied by concrete action in terms of creative dialogue, sustainable development and the transmission of savoir-faire," Chanel shared in a statement.
Hosted at Palais de Justice, the building, housing Senegal's Supreme Court, is prominent architecture, characterised by large pillars and a seemingly airy space. The runway, a celebration of the culture and spirit of Senegal, kicked off with a vibrant show by musician and local, Obree Daman alongside a display by dancers from École des Sables. The collection was decidedly reminiscent of the '70's with printed silk shirts and pointed collar necklines alongside Chanel's iconic intricate embroidery textures and patterns. "The show was great. This was my favourite look. I love the casting. I love the models that were walking down," Momo shares. Following the outstanding show came performances by some Senegalese dancers alongside a glittering rendition by CKay.
Below are some looks from the runway, courtesy Momo Hassan-Odukale.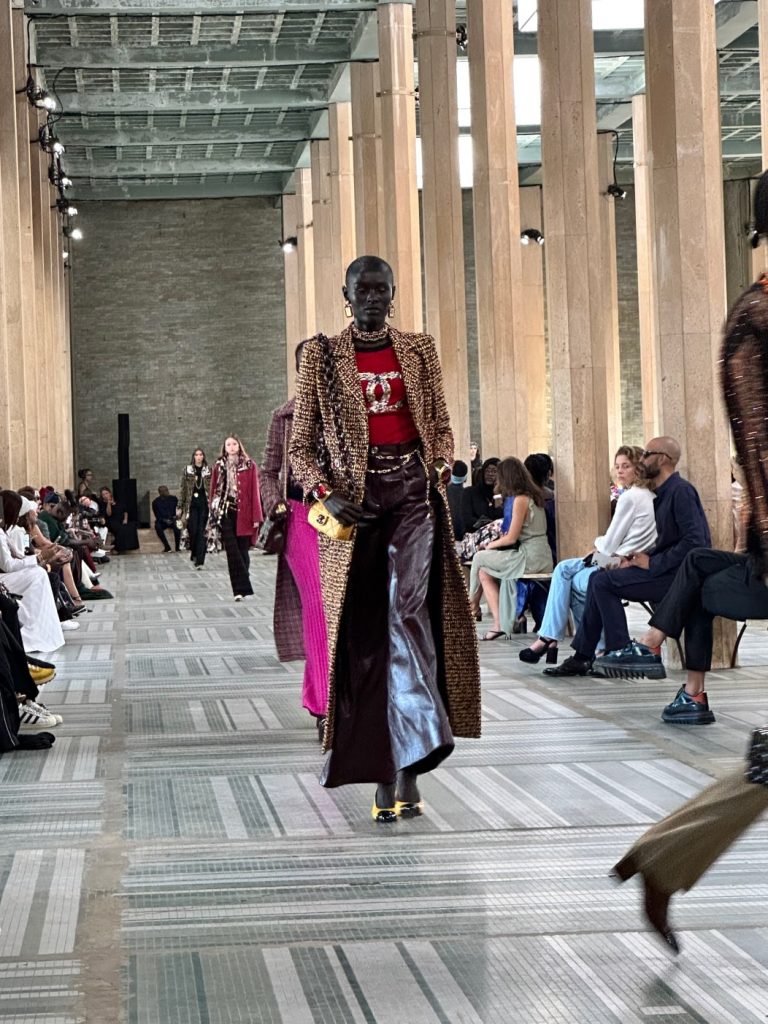 Photo: Momo Hassan-Odukale's favourite look off Channel's Métiers d'art 2023 runway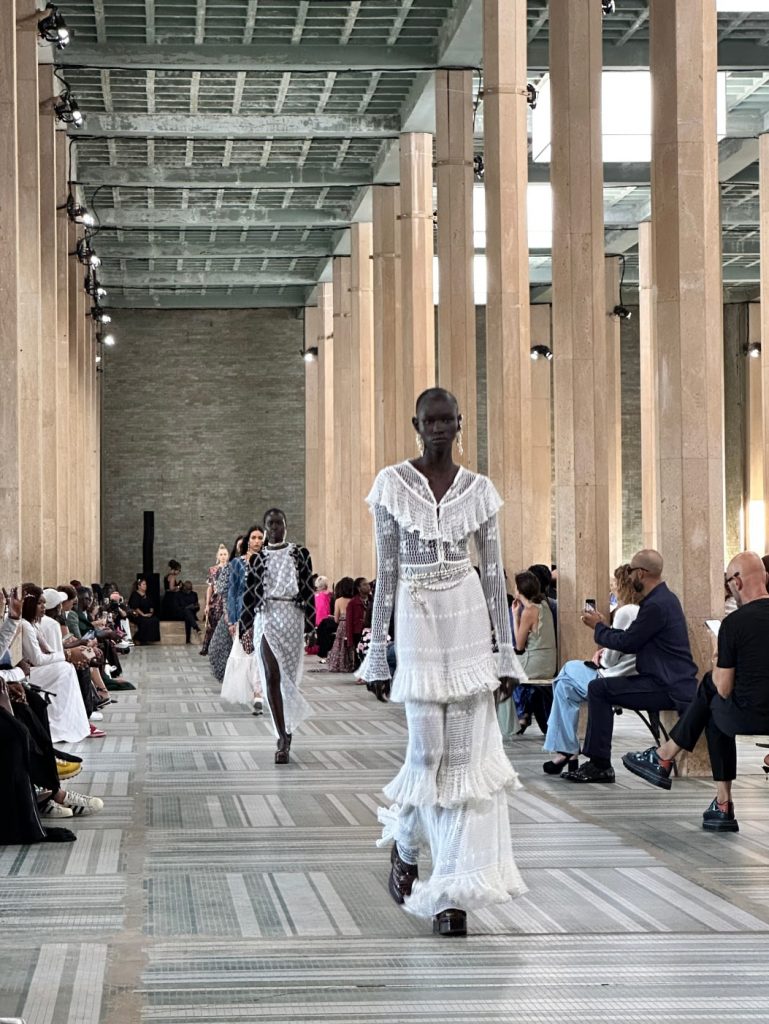 Photo: A white floral crochet dress off Channel's Métiers d'art 2023 runway.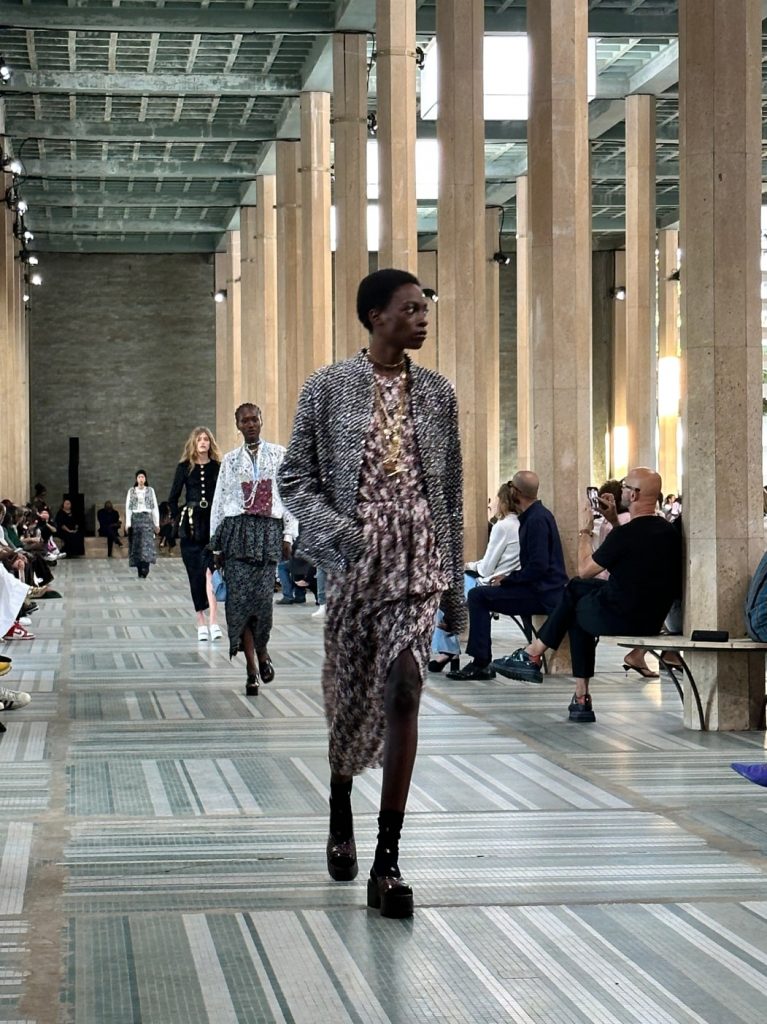 Photo: A beaded jacket over floral dress off Channel's Métiers d'art 2023 runway.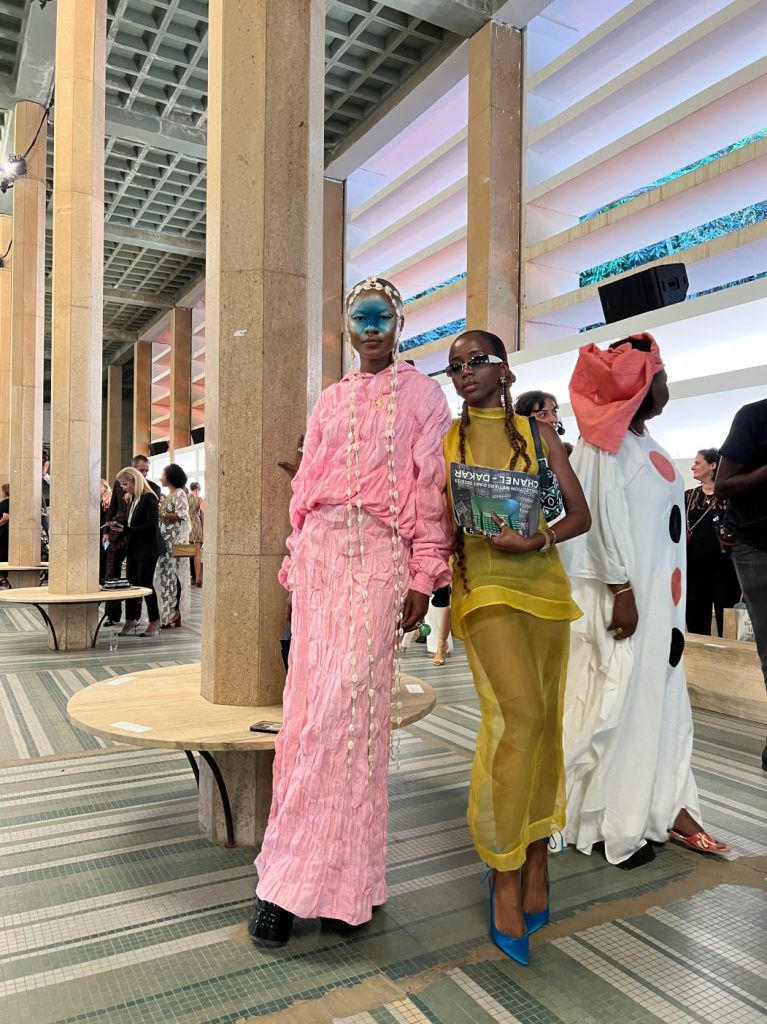 Photo: Lafalaise Dion and Momo Hassan-Odukale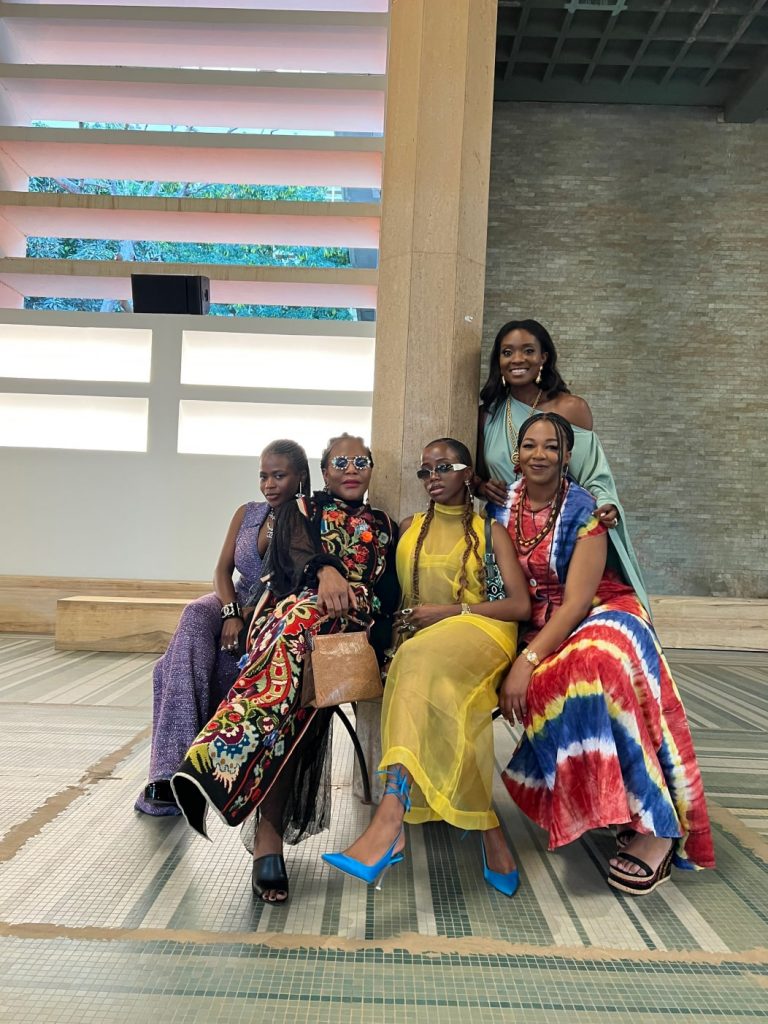 Photo (left to right): Faridah Folawiyo, Reni Folawiyo, Momo Hassan-Odukale, Arinola Fagbemi and Lola Ogunnaike (standing)
Featured Image Credits/The NATIVE
---
Nwanneamaka couples her creative interests with her individuality, using words as a vessel for her expression. 
---