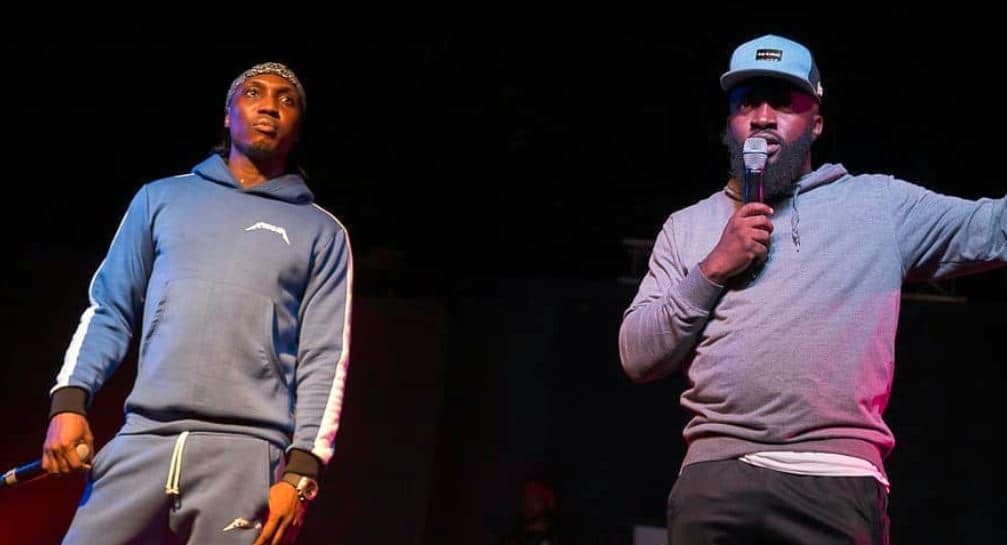 Essentials: 'Crown' by Loose Kaynon and A-Q
A monument to the inflated prestige of Chocolate City
You have to be impressed with M.I's resolve when it comes to taking charge of the hip-hop community. Like Kanye, he announced earlier this year that he'd be releasing a pair of projects and executive producing for other hip-hop artists before the end of the year and has since made good on his promise. His influence on Loose Kaynon and A-Q's 'Crown' adds a prestigious gloss to the lofty 10-track supergroup project.
https://www.instagram.com/p/BmbBb-Qg9YK/?hl=en&taken-by=loosekaynon
Though there are a number of guest appearances from OAPs, rappers, singers and other industry heavyweights that add to the album's elite hip-hop appeal, M.I's presence is only felt in a brief producer tag heard on the 7th track, "No Time (Freestyle)". But it's just as well, allowing Loose Kaynon and A-Q soak up the limelight and shine through their ostentatious rap lines. The album opens with "Out of This World", where A-Q instantly takes the front pedal and runs with it, painting a vivid picture of how he climbed up hip-hop's metaphorical hierarchy over stalking bass and a sample of choir harmonies. Loose Kaynon, on the other hand, feels no need for such character development with his cocksure bars selling the established rap star image by looking down his nose at other rappers; "Y'all mediocre down there talking polite/ It's funny how all these jokers walking around proud".
Debbie Romeo subdued vocals like she's mumbling a prayer to herself on the hook of "Regrets" sets the tone for Loose Kaynon and A-Q's introspection on their understated reputation. But on "Gang Gang", Torna replaces her on the hook and infuses an indigenous style with his eastern influenced melody and lyrics. But the track stands out for M.I's bass-led production with a snare that sounds like static and casually affectionate brags that show off the rallying allure of Chocolate City; "Whole Team Good, We Winning/ Really Don't Give A Fuck About Who Scores". A-Q's verse, obsessing over his own brilliance only emphasizes the powerhouse of Chocolate City's lineup.
The album's title track, "Crown", features the duo of ShowDemCamp, and they don't hold back from taking up as much room as Reinhard's sparse production offers. In true cypher-esque aggression, all four rappers go hard into critics of hip-hop with rap battle like vengeance and make "Crown" the obvious centrepiece of the album. However, the tempo switches abruptly on the next track, "By Your Side", a sultry romantic single featuring Yoye Hayba. But the heartfelt confessional is a brief detour from the album's core narrative and the speed at which they quickly return to their boastful ways on the next track, "No Time (Freestyle)"indicates the tunnel vision for rap's competitive throne.
Chi Gurl assisted track, "Hustlers Prayer", finds Loose Kaynon and A-Q returning to introspective lyrics where they reflect on the downsides to being the best at what they do; "I'm Trying To Sell Records To These Confused Kids". It's subtle, but very effectively disarming for any counter arguments to their claims to the throne. On the album's closing track, "God Wants Us To Be Too Lit", Loose Kaynon and A-Q keep the authoritative brags going for the party-driven track featuring Big Daddy Jay and a bouncy trap beat produced by Beats by Jayy. Though the 10-track—including a skit—length makes for a relatively quick listen, despite their best efforts, 'Crown' still winds up being a monument to their own inflated prestige. With Chocolate City's reputation and the influence of A-Q's contagious hunger to prove a point, Loose Kaynon and A-Q prop up each other's egos and the result is a wholesome and idiosyncratic bird's eye view of the rap game.
You can stream 'Crown' by Loose Kaynon and A-Q below.

Featured Image Credits: Instagram/loosekaynon
[mc4wp_form id="26074″]
---
You are meeting Debola at a strange time in his life. He wandered into a dream and lost his way back. Tweet at him @debola_abimbolu
---