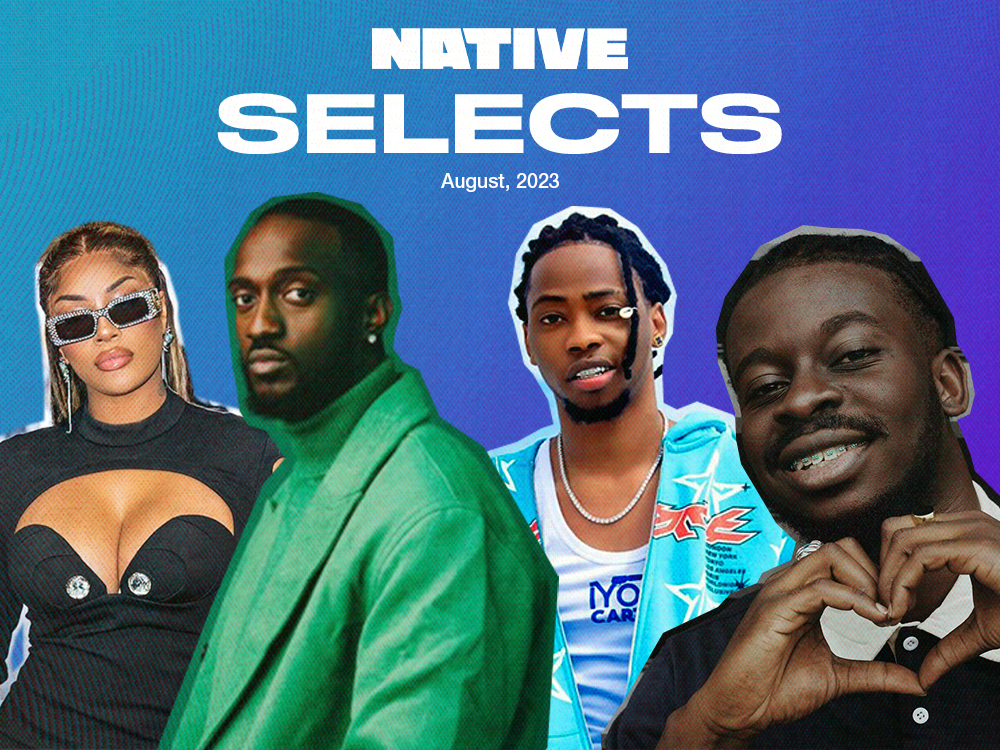 NATIVE Selects: New Music From Tekno, Black Sherif, Yimeeka & More
New weekend, a whole lot of new music.
Every week, new music shows up, sweeping fans and music lovers off their feet while artists gauge reactions to know the effect of their creativity. At the NATIVE, we are committed to keeping our ears on the pulse of the music scene and bringing the best sounds to your doorstep. In our last edition, we brought you new releases from Olamide, Sarkodie, Falz and more. Today, we have songs that move from Afropop to Amapiano to R&B, with our select artists showcasing their unending talent and passion for creativity. Lock in!
YIMEEKA – "TSUNAMI" FT. SEMZI & MANANA 
Nigerian musician-producer and uNder alum Yimeeka beautifully introduced herself last year. Now, the R&B-inspired artist is expanding the reach of her artistry, as she showcases on her new double release. Alongside "Issues," the vibrant soundscape of "Tsunami" bares her sensitivity, as she sings about running to a lover. With features from Semzi and Manana, it's a song with complete edges, pulling the trio's distinct sensibilities together. 
VONDEE – "YOU"
Love has always spurred great records and this is one of those. A new track from the rising Ghanaian artist Vondee, it's an evocative song carried by the artist's dulcet vocals. The mellow soundscape of the record only works to amplify the feelings, as each word settles with a tenderness that underlines the intent of the artist. Here's one artist you should keep your eyes and ears on. 
STEFFLON DON – "WHAT'S POPPIN" FT. BNXN
In recent times, BNXN has been connecting links with international artists, taking his inimitable melody into songs with Jae-5 and Dave, among others. This time, it's the English artist of Jamaican descent who he collaborates with, their distinct voices layered in perfect sync with each other. It's quite the breezy affair, laid-back while the inflections amplify its sensual quality. 
EUGY & MAMBA SOUNDS – "AHOUFE"
Ghanaian artist Eugy has always favoured sensitive records, blending the colourful undertones of Afropop into his R&B-inspired music. "Ahoufe" emerges from that fusion, an affectionate record where he promises to do right by his lover. With folksy production from Mamba Sounds, it's a song that packs all the head-spinning feels that come with being intimate. 
DOTTI THE DEITY – "FOREVER SWEET"
We've had ears on DOTTi The Deity ever since he made our Projects You May Have Missed and he's been justifying his ascendant star ever since. He releases the visuals to "Forever Sweet," one of the cornerstone records from the project 'For Yo Knew Me', and it's as tender as you'd expect. Set in a naturalist soundscape and the thrilling picture of talking drums accompanying DOTTi's voice, it's a stirring work of poetry and passion.
JERIQ – "11:11"
One of the most inimitable voices to emerge from Nigeria's southeast in recent years, Jeriq has moved with the propulsive force of a true artist. His haughty tales about hood realities are soundtracked with similarly impressionist music, and that mark is evident on "11:11," his new record. With a Drill base, the record manifests his growth in lucid bars, most revealed in the lyric, "Fully focused on only doing things that would elevate me". 
95ANTNY – "BIGGO"
Fresh Meat alum 95ANTNY has always been omnivorous in his musical palette. Readily flitting across soundscapes and subject matter, his new release finds him in the alt-pop sphere, with intricate finishes to the music revealing a new sheen in his vocals. Even though he sings seductively about a lady's waist, the associative feeling comes off as profound, as there's a melancholic edge familiar to alte musicians that's audible here. 
TEKNO – "PEPPERMINT"
No discussion of contemporary Afropop is complete without a mention of Tekno. The super producer and musician has influenced the rhythm of the game to no small extent, and now amidst the reverence, he's primed to take his seat back at the top of the game. "Peppermint" is a reserved comeback, mid-tempo but packing the elements (groove, language, melody) that Tekno has built his empire on. With an album expected later this year, this is a fine reintroduction to the prowess of Tekno. 
REMINISCE – "E.N.K.R"
Nigerian Hip-Hop has seldom seen a rapper like Reminisce before. The veteran has solidified his elite skill level, branching into pop whenever he wants to while retaining his tough, sexy persona. With his first album in seven years expected later this year, Reminisce has whet appetites with a fifty-six-second record, "E.N.K.R", a stand-in for the Yoruba word 'Enikure'. Even with its short runtime, Reminisce flexes his yet-sharp pen, while his vocals sound as mature and menacing as ever. 
BLACK SHERIF – 'TAKE CARE OF YOURSELF, BLACKO' 
Since releasing his groundbreaking debut album 'The Villain I Never Was', Blacko has been on a promotional run, performing and releasing visuals. He's stepping back into the creator fold though, as showcased on the brilliant two-pack single he's just released. "YAYA" and "SIMMER DOWN" are distinct records, the former reiterating his strength over trap-tinged production while the latter adopts more from Drill, but the energy is mellow and Sherif's flow rejuvenated. He seems to have been taking care of himself. 
DJ VOYST & DAI VERSE – "OVERLOAD" 
On this mellow record, the talented duo of DJ Voyst and Dai Verse collaborate. Verse's harmonic crooning is in scintillating form as he layers affectionate lyrics in honour of a love interest. From the workings of her mind to her hip size, he relays the feeling of loving all the parts of one's interest. 
OLADAPO – "IF AT ALL"
Known for his vibrant takes on R&B-infused Afropop, Oladapo is an artist to watch out for. On his new song "If At All," he's in pristine shape as he coaxes assurances from a lover. The production meets his svelte vocals beautifully, creating a song that would stay on the minds of listeners for a long time to come. 
---
Words By Emmanuel Esomnofu.
---
Featured Image Credits/The NATIVE