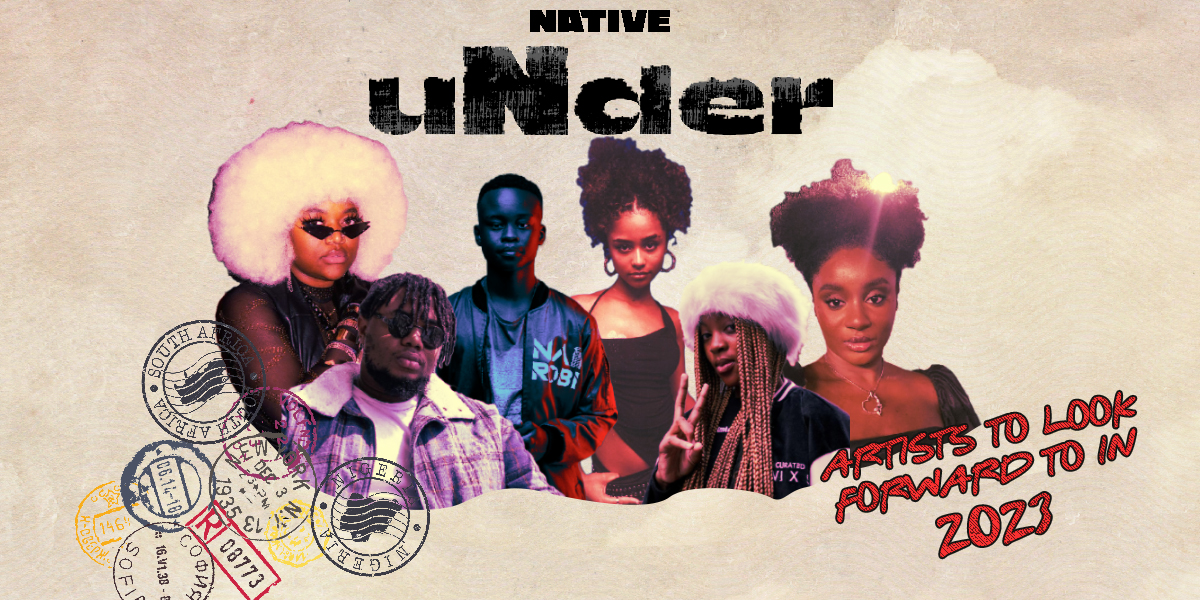 uNder: Best New Artists to Watch in 2023
Featuring Libianca, Tyla, Bloody Civilian & more.
The beginning of every year comes with promise. For Afropop, specifically, it's the promise that the continent's diverse urban music scene continues to be inventive, flush with great music and attention-holding at home and to the rest of the world. For those positive things to manifest, there has to breakthrough artists taking the next steps in their careers and pushing the envelope. At The NATIVE, we've always taken pride in championing the artist and music of tomorrow in this moment, and we're back on the job.
For this year's first edition of 'uNder', our column spotlighting breakout and intriguing acts, we're sharing with you seven artists the editorial team is excited about as 2023 unfolds. There's Libianca, the Cameroonian singer whose recent breakout has been helped along by a deeply, emotionally resonant hit song; Fresh Meat alum Tyla, the South African starlet set to fulfil her potentials; Bloody Civilian, a fiercely talented Nigerian singer and producer; and more artists who deserve our collective attention. Read through our list, hit play on our playlist, and you're guaranteed to find and hold on to more than one new favourite artist.
LIBIANCA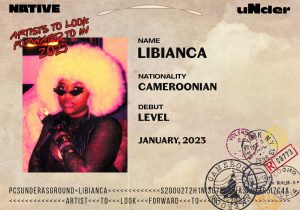 No song this year has been more penetrating than "People." Emotions of abandonment and pending doom are universally felt, but no one could have written the record like Libianca. With vocal measure and expressiveness in perfect sync, the Liberian-American artist unfurled a layer of her artistry which now has millions around the globe hooked. On TikTok and just about everywhere, the famous query of its chorus ("I've been drinking more alcohol for the past five days, did you check on me?") has been a fixture, while industry bigwigs like RCA/Jae5 and BNXN have sought her affiliation through a record deal, as in the former, or a melancholic cover as delivered by the Nigerian singer.
Libianca's journey in music goes far back. Born in the US, she moved to Cameroon when she was four. She was exposed to a variety of music and began writing songs at ten, getting a local record deal when she moved back to America during her teens. Last year's showing on The Voice was a fitting rite-of-passage for an artist who's been working all their life for musical greatness. Her early-career cuts like "Level" and "My Place" possess the soulful awareness of her vocals and on the tear-inducing family ode "Thank You," you'll hear the sensuous blend of afropop and R&B which makes her so exciting. Even uber-popular hits like Doja Cat's "Woman" and Billie Ellish's "everything I wanted" sound better when covered by Libianca, her songwriting and vocal prowess turning the records on their heads.
Since Tems, seldom has an African artist been this intentional about the 360 aspects of her craft. And with Tems currently being where she is, there's no doubt Libianca possesses the talent and grit to reach those same levels and possibly exceed them.
Emmanuel Esomnofu
Bloody Civilian
Last year must've been the best Bloody Civilian ever dreamt of. After securing a spot on NATIVE Sound System's debut compilation project 'NATIVEWORLD,' the Abuja-born singer/producer dropped a single and snagged production and artist credits on the Ludwig Göransson-helmed soundtrack for Marvel's Black Panther: Wakanda Forever. It was a host of incredible achievements for a DIY artist who, until 2021, went by a different stage name.
In 2019, under the stage name emosé, Bloody Civilian (born Emoseh Khamofu) released the single "Goliath," a Folk-inspired tune steeped in biblical allusions where the singer railed at naysayers and swore to surmount trials. While her vocals floated with evident ease and the anger powering those lyrics was covert, her emotions are raw and inescapable on her audaciously-titled 2022 single "How To Kill A Man." On the self-produced song, she sings that her "Anger wey dey boil like heater" is out for revenge against any man who dares to be on her wrong side. Alongside the song's menacing rhythms, Bloody Civilian, fed up with injustice, details the ways she would gain her pound of flesh. It never feels gimmicky; the song works because you can feel it comes from an honest place. After all, frustration is a feeling we all have felt.
The accompanying video for "How To Kill A Man" packs high energy as Bloody Civilian plays the role of an action figure who battles her enemy. She also paraded an array of talents as she did her stunts, directed the visuals and was part of the editing team. With a Def Jam deal in the bag and an EP in the works, there is more greatness to be expected from the Bloody Civilian as she refines her sound.
Uzoma Iherijika
M. Rumbi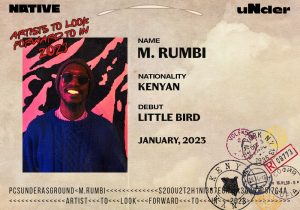 Rumbi's discography is rich. The Kenya-born producer, singer, rapper and songwriter, has been making music since 2017. His sound is mostly a relaxing mix of R&B, Jazz, Soul and Hip-hop. A self-taught creative, M. Rumbi, who finds inspiration in the works of The Roots, FKJ, Tom Misch and Uyama Hiroto, has spent adequate time perfecting his craft and making music that touches on topics of love, existence and relationships.
An admirable quality of M. Rumbi's music is his penchant for collaboration. He has worked with numerous local and international artists, with projects such as 2018's 'Busy Body,' 2020's 'Si Me. See Me' and 'Not All That,' and 2021's 'A.Ms' highlighting his versatility. He is one half of the creative duo BasicCity and also produces under the moniker theNairobiNomad. On "Outplayed," his first single of the year, M. Rumbi orchestrates a Jazz/R&B-influenced soundscape for Philippines-based singer Christine Cuare has fears about another woman in her lover's life and questions his commitment to her: "Why always playing games?/If it will/If it will end the same?" The track also sizzles with elements of electronic music, rounding up a fine showing of M. Rumbi's mastery. If "Outplayed" is a sign of things to come, it portends that M. Rumbi has more delights up his sleeve.
Uzoma
SCUMIE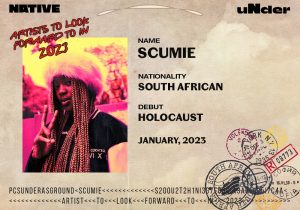 Surprise is a potent element of rap music. Within the South African music scene, few artists underline that truth as poignantly as Scumie. Though the youngster's entry came about two years ago, an effortless charisma and writing which flosses while being sensitive has earned her a stellar profile. In 2021, her '066' EP demonstrated a spitter with cutting edge, but even more mastery emboldens its follow-up released on the penultimate day of the year. With just one song exceeding two minutes, the seven tracks play out like cut-and-join pieces, a style which lends her urgent thoughts the brazen individual direction needed to thrive.
Scumie's range comes alive on "Solitude" and "SRT," two standouts from the project which culls in ambient synths and a menacing drill base respectively. On last year's 'Gangsters With Standards', she collaborated with producer Moett to deliver her most riveting project yet. Full-throated declarations colour the opener "Sky" while her stylistic resume also includes emo-inspired crooning ("NO MORE") and scattershot rapping, as you'll hear on eight-minute cut "Party/Pressure". Her ear for beats is remarkably brilliant and with a collaborative edge to her artistry, Scumie wields significant tools for breaking through into mainstream influence. After impressing on the pop-leaning "Give Me Ya Luv?" which features Blxckie, she returned the favour on the rapper's "investigate", delivering a Nicki Minaj-reminiscent last verse on the gritty trap production. More than anything, those performances verify the buzz of Scumie's talent as legitimate.
Emmanuel
IkeN
Kenyan born singer and songwriter Ike Ngala, recording and performing under the moniker IkeN, fell in love with music from a young age. The 19-year old musician, songwriter, and producer began experimenting with writing and recording on his computer in his early teens, with his production and vocal talent swiftly developing to the mature alt-pop music we hear today. He brings together delicately powerful vocals with rich soundscapes, and pop-leaning songwriting.
Since he made his debut in 2020 with "Vibe With You," IkeN has only solidified his footing in the music industry with records such as "Twisted" and "I hear Angels" both of which allowed the artist to show off his distinct and sonorous vocals. To round up the year last year, he released the infectious record "Your Turn," an open letter to his love interest that also doubles as his best song yet. A largely DIY artist, what the singer has been able to put together so far is as impressive as it is intriguing, setting him up for a future that will draw more ears and eyes to him. IkeN is ready for the next phase of his career and we're here to see him shine.
Wonu Osikoya
TYLA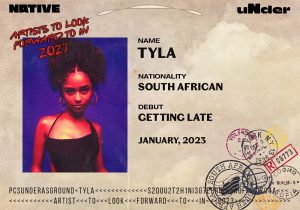 For the budding 19-year old superstar Tyla, becoming a global pop star was always a huge part of her plan. When Tyla released her dance-ready bop "Gettin Late," it ended up taking over TikTok and Instagram due to its up tempo beat. Taking off during the pandemic, the song earned the singer her big break, its glossy Amapiano-meets-pop sheen quickly helping to anoint her as South African music's latest starlet. Ever since then, Tyla has only become a force to be reckoned with. When her song is not featured in some of the biggest Netflix SA TV shows, 'Blood & Water,' she's performing her hit songs on world stages.
In the two years since her first taste of mainstream, Tyla has been seemingly playing the long game, with a deliberate slow drip of music that signals a focus on her development. Right now, it feels like go time. To end last year, she released "To Last," and has quickly opened her account for this year with the sparkling "Been Thinking." In typical Tyla fashion, she brings forward a vibrant and radiant effect to the new record with her stellar lyricism, as she opens her heart up to her love interest and dazzles with her porcelain voice. These releases have set Tyla up to move to the next stage of greatness, from growing star to potential great.
Wonu
Wizard Chan
Wizard Chan believes he's a messenger from the Creator. At least, that's what he projects on "Earth Song," the December 2022-released single that's currently serving as his breakthrough single.  "Lord have mercy/I'm on my knees 'cos a man must sin," he quips on the song. The spiritually-inclined song is also a stunning feat of self-awareness from an artist who's never lacked it across his earlier songs. The Port Harcourt-raised artist is versatile, sometimes couching those sort of poignant lines and more playful lines into fusion-pop songs with palpable Reggae influences.
Releasing his first single "Halo Halo" in 2020 he has morphed into a multifaceted artist dabbling between discrete storytelling and releasing bangers. On "Truth," he uses society as his canvas, tackling everyday ills and injustices while shining a ray of hope for the days to come. After a brief hiatus, he made his come back earlier in 2022 with the lovelorn "Miss You," where he proved his range beyond rapping and highlighting how the break helped grow his craft as an artist, as he harmonises on the chorus. Wizard Chan is obvious dragging around a big bag of tricks and deep artistic arsenal, and that is synonymous with world-beating potential. There's already a lot to love about him, and there will be much more to admire as he unfolds he abilities to the world as 2023 goes by.
Tela Wangeci
---