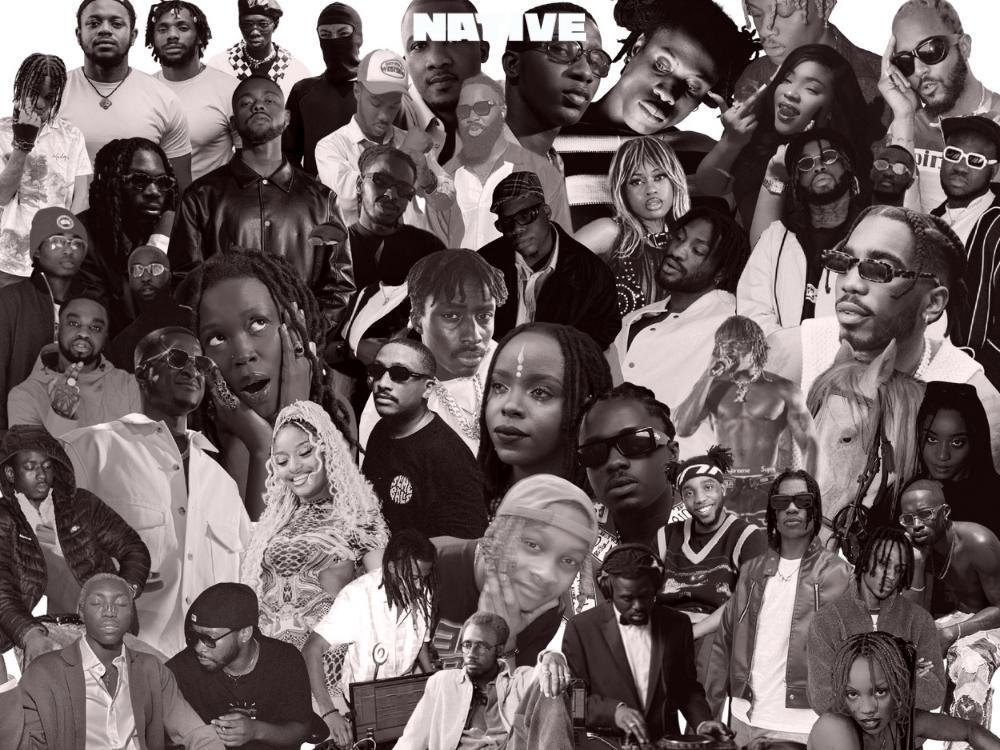 Our First Impressions Of NATIVE Sound System's Debut Album, 'NATIVEWORLD'
our debut compilation album is out now
The SOUND is here to stay. For a while now, the NATIVE Sound System has been spreading the gospel of 'NATIVEWORLD'–the debut album from the super-producer and A&R arm of the NATIVE Networks which is championing new and emerging sides from this side to the world watching.
View this post on Instagram
Finally arriving on Thursday, the compilation album pulls together several collaborators and peers, across time zones and countries, to execute a daring 15-song set that traces the different cultural and climatic seasons in Lagos, Nigeria. The project is feature-stacked with excitable artists such as Teezee, Joyce Olong, Ayra Starr, Show Dem Camp, Obongjayar, Cruel Santino, Lady Donli, Azanti, Deto Black, NSG, Psycho YP, Fresh L, Prettyboy D-O, Lojay, Maison 2500, Knucks and many others.
These distinct artists are paired on visceral, intimate beats by producers as varied as P Priime, Sholz, GMK and Tyler Turner, among others. Earlier this year "Runaway," the stirring rain-evoking duet by Ayra and Lojay, had kicked off the 'NATIVEWORLD' journey and "Wedding Ring," a summer time bop from the quartet of WANI, BOJ, Odunsi and Odeal not long ago. Now, the sound is here to stay and champion the brightest voices coming out of Africa.
Here are our first impressions of 'NATIVEWORLD' below.
Best Song
Tela: "Rara" is my standout track in the album. The production, featured artists and execution of the song immediately make the song impossible to ignore.The three artists manage to create a catch and effortlessly trill song. The synergy between Maison 2500, SL& Deto BLACK boil down to championing fun, confidence and rage. "Rara" is a medley of influences as there is the spirit of breakneck pace, the melodic crooning injected slightly with the pint sized angst of punk pop. To me, there is literally nothing topping this song The details in "Rara" are rich as Deto Black paints a vivid picture of what it means to be an authentic bad bitch as she wraps up "bitches cannot see me unless its on tv."
Dennis: There is a right answer here, and it's "Stuck On You." I've anointed myself a DAP the Contract expert, so maybe it's the bias talking. Actually, no. This is the best song on 'NATIVEWORLD'. Everything just works so damn well, from LMBSKN's synth-pop masterclass, to Ayra Starr's immaculate falsetto, to DAP's Teflon flow.
Emmanuel: It's hard picking a best song and this is not my bias talking, shoutout Dennis. "Tortoise" surely ranks among my favourites, as does "Stuck On You" and "Bittermooncake." However, I'm leaning most towards "Pim Pam" right now. Everything from the production to the verses seems to be divinely ordained, at the right places at the right time. Any song featuring both Prettyboy D-O and MOJO AF is a cheat code, and Fresh L and Psycho YP just make things more interesting on a rap-level. Really hard like I said; the entire album slaps!
Best Production
Moore: It's hard to say which song has the best production on an album of consistently standout production quality. If I have to pick one, I'd say "Bittermooncake." The song utilises a futuristic synth that blends seamlessly with the energising beat. The entire song comes together to give the listener an experience that's both trippy and enlivening.
Daniel: The production on 'NATIVEWORLD', as a whole was stellar which makes really hard to pick one. But for me, the production on "Tortoise" stands out! The intricate fusion of dance and highlife was a combination I didn't see coming. Big shoutout to Sholz for that.
Wonu: The most standout production on this body of work for me will be "EDMP," produced by Le Mav. It is easily a standout putting into consideration the kicks, snares and the general outcome of the beat; it's a properly put together record if you ask me. Close competition will be Tochi Bedford on "Bittermooncake." I don't think there's any other record taking the second spot for any other reason. All round, the production on the body of work extremely stands out so shoutout to all the producers on the project.
Best Feature?
Uzoma: I give it to Alpha P on "Pressure," which also features Lady Donli. The Afropop track seems tailor-made for him and he shines with his ear-candy vocals. Lady Donli gives a good account of herself but it is undeniable that Alpha P has this one on lock. Special mention goes to WANI on "Wedding Ring." Also, everyone on "Bittermooncake" – Tochi Bedford, Zirra and SGawD – came correct.
Daniel: Have to give this to Ayra on 'Stuck On You', her vocals are just magical on the song. She came out strong on the track giving a real Pop Queen energy. And hear me Dap the Contract came correct with his flows, but Ayra was the highlight. Notebale shout outs to Alpha P and Lady Donli on "Pressure."
Maria: I can't lie, this one is hard so I have to put three contenders up; Ayra Starr, PsychoYP and Wani.
Ayra Starr's emotive lyrics and alluring vocals on "Runaway" and "Stuck On You" put her up there instantly and although PsychoYP had just about fifteen seconds on the album, he packed so much energy into it with braggadocios lyrics that it secures him a spot here too. Wani is the king of serenading lyrics. He knows exactly what to say and how to sing it. He did so well on "Wedding Ring", it's almost making me want to be cuffed which is very fitting seeing as it is culled from the summer section of the album. Get thee behind me Wani. LOL. All jokes aside, these three did amazingly well. Hats off to them.
Biggest potential hit
Moore: I think the biggest potential hit is definitely "Stuck On You." This is partly because it's difficult for an Ayra Starr song to not become a hit. With an expert composition by LMBSKN, the song is engaging from start to finish. The verses rapped by Dap the Contract gives the track a shot of energy that compliments Ayra's smooth vocals. I can definitely see this track being successful with all audiences.
Uzoma: Easy. It's "Pressure." Producers Le Mav and Genio provide Alpha P and Lady Donli with the perfect Amapiano-influenced soundscape to flex their skills. This track is sure to rock dance floors.
Wonu: I personally think the biggest potential hit on this album will still be "Runaway." I don't think the record has reached its peak potential yet. Ayra and Lojay are two of the hottest new acts right now and there's simply nobody touching them plus the song itself is one of the records that when it eventually grows on you, you get hooked. "Runaway" still remains one of my favourite songs out this year.
Standout verse
Dammy: My favourite verse has to be Azanti's ending verse on "Good Good." It comes right after Solis' verse which is towards the end of the song. I love it because it was an unexpected part and I was even about to play the next song but I changed my mind and decided to listen to it. All of a sudden, I hear this sick beat that complements Azanti's verse (the beat starts at the middle of his verse). I loved it so much that I had to restart it again. Although very short, Azanti's ending verse on "Good Good" is very catchy and pleasing to the ear.
Ebube: The favourite verse for me has to be the intro for "Good Good." I was just so hooked and I can't even lie, I was just feeling it so much especially when she said "where are in that place that makes me naught naughty." The entire track is just fire. Also Solis falsetto towards the end was just out of this world.
Dennis: I'm going to say WANI on "Wedding Ring". The song was billed as a one-time band effort, and as much as everyone gave up the goods, WANI is clearly the Timberlake-calibre frontman. He usually sings with a clear understanding of the emotion he wants you to feel, and this time it's evident. Also, I plan on washing someone with those lyrics. Thanks, Wani.
Biggest Skip
Maria: I've listened to it twice now just to be sure and I can genuinely say that I don't have any. NATIVE Sound System have successfully created a "no skips" album. Incredible.
Moore: To be honest, on my current listens I haven't been eager to skip any song on this album. In the future, "Pim Pam" may be my most likely skip. It's something I'd need to listen to when in a specific mood, as it's a bit too intense to listen to casually. It would probably be best appreciated in a party setting.
Dennis: I don't really have any. Maybe "Bittermooncake", largely because it's a jarring tonal shift from the preceding track, "Tgif". Not a bad song, just won't be eager to hear it when I run the album back.
Overall first impressions
Wonu: Putting together a project is one thing but putting together a compilation album is a whole different thing. I can't get over the standout production on this album, every single collaborator on the project delivered an amazing performance. 'NATIVEWORLD' caters to everyone, there's something for everybody on this album and this is without a doubt one of the most interesting compilation projects I've heard in a long time.
Emmanuel: I'm very impressed by the curation on this, special shoutout to executive producer Chubbz. There's a deliberate movement to the pacing and the features were all pushed to their limits, you can tell. Which is good because 'NATIVEWORLD' is an adequate representation of the wide scope of sounds being created by African artists in the continent and diaspora. This is a project I would be returning to very often.
Ebube: I'll say I'm very very impressed that something like this can come out of Africa. It just goes to show that good things and incredible talent is embedded in Africa and 'NATIVEWORLD' is just what pushed that idea to the forefront. With the collaboration of so many talents, I wasn't expecting anything less.
Uzoma: 'NATIVEWORLD' succeeds as a meeting place for the unique talents that circuit the Nigerian and UK music scenes. It is a project that challenges artists and, for the most part, brings out some of their best performances yet.
Stream 'NATIVEWORLD' below.
Featured image credits/NATIVE