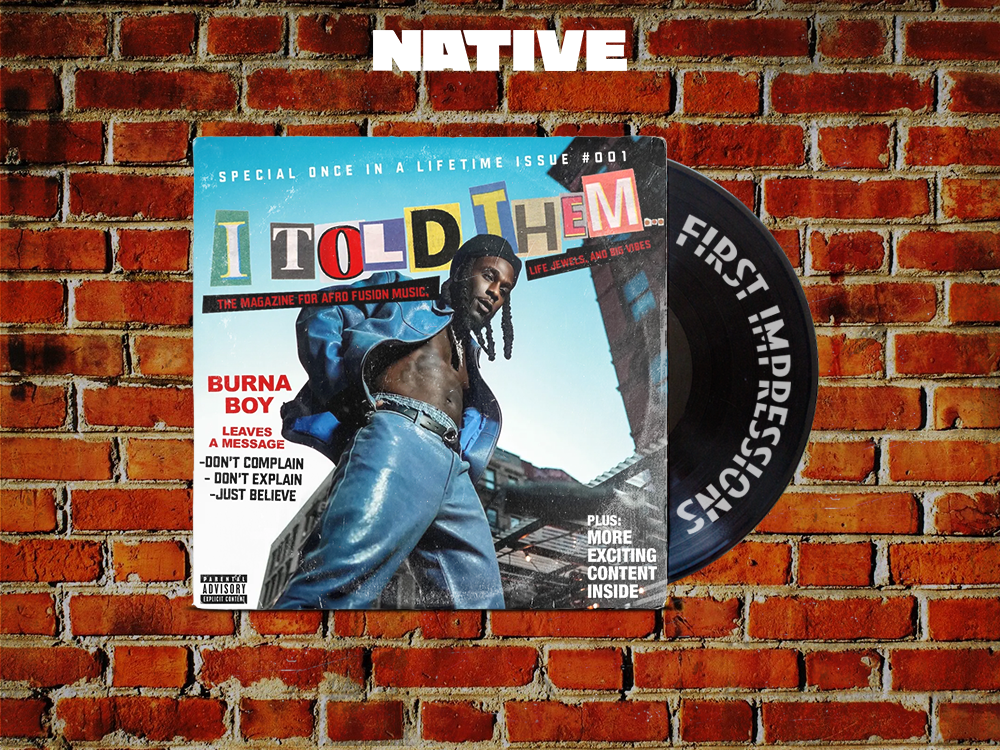 Our First Impressions of Burna Boy's 'I Told Them…'
his seventh studio album
Last year, Burna Boy released 'Love, Damini' — a culmination of his impressive successes over the past decade, capped off by several Grammy nods, wins and chart-topping hits. The album, packed with classics and mainstream hits, perfectly encapsulated his essence and tumultuous journey thus far. As he basks in unfathomable levels of global success, Burna's unrelenting confidence cannot go unnoticed as he reshapes the quality and range of sounds emanating from these parts. It is with this immutable poise he carries the crown of African Giant with a seventh studio album, 'I Told Them…'
He long teased the 15-tracker, drawing us steps closer with "Sittin' On Top Of The World" and "Big 7" after the completion of what was the biggest tour of his career. The arrival of 'I Told Them…,' however, comes with a sour taste in audiences' mouths following an interview-stacked press tour including a sit down with Zane Lowe for Apple Music. As the name suggests, the album is a poignant boast of Burna's achievements thus far and how against all odds, he is quite literally sitting on top of the world. 
The album's collaborations ranging from Wu-Tang Clan to Seyi Vibez serve as a melting pot of Burna Boy's endless pool of influence from world genres, particularly the deep cuts of Hip-Hop in the early 90s wrapped up by generic African instruments and embellishments. With the arrival of 'I Told Them…,' the NATIVE editorial team shared their initial thoughts on Burna's braggadocious displays. Tap in! 
View this post on Instagram
FAVOURITE SONG
Nwanneamaka: "On Form" is my favourite song so far owing to its standout production on this project. Those conversational elements at the start infuse a certain degree of Burna's personality and I am not mad at Burna's effortless flow. However, my accolades have to go to producer P2J for his groovy, drum-led production. It easily plays into the eclectic atmosphere Burna has been constructing within his self-dubbed genre Afrofusion.
Daniel B: "Big 7″ undoubtedly stood out to me, thanks to its infectious hook and the exquisite instrumental sample derived from the Boechi-assisted track "Willemstad," originally by the Dutch rap duo, Qlas & Blacka. Burna truly surpassed expectations with this song, and I think people will keep spinning the track for years to come.

Emmanuel: He might not like to hear it, but Burna Boy makes better love songs than combative ones. Even you might argue but then a song like "Tested, Approved & Trusted" comes up. Smooth vocals run assuredly over the mellow production, creating a warm feeling that mirrors the exhilaration of romance. Few songs this year have left such a strong impression, and when the time for individual promotion comes, I hope it's on first-row consideration. 
STANDOUT PRODUCTION
Daniel B: It's definitely "Thanks" for me. I'm a huge fan of West African percussion and its utilisation in this song was truly exceptional. It beautifully complemented the repetitive melody of the piano and effectively conveyed the core message of the song. Through this track, he distinctly showcases his prowess as an innovator in crafting Afropop.
Chigoziri: "Giza" is a fave and serves as a stand-out production. The way the song opens up with a mysterious flute and syncs up with the iconic log drums is truly impressive. Not to mention Seyi embodying the song. Everything comes together to form a masterpiece. 
Sien: It has to be "City Boy." The song's arrangement is marvellous. The thumping bass makes me want to stomp my feet every time it comes on.
BIGGEST POTENTIAL HIT
Uzoma: Seyi Vibez did irredeemable damage on "Giza." It's obvious that Burna Boy let him own the show and wisely so. Other than opening Seyi Vibez to a wider audience, "Giza" is a sure-fire banger. It's destined to become a favourite on dance floors. The production. The flows. Everything is gold.
Daniel A: Amid the controversy leading up to the release of the album, there's one thing that is sure. When it comes to music Burna Boy knows how to spin the hits. On 'I Told Them…'  a couple of songs stand out with "Big 7" and "Giza" featuring Seyi Vibez already showing potential signs of becoming hits. 
Alex: I believe "On Form" is going to be a hit. The track is groovy and the upbeat sound propels a listener to take to dancing and body gyrations. The message will resonate with Nigerians and the beat will make the song a go-to for fun. 
BEST FEATURE
Moore: Of all the features I'd have to say the standout one to me is Dave's feature in "Cheat On Me." Though he only has one verse on this delightfully fun song, it gives the song the necessary flavour and dimension. 
Alex: "Giza" featuring Seyi Vibez stands out in the album. I'm picking it over other features because I feel Burna and Seyi's vocals really complement each other. In the back of the drum-indented track, Seyi Vibez and Burna Boy displayed uncommon synergy that translated to the well-produced "Giza." The production takes the track a notch higher too. Clean!
Dennis: GZA, obviously. Maybe not obviously and I'm talking from a place of bias, because 'Liquid Swords' is one of the albums that truly helped me understand the magic of Wu-Tang after I repeatedly tried and failed to get into the group's iconic album back then. Back to the matter at hand, the Genius' spoken word outro on the titular intro track is packed with poignant boasts. Zero clichés, all figure 8 bars.
BIGGEST SKIP
Dimeji: For me, "Giza" is definitely the biggest skip. Undeniably, it is a fantastic song. Seyi Vibez and Burna achieve a chemistry on this track that gets better with each listen. However, I feel like the song doesn't really match the overall vibe of the album and would have been much better as a standalone single. As it is, the song stands apart from the mellow, Pop-influenced sound I feel Burna Boy was trying to hone in on the project. It disrupts the direction and musical flow in the process.

Sien: Every song is a beautiful piece in the grand masterpiece but one piece that seems out of place is "Thanks." I feel J.Cole would have done better on probably another track because the dynamics of the track left him simply floating.
Chigoziri: First of all, I'd have to say that every song on the album is impressive alongside interesting collaborations. The biggest skip would probably be "12 Jewels" featuring RZA. There isn't exactly anything wrong with it, but it kind of kills the musical flow of the album.
OVERALL IMPRESSIONS
Uzoma:  'I Told Them…' is one of Burna Boy's most cohesive body of work. There is a clarity about what it seeks to do that runs throughout the album. Burna Boy has always been at his best when he feels there's a point to prove. Despite the triumphs he has amassed, he still harbours feelings of underappreciation. That, and his homage to American pop culture, make up the essence of 'I Told Them…' The album also succeeds because it delicately balances Burna Boy's homegrown appeal as well as his international sojourn.
Emmanuel: Needless to say, this has been one of the more anticipated albums of the year. And coming into its time, there were a lot of events and conversations that highlighted the potential of Burna's ranking in the Great Pantheon of Afrobeats (the term he doesn't like so much), leading him to create his most combative project in a while. The conviction is admirable, but sometimes the need to consistently proclaim greatness blurs his focus, thus creating some noticeable off-moments ("Thanks"). Regardless of this perceptive flaw, the sonic direction, especially its infusion of spoken word, gave me a lot to think about. And that will keep me returning. 
Nwanneamaka: I went into this album with a lot of scepticism due to the tirade of interviews leading up to its release. The jury is still out on his decision to dunk on Afrobeats in his pre-album press run. That being said, from my perspective, there are two types of music listeners. Those who pay attention to the instrumentals and others who listen to the message. 'I Told Them…'  holds gleaming production qualities that cut across varying sonic directions and producing something cohesive. Particularly his clean attempt to almost body Seyi Vibez on his own sound, each song is a nod to Burna's versatility. If this is Afro-Fusion, then I guess I'm here for it. 
Listen to 'I Told Them…' below.
[Featured Image Credits/The NATIVE]