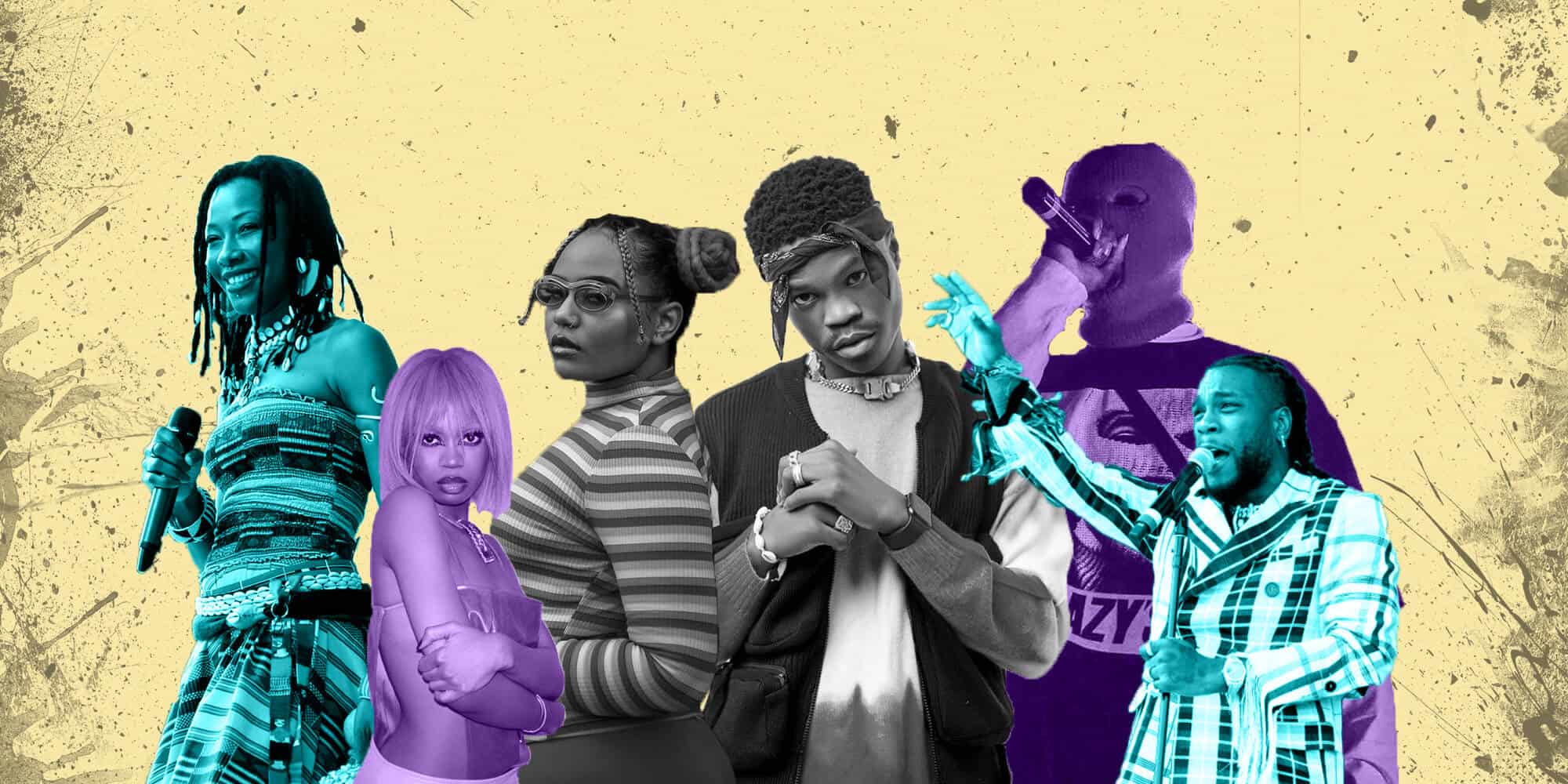 Best Of 2020: The best guest verses of the year, ranked
Who delivered the hottest feature verse of the year?
Collaboration is one of the most brilliant things about music. Any avid listener will agree that having two of their faves on a track together is the best, but beyond the sonic, collaboration has been an effective means for young artists to claim their stakes in the game, by delivering an unforgettable feature on any song.
In a pandemic stricken year, where music has proven to be the crutch, we can't even begin to imagine what this year have been without some key collaborations; from Burna's Diddy-produced album making us swell with pride back in July, to the collective joy that swept the timeline when Odunsi surprised fans with the full version of "wicked, sexy" back in April.
When you think about how wide and diverse the current soundscape of the continent is, it comes as no surprise to see artists leaving their comfort zones and experimenting with new exciting sounds, taking risks that continue to widen the scope. Even though this has made it a bit difficult for us to narrow down to only 15, the wide array of music available from every corner of the continent is very exciting, especially at a time when the whole world is watching. To this end, we have curated a list of the top 15 collaborations of this year featuring the likes of Burna Boy, Wizkid, Fatoumata, Psycho YP, and many more.
Enjoy.
15. Psycho YP on "YKTV (You Know The Fvcking Vibes)"
It's hard to settle on one Psycho YP verse because the man doesn't miss. The TRYBE alum is constantly topping his own standards, and you'll be hard-pressed to find a feature where YP doesn't steal the show. Regardless, we managed to narrow it down to his assist on the drill sounds of King Perryy's "YKTFV (You Know the Fvcking Vibes", a number that pays homage to the late rapper Pop Smoke, who played a pivotal role in New York's drill scene.
Psycho YP glides over the menacing beat with ease, adopting a jaded detachment while moving with the comfort of someone who knows they don't have to expend too much. With an unparalleled track record, Psycho YP continues to prove why he's a lyrical goldmine unafraid to put it on for his city. Warning don't listen to this while driving because it's bound to give you a false sense of swagger and invincibility.
Tami
14. Sho Madjozi on "I've Got A Friend"
Last year, Davido, a notoriously singles-oriented artist, dropped his sophomore album, a full seven years after his break out with 'Omo Baba Olowo'. Apparently in a bid to free himself from his current label obligations, last year's 'A Good Time' was quickly followed up by this November's 'A Better Time', a sequel that builds upon all the merits of its predecessor, most especially when it comes to the quality of the album's features. Mayorkun has been lauded as the hero of the album, for his high ranking performance on "The Best" and his assist on the affectionate, "I Got A Friend", where he and Davido perch on Sho Madjozi's back as she carries the song to its repeat-worthy heights.
With the only real verse on the song, Sho Madjozi's thirty seconds, which are accompanied by equally catchy intro and outdo appearances, is the backbone of the song. Coming in with an exuberant rap-along flow that will have non-native speakers attempting to speak her tongue, Sho Madjozi's verse on "I Got A Friend" is vivacious, it's hard-hitting and it's tailored made to bring out the best in Fresh VDM's clearly SA House-inspired beat.
Adewojumi
13. WANI on "Mentally"
When Prettyboy D-O announced the release of his sophomore EP 'Wildfire' earlier this year, the project's prescient title and the foreboding feeling left by gritty hardcore promotional singles such as "Dey Go Hear Weh" and "Odeshi" all seemed to suggest that it would be one of the meanest, toughest rap projects in these parts. Although D-O stayed true to his brand of self-assured anarchy for most of the project, the rapper also showed off his romantic side yet again, this time linking up WANI for a song that turns their thug-love trope into the material of sing-along choruses.
WANI has spent the past year working on the follow-up to 2018's debut EP 'Lagos City Vice', and as such we haven't heard much from him. Regardless, that hasn't stopped WANI from generating buzz in his own way, and this year alone he's contributed guest verses to fire tracks such as DRB's "I Swear" to Higo and HVRRY's "Company", proving that he hasn't lost any of the star qualities that first endeared him to us. Out of all of these, it's on the Adey-produced romantic cut with Prettyboy D-O that WANI hits the sweet spot, singing in a pacified tone about the illicit joy of losing yourself to a new crush and longing for someone who probably can't be trusted. His slinky vocals seamlessly balance the vigour of D-O's as he muses, "girl I'm so fucked up again with your wickedest love". Might just be me, but the openness of his words will surely have you pondering all your past relationships.
Tami
12. Teni on Bad Boy Timz "MJ"
Although we spent the better part of the year stuck indoors, you couldn't escape the sounds of Bad Boy Timz, the singer who warmed his way into our hearts and ears with his dance-floor ready bops. On his upbeat single "MJ", he wastes no time gaining our attention and successfully packs more into each verse on the song than most artists do on entire albums. And it's already paying off as the song generated enough buzz to receive remixes from two of afropop's hitmakers Mayorkun and Teni the Entertainer.
NATIVE 003 cover star, Teni, has a knack for bringing life to any song, attracting so many people to her lovably charming personality and her profane confidence. Her presence on the remix turns the track into groovy singsong affair, infusing delicate harmonies to an already boisterous song. She takes the lead on the song, shifting between singing and rapping as she sets the scene for the uptempo memorable hook. If this doesn't make you want to kick your feet and dance then I don't know what will.
Tami
11. Buju on HVRRY & Higo's "Company"
From early, impressive cuts like "Energy" and "Commander", Buju first caught major attention by plainly articulating the facets of modern relationships. This proficiency in turning the complexities of romantic situation(ship)s into relatable, sometimes catchy bops has made the singer an ideal collaborator for artists making songs concerning matters of the heart. "Company", the Higo & Hvrry-helmed single from April, is arguably the most potent example in his growing portfolio of features. Backed by a fast-paced, zanku-ready beat, Buju turns in a charismatic performance fitting for the aloof content of his lyrics. "Oh I need your company, Oh I need you beside me/But I cannot beg for your love, you know", he sings with the sort of forced iciness many of us muster after we've been taken for a fool one too many times. Sure, "Company" is a danceable song, but it will also give you enough to ruminate on, and Buju is the central factor to that.
Dennis
10. Rema on Manny Norté's "4AM"
Rema came into the music scene at a time when Afropop had carved a space for itself on to the global music stage. He quickly made his presence felt with "Iron Man", one of the standout tracks from his self-titled debut EP, 'Rema' which earned him a feature on former US president, Barrack Obama's summer playlist. The endorsement positioned him at the forefront of the new generation of talents in a music scene that was exploding to global stature, so it wasn't a surprise to see him get recruited along with other internationally renowned artists, 6lack and Tion Wayne for British DJ/presenter, Manny Norte's summer anthem, "4AM".
Although Rema has proven adept at crafting trap flows with emo bars to match, he's also skilled at delivering feel-good Afropop melodies to soundtrack the Nigerian nightlife. On "4AM" he channeled the breezy vibe of the latter, as he gracefully begged his muse to remain faithful. "Girl 4 am and I call up your phone/ Me, I just wanna say hi/ It's a lie, me I lonely tonight" he teased, showing his famous lover boy charm as he rode the minimalist pop beat P2J produced with ambient harmonies that set the mood for a beach party.
Debola
9. Fatoumata on "Désolé"
Gorillaz pulled a DJ Khaled for their latest project, 'Song Machine, Season One: Strange Timez' as it was packed full with famous guest stars such as Beck, Elton John, Schoolboy Q, 6lack, St Vincent, Tony Allen, Skepta, Moonchild Sanelly and others for the 17-track tape. However, it's hard to argue with the success of the superstar mashup, especially for the standout track, "Désolé" where they partnered with Mali-born and Paris-raised singer, Fatoumata Diawara to create the most enchanting marriage of traditional and modern sounds.
Gorillaz already established their reputation for making revolutionary hybrid music that blends hip-hop, electronic music, and indie-rock. On "Désolé", they tapped Fautoumata for an authentic cross-cultural fusion of European electronic music and contemporary Anglophone roots music. Though performing her lyrics in her indigenous dialect means her words are unfamiliar to non-French speaking audiences, her melodies are easy on the ear as she reminds us that we don't have to abandon our roots while presenting our culture in a new way.
Debola
8. Burna Boy on "Jerusalema"
Despite the difference in language and culture, Nigeria and South Africa share a love for music that allows artists from both countries to collaborate without sounding contrived or inauthentic. Artists like Wizkid and Davido already showed us that there's a sweet spot where the lightweight melodies of Afropop and the ethereal groove of South African AfroHouse interweave. However, Burna Boy's verse on Master KG and Nomcebo Zikode's "Jerusalem Remix" added an extra layer of charm as he took some cues from Nomcebo Zikode's vocals on the original song and performed some lyrics in their indigenous dialect. His English lyrics, "Look into my eyes, see pain and sacrifice/ What goes on in my mind/ Struggling to survive" shows another example of how Burna Boy can channel his grief and make an emotive bop as his contribution allowed the remix peak at #2 on Billboards' World Digital Music Charts.
Debola
7. Moliy on "SAD GURLZ LUV MONEY"
When the early-listen SoundCloud link for 'THE ANGEL YOU DON'T KNOW' was shared with me, I noticed an interesting distinction on track number thirteen. Moliy, who appeared earlier on on "FEEL A WAY" was listed as "starring" in "SAD GIRLS LUV MONEY". Though my go-to, Apple Music simply credits Moliy with a "feat." the SoundCloud and YouTube accolades are much more accurate. "SAD GIRLZ LUV MONEY" is helmed by Moliy, and what's most brilliant about her performance is that you can hardly tell. Moliy so effortlessly mimics Amaarae's signature upper register whisper-soft singing, without losing her own vocal identity along the way.
Leading the song for the first two minutes twenty, with her two-part chorus and rightfully lengthy verse, Moliy is truly the star of "SAD GIRLZ LUV MONEY", responsible for all of our favourite bits on the track, such as, "get the fuck outta my way I'm gonna get paid ya," and "I really like to party." 'THE ANGEL YOU DON'T KNOW' is easily one of the top five albums out of Africa this year – front to back, every song excels. For Moliy to take control of an entire track, pretty much and match the supersonic standards set by Amaarae – to the point where her showing has been touted as one of the album's top tracks – is no small feat. That's probably why Amaarae has labelled the track as "Starring Moliy."
Adewojumi
6. Maison2500 on "wicked, sexy"
After Odunsi the Engine premiered the mosh-starting single "wicked, sexy!" at close collaborator and friend Cruel Santino's first headline show in Lagos last year, the Maison2500-assisted collaboration became one of the most anticipated songs from these parts. But the more the song was teased on socials, the more fans grew worried that the single would never see the light of day–it did.
Somehow the record didn't suffer from its delayed release, shooting up to #9 on the Apple Music Top 100 charts hours after its release as the song's lyrics invited singalongs and Tiktok videos. By embracing the brash, discordant timbre of punk-rap, both artists came into the game cocky, moody, and ready for a good time. Taking the song's opening verse, Maison2500 sets the mood for the sexy summer staple, as we find the rapper at his most playful and boastful. "Shawty I'm wicked, don't stress me" has been everyone's mood for the year Maison2500 put it in words for us. But even as the year fades out, this song still goes off in the function with its futuristic production and it's straightforward meme-able chorus.
Tami
5. Mayorkun on "The Best"
Davido definitely recognises the importance of forming alliances with other talents, as his catalogue is sprawling with songwriting credits from artists like Teni, Tekno, Peruzzi, Adekunle Gold, and others who have helped deliver hit songs that established him as an elite artist. Through all of this, his most consistent partnership has been with Mayorkun who he signed to his label in 2016. The standout track from Davido's recently released album, "The Best" is their fourth released song as a duo and they take the opportunity to celebrate their bromance; "See I learnt from the best oh/ Davido/ Sho get oh?/ Baddest oh/ Mo bad oh".
The song shows how comfortable they are as a pair after having fine-tuned their musical chemistry since they first teamed up on "Bobo" over 2 years ago. Though they took different directions with their verses with Mayorkun addressing his love interest, Betty and Davido making a statement to his opps, they still manage to bring the song together nicely. Mayorkun's delivery is as impressive as ever, where he performs a convincing impression of Wande Coal's falsetto, while delivering one of the best guest verses of the year.
Debola
4. Tay Iwar on "True Love"
Tay Iwar is one of Nigeria's most talented musicians, his voice is transcendent, his production exceptional, his music is ethereal. And when it comes to features, Tay Iwar is not known to shrink himself so that other artists may shine and for that reason, he tends to wash almost every artist who invites him onto a song. When it's a project, you can expect Tay to rinse every other artist who appears on the record too. So he did on Wizkid's 'Made In Lagos'; though he sits amongst other phenomenal performances, for example those of Damien Marley, Ella Mai and Terri, Tay Iwar's vocals soar far above the rest.
Following Juls' rhythmic introduction with his softly spoken, "my days," right from the top of the track, Tay Iwar steals the show with his head bursting performance. Kind enough to usher out a pre-chorus to precede his "True Love" hook, Tay Iwar commands the Juls production with his vocally dexterous, lyrically poetic and profound performance. Tay's chorus is delectable and one to which you simply can't help but return.
Adewojumi
3. Bad Boy Timz on "Loading"
There's a strong case to be made that "O shock won bakan" is the best opening ad-lib of this year. Loosely translating to "it shocked them somehow", it's a marker of arrogance, a quip buoyed by the sort of clairvoyance that comes from being overconfident. For the stunning shift Bad Boy Timz put in on "Loading", the overconfidence is perfectly fitting. According to Olamide, he gave Timz and producer P.Priime the leeway to come up with the foundation of the song, and upon his return in about 20 minutes, they had a ridiculous banger waiting for him. Even Olamide was shocked.
Timz came into 2020 looking to effectively breakout, and the summer smash, "MJ", put him over. The single pegged him as an artist with a strong flair creating dance-ready music, an ability that came as a premium during a raging pandemic—in a year brimming with chill music, people still wanted to dance even if it was alone. On "Loading", he summons the same power to compel listeners to dance with far more assurance, wielding his snappy melodies like an expert horse rider. Within the few bars of his addictive hook, Timz encourages us to stay active in our paper chase, while conjuring the rewarding joy of dancing non-stop in the middle of friends and strangers—a feeling many of us miss and hope to return to as soon as possible.
Dennis
2. Deto Black on "body count"
When the first line of a song is "Don't worry 'bout your body count/let your body bounce," you know you're in for something very special. "body count" is the anthem of the year and Odunsi the Engine brought the girls together for this phenomenal sex-positive anthem that shows African women embracing their sexuality on their own terms. It's full of one-liners that have doubled as Instagram captions around the globe and upon release, it truly felt like a win for the girls. Amaarae delivers a verse that defines the carefree and confident attitude that put her on the map but the real show-stealer was the trump card waiting on the second verse–Deto Black's debut akin to Nicki Minaj's scene-stealing "Monster" moment back in 2010.
Songs about sex and power are common, but apparently shameful when women are the ones dishing it out. But Deto Black bursts into the song with all the confidence and self-assurance in the world, talking smack to the opps aunties, and niggas without a Lamb (or plan). She's the ultimate bad girl and she's not afraid to make bold proclamations about sexuality, luxury, and power from a woman's perspective.
Tami
1. Burna Boy on "Sponono"
Burna Boy is the most versatile artist of his generation. Convincingly hopping between rap cadences, patois inflections and straight-up melody slinging, the self-proclaimed afro-fusionist is the present-day vision of what it means to be a singular artist while showcasing range. If you took it for granted on his trio of sparkling albums from the last three years, his feature run makes it evident that there really isn't any sound Burna cannot excel over.
On "Sponono", the blockbuster single off Kabza De Small's sprawling, phenomenal 'I am the King of Amapiano: Sweet & Dust', Burna absolutely stuns. Amidst a vocal line-up that includes Wizkid and Cassper Nyovest, two of the biggest superstars in African music, the singer shines the brightest by doing something many would consider mundane: playing his role. On a fair share of occasions, Burna's malleability and burly presence has threatened to overwhelm (Buju's "L'enu (Remix)") or outright consumed ("Jerusalema (Remix)") songs he's featured on, which isn't a detriment to those songs. The masterstroke of his guest appearance on "Sponono", however, is that he's commanding and complementary in the same breadth, operating as the standout star while also performing in service to the song itself.
Kabza's breezy instrumental arrangement sets an immaculate ambiance for his guests to float, and while his other counterparts accept the invitation, Burna switches things up without being disruptive, adding a visceral edge to his melodic incantations. In amapiano, a producer-driven genre, vocal artists have to turn in gripping showcases so as not to get swallowed by the layers of the music. Some do so by being inserting enough charm to not be ignored, while others opt for a more aggressive approach. For "Sponono", Burna's first and only foray into amapiano yet, he finds a balance between both poles. The best part: He sounds so damn effortless while doing it.
Dennis
[wysija_form id="1″]
---
Written by Adewojumi Aderemi, Debola Abimbolu, Dennis Ade-Peter and Tami Makinde. 
---