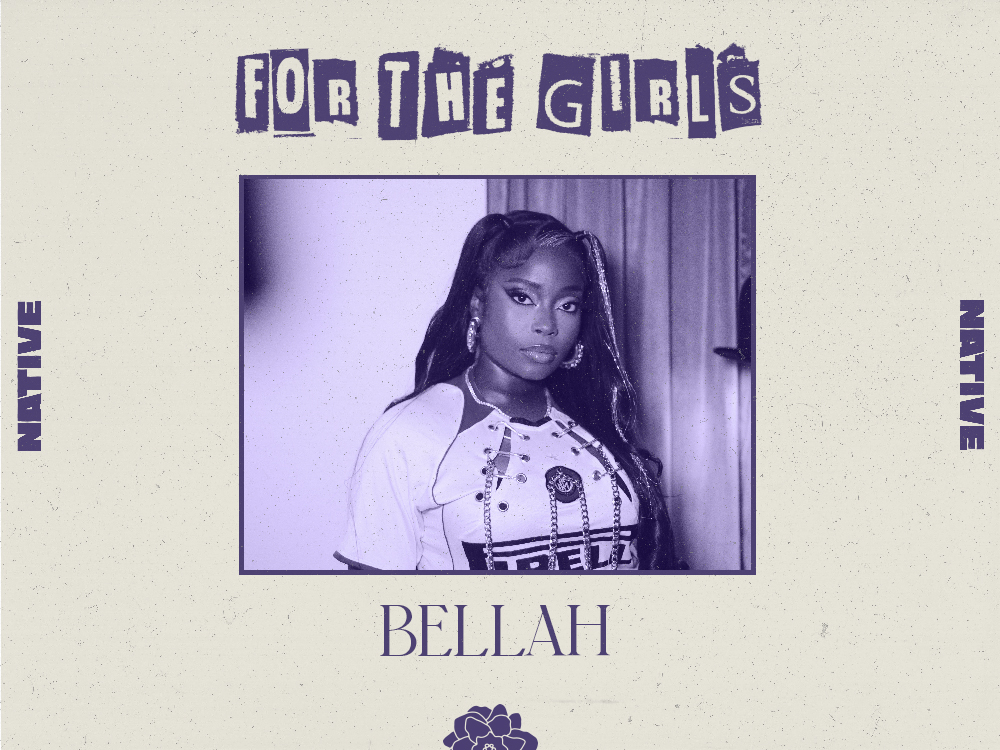 For The Girls: Bellah Finds Strength In Vulnerability On New Album, 'Adultsville'
"It's grown-up. It's more mature."
For British-Nigerian singer, Bellah, music has always been a big part of her life right from an early age. As a child, her mother put her in musical theatre and drama school. At 17, she attended a Beyoncé concert, which further strengthened her resolve to be an artist. After she performed Beyoncé's "Flawless" at her school's talent show, she was invited to perform the song at a local festival, and at the festival, she found a management team and began artist development, which lasted for five years. "I have always, always wanted to be a creative doing musical things," she tells NATIVE. "If I wasn't like an artist, I'd probably do West End [theatre] and be like an actor. If I wasn't doing that, I'd probably be dancing. I always knew I wanted to be a performer in some aspect."
View this post on Instagram
In 2019, the North London-born artist, whose real name is Isobel Akpobire, released her debut EP 'Last Train Home.' She followed it up with 2020's 'The Art of Conversation.' Initially drawing inspiration from her earliest musical influences—Stevie Wonder, Luther Vandross, Brandy, ABBA, Lauryn Hill, Destiny's Child and Norah Jones—she began to add more names as she grew older: Kehlani, SZA, Daniel Caesar and H.E.R. Her big break came last year with her performance on COLORS with the Afropop-influenced "Evil Eye," which has racked one million views.
Afterwards, Bellah began work on her latest EP 'Adultsville.' Executive produced by Grammy-winning songwriter and music producer Ari PenSmith, the EP deviates from the Pop leanings of Bellah's previous works and leans into her love for alt-R&B. The project is an introspective coming-of-age story of Bellah's transition into adulthood and the personal and familial tensions that accompany that transition. It also explores body image, insecurities, and social pressures. "There are so many underlying issues when you listen to the songs that so many people will relate to. And I'm glad because someone had to talk about it," Bellah says.
Following the release of her new project, 'Adultsville,' she speaks with NATIVE about her career, 'Adultsville' and her place in the UK's music scene as a Black woman.
The interview which follow below have been slightly edited for clarity.
View this post on Instagram
NATIVE: How was growing up like for you?
BELLAH: It was just me and my mom. I'm an only child. My mom is a single mother and I have got sickle cell. So it was not weird; it was intense because it was just us, and obviously complications with having a child with an illness. It was up and down but the love I have received from my mom is second to none and I wouldn't trade it for the world. Everyone would look at it like a series of unfortunate events but I'd change it for the world.
NATIVE: Did you listen to a lot of music growing up?
Yeah. So my mom grew up in London and went back to Nigeria and came back to London. My uncles were born in Nigeria and then they came to London. So when they came, obviously, they were young fly guys, and they were listening to all the latest R&B and Hip-Hop and all of that; that was always playing in the house when I was younger. MTV was always on. It was always part of the routine in the house. We used to have loads of parties. Growing up, I remember lots of barbecues, so I was in the mix.
NATIVE: Was there any point your mom wanted you to change direction?
Hundred per cent support always. She's never suggested I do anything else and that's because she saw how passionate I was about it. I wasn't like, "Oh, yeah. I think I'm good at singing, maybe I should try it." It was like, "I'm gonna sing and this is what's gonna happen. Full stop. Done." I [didn't] have a backup plan. I dropped out of uni and pursued it. She's been backing me 100% all the way.
NATIVE: How was the period of artist development like for you?
It was intense, I would say. It was challenging. It was all the feelings. I was excited because I was getting into new spaces, meeting new people: artists, producers [and] being in the recording studio for the first time. But obviously, you have to really look at the work you have to do, which is writing songs, learning how to write a song, even that is a lot of things. What else? It was just intense. Yeah, I'm really glad for artist development because my first song that I ever wrote and my last song…My first song will never see the light of day. But at the time, I thought, "Wow. Just [wrote] a song. Let me put it out right now." Do you get what I mean? So I'm really glad [about] my development. I'm so happy, so I don't go out there and embarrass myself.
NATIVE: What is your creation process?
I love to have conversations and I love to have good food. That's all. Good food and conversations make the best songs. I always say that because the best songs to me are the most relatable ones. And so if I can make a song out of the conversation we just had, then I'm on the right track. So yes, that's the process. When people are comfortable and ready to just share experiences, then yeah. That's the best way for me to make a song.
NATIVE: Do you write your lyrics first or do you listen to the beat before writing?
I like to listen to the music first. I think I'm a melody-driven type of person. I'll have a concept of the song I want to do but I have no lyrics yet, just thinking about what I wanna do. Then once I hear the beat that inspires me because we are a melody-driven society. People love to hear instruments. They love to hear [a] melody and so it's just a bonus if you get amazing lyrics on top but yeah, I listen to the beat first.
NATIVE: Tell us about the moment leading up to the release of "Evil Eye" earlier this year on COLORS. What did that mean for you?
It's crazy because I have always wanted to do a COLORS but I did think it was a distant achievement. So when I found out that was going to happen, I was so excited and I thought I was going to do it for one of the songs I had on my previous project, like an R&B song. I didn't know they had heard "Evil Eye" and they were like, "Please come on the show and do 'Evil Eye.' We are begging you." So yeah, leading up to it, I was excited but I didn't know what was gonna happen. I was still wondering, "Wow, this is actually gonna happen." And even when I did it, I hadn't finished "Evil Eye" four days before the actual moment.
So I performed a brand new song. The same way it's brand new to everybody is the same way it is brand new to me as well. Obviously, you do it and then a couple of months pass and then they tell you, "It's coming out. Here's the video." Honestly, I didn't know what was gonna happen. Then it came out and it did what it did. It opened so many doors for me, so many opportunities. I got into the rooms of so many amazing creatives after that. I'm grateful to COLORS. I'm grateful [for] that moment for helping me along in my career.
NATIVE: You've also been busy this year with live performances. How has it been returning to the stage and supporting Tems on her show?
Oh, it was incredible. When we were allowed to be out and perform again, I didn't realise how much I missed performing, and opening for Tems was amazing. She's an amazing talent. And her team is just so special. What they [Tems' management] are doing is incredible and they recognise that what we are also doing is incredible and they wanted to align themselves with me and my brand, which I thought was a really incredible compliment. So yeah, doing those shows was fun, incredible and amazing. I can't even say any more good words about Tems and her team.
NATIVE: How does 'Adultsville' differ from your other bodies of work?
It's grown-up. It's more mature, it's more evolved. The R&B is really R&Bing. I just think it's a really good body of work. It's my best year, I would say and I say that because I took time and I focused. I had intentions for this project. The projects that I have put out before, not that they weren't intentional but they had never been as intentional as this. And I enjoyed working on the body of work that was as intentional as this. [On] the American side of things, they are really picking up on it as well. That's essentially what I want to be: an international artist. I feel like it's a little bit of my crossover project. It was hard making this project because it's vulnerable, it's raw, it's honest but I'm so glad that I did. And I'm so glad that we are here.
NATIVE: The EP focuses on daily issues we experience mainly as women, from loving someone to being in toxic love situations and finally finding the strength to leave. How were you able to channel all these raw emotions into 'Adultsville'?
For me, I feel like music is my outlet. I don't talk [a lot] in real life, I don't actually say things to people in real life. So music is just, for me, the best way to express all the emotions that I feel, that I have ever felt. And so it's easier for me to write an honest song than to write an honest conversation.
NATIVE: Why so?
I think difficult conversations are really awkward. So, when you are able to [make] your feelings concise without anyone interrupting you into a song in a digestible manner, you know. You're listening to music, you are not going to get angry at a song, that's weird, you know. Music is already emotional as well and so I think it intensifies what you are saying ten times. Sometimes, even conversation can't really convey what it is that you are trying to say. I think songs, for me, are my favourite way to show emotion.
NATIVE: What does the EP's title mean to you?
I wanted it to personify this weird time in my life…this transformative time. At the beginning of the project, I said, "I have just got evicted from my youth" because I genuinely feel like no one prepares you for really being an independent person. There's no preparation in the world that's good enough for this period. And so I wanted to just make that a place for people to exist in and that's what 'Adultsville' is for me.
View this post on Instagram
NATIVE: Now that you have dropped the EP, do any of the records resonate with you more, in comparison to when you were recording them?
Yeah, the title track. Sometimes, I need to really sing "Evil Eye" when I'm scared, anxious or worried and just remember what I was saying about myself, about my situation. Every day, the song that relates to me the most changes, honestly, because every day is always something.
NATIVE: What was it like working with Ari PenSmith?
Ari is one of the greatest songwriters that have ever come out of this country. He just knows music, man. He knows ball. And not only does he know it, he loves it. He's been in the game for a very long time and you can see he hasn't lost his love for it. He's in love with music, I think, more now [than] he ever has been. It's amazing to work with someone who just loves music the way he does. It's refreshing to see someone as inspired as him. Sometimes, he will call me at 2am, "Hey, I have got an idea for a song," and I'm like "God. Do you not sleep? Are we not sleeping? Is this not what we do?" But honestly, he's one of the greatest people I have ever worked with.
NATIVE: In some of your music videos and on the cover of 'Adultsville,' there are dark-streaked tears on your cheeks. Does that carry meaning?
Oh yeah, I was saying yesterday that you have to cry sometimes; crying about adulthood, being an adult, crying about where you are but I was like "Let's make it pretty. Let's make it fashion." Depression but make it fashion.
NATIVE: Talking about fashion, what informs your fashion sense?
I really like being creative. I love pushing the bar and elevating [it]. I have an amazing stylist [and] we always try and be a little quirky, a little different. Obviously, we want to give pretty black girl at all times but we do wanna give fashion. We want to give avant-garde artist, especially in the UK, [because] we don't really have a culture of pushing fashion or pushing the bar or being extravagant or being out there. So we try and do that ourselves.
NATIVE: How did your collaboration with Show Dem Camp come about?
Show Dem Camp is part of Tems' management team. We met prior and I had a session with them and it was so fun. And just knew that the whole concept of wishing people well is funny to me because someone has to be lying here. You have been hurt, you have been crying, you have been down bad; sometimes, you don't wish people well, you know. So people don't wanna appear as [having] bad vibes but I'd rather you openly say that you are bad vibes than hide behind what you are trying to…I'd rather you be honest. And I think that's where that song came from. It was a fun session.
NATIVE: Are there collaborations you are looking forward to?
Yeah, I want to work with so many people, so many R&B girls that I want to work with. There's also so many Afrobeats women and men that I wanna work with; I just want to see what the future holds basically. I want to see who I come into contact with because I'm open to working with anyone that's fire, just dope.
NATIVE: Are there any artists in Nigeria whose works you admire?
There's this girl and I don't think she has put out music yet but she's called Firefly. She's incredible; she's got an incredible voice. I think Nonso Amadi is fire. Talent in Nigeria is just endless and boundless. They're just incredible. So yeah, those are the two that off the top of my head that I'm really looking forward to seeing their journey.
NATIVE: Have you faced any particular hurdles to get to this point in your career?
I have experienced challenges. Me doing R&B in the UK is a challenge in itself; it's hard, I'm basically making music in a market that doesn't want to hear the music that I'm making. So it's God that is getting me through all of this. I have to just deal with internal battles; obviously, the basic common ones: she is a dark skin girl trying do…So yeah, it's all a lot. But again, there are obvious obstacles [and] because they are so obvious and so big, I can't do anything about it, you know. So I just go, I just continue and see what I can do in the midst of the rubbish.
NATIVE: What are some of the lessons you've learnt about staying true to yourself in the industry?
Being authentically yourself is your golden ticket to anywhere. I think that encompasses everything. Obviously, don't give up because you are closer to whatever breakthrough than you think you are. Honestly, it's hard work but it's the work that you asked for. I have come to realise that a lot of the things I have gone through, I have actually asked for it but I just didn't know it was going to look like this. When you are younger and you are praying for something and God is giving it to you, and you are like "Ahn ahn. This is not what I was wanting. Thank you." But you got exactly what you are getting, what you prayed for, it just looks a lot different or there was a lot of added stuff that you didn't know about. So yeah, I think those are the lessons: being authentically yourself, not giving up and not being frightened or swayed by the obstacles that come with what you prayed for.
NATIVE: What is something you want to tell your listeners?
I love them and they should keep streaming 'Adultsville.' I'm gonna be releasing some fire shit next year and it's gonna be fun. But they should continue streaming.
Stream 'Adultsville' below.
Featured image credits/NATIVE
---