Where Were You: Femme Fest's continuing impact for women in our community
a fine showcase of female talent
A derivative of Femme Africa, Femme Fest has quickly asserted itself in the cultural and creative space. The festival is aimed at empowering, educating and entertaining women while celebrating their all-round existence. Building upon their 3C's, Femme Africa's infusion of Culture, Content and Community creates an atmosphere for the girls to show up and show out as their most authentic selves. Since its inception, Femme Africa has spent the past few years giving back to the community by creating a space for and by women; in a way that is embodying a new template of authenticity for the creative industry.
View this post on Instagram
Last Saturday, the latest iteration of its annual one-day festival was held at Harbour Point in Victoria Island to resounding success for both brands and concert-goers alike. The musical showcase, beauty market and panel discussions, have become an annual March tradition to culminate all the efforts made throughout the month to champion and support Black African women. On arriving at the venue, it was clear that this year's showcase was a fine marker of the Femme Africa's 4 year-long mission to provide women a space to just exist. All around the venue, every inch of space was utilised to showcase the breadth of female talent in the country from one hall focused on vendors, workshops and panels, to an adjoining hall which served as home to the stage and dance floor.
For many women in attendance on the day, Femme Fest '23 certainly passed the vibe check. The atmosphere was bubbly with a picturesque and welcoming environment for all women and girls–and even men too. As they milled about the venue and explored the activities, women and girls of all ages were donned in colourful avant-garde outfits and festival makeup. The registration and ticketing was pretty simple; ushering the entire schedule of events off to a great note. Once inside, the space transformed into every young woman's dream. All around the hall, there were beaming friendly faces and numerous stalls to explore.
The vendor hub was a huge standout of the day. The event included vendors in various businesses who offered services such as candle making (Rékojà), free hair consultations (Amari Hair Care), a girls' night hosting class "22b" and body art by Skin Ink. The space also hosted a "beauty market" with renowned beauty brands like Mohini and Uncover. Many other Nigerian brands made an appearance, with jewellery brands like Refine Studios and Osé, skincare brands like Sublime Skin by Jumai, haircare brands like Kinky Apothecary and fashion brands like Her Apparel, Afrique KOD and 21 Wool Street. The stalls catered to Femme Fest's uber-modern crowd which included women of all backgrounds; from wellness enthusiasts to music, beauty, tech, hospitality and more. It was a networker's dream. Speaking to Simi, one of the day's attendees and also an upcoming artist, she shares "This is what it should be about! It's about building and supporting and networking."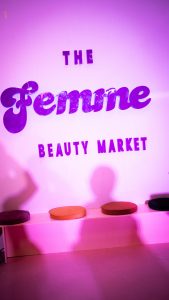 Alongside the beauty hub, Femme Fest also featured several beneficial panels which served as introductory taster courses to the music, creative and entrepreneurship industry. Dubbed as the "School of Femme," a partnership between Femme Africa and the Orchard, the curated panels and workshops were packed with information to empower and steer budding creative talent on the right path. Kicking off in the afternoon, School of Femme began with "Get Legal," an informative session about legal matters in the creative industry which was hosted by Wurola Ajeigbe and included a stunning roster of women with legal expertise including Oyinkansola "Foza" Fawehinmi, Bukola Bakinson and Kike Soyode Ojewale. The next set of panels were geared at the music industry and uncovering the realities of distribution for the independent woman artist and a songwriting and production bootcamp in partnership with Women in Music Nigeria.
Aside from providing an elementary introduction to songwriting, production, legal work and podcasting, the panels were incredibly interactive and immersive for the young women in attendance, ensuring that we heard first-hand from professionals within these different fields and proffering opportunities from keen and curious minds to engage with potential mentors. As the sun set, it was time to wrap up the panel discussions and make way for the live musical showcase–the creme de la Femme. From some of the resident female DJs to the female performers, the entertainment and performances of the night were a true manifestation of women talking the talk and walking the walk. From DJ Ayizan to twin DJs Wanni x Handi, there was no dull moment as we waited for the night to truly begin.
As the eager crowd waited for the artists to take to the stage, the drinks were flowing around the hall courtesy of Absolut Vodka. Attendees could also wander around the venue and try out the numerous photo booths placed around the hall. There was also a chill corner with comfortable throws and pillows on the floor for guests to sit and wait for the night's activities. The singer Mairé performed her single "Show Up x Shut Down" and serenaded the crowd with her relatable lyrics and energetic backup dancers. Next up was Qing Mai whose voice of gold filled the hall with musical manifestations of strength and power.
There were also appearances from a talented spate of female talent including Winny, Layzee Ella, Candy Bleakz and more. The most riveting performance, however, came from Nigerian rapper SGaWD who stomped across the stage with her signature pink Telfar in hand and venom in her bars. SGaWD ran through her familiar hits with the receptive crowd and introduced us to new music titled "Intermission." As she strutted up and down the stage, all the girls flocked to the front of the stage to get a good view of the rapper who is expanding conversations around women in Hip-Hop/Rap in West Africa.
"Femme is for women by women so I'll always be there to show love and support."
View this post on Instagram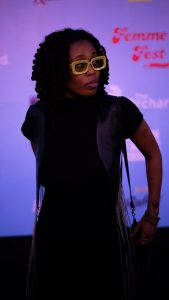 Once the performances were over, the lights darkened and it was time for the after party. The energy in the room picked up as guests were entertained with killer sets from DJs such as Atracta, Wanni x Handi, Ayizan and more. With back-to-back hits, Wanni x Handi kept the dancefloor active through their set and maintained, if not elevated, the high vibrations of the festival. Neezybeats, another resident female DJ at the festival, also wowed the enthusiastic and growing crowd with straight hits, no misses from her infectious set. As guests danced, belted out lyrics and exchanged contacts, it became clear that Femme Fest's continuing impact for women in our community could rarely be argued.
Women-centred events and showcases such as Femme Fest are needed in today's androcentric society to remind women that there are spaces for and by us. "Femme is always amazing because it is rare to find a platform that is dedicated to creating memorable experiences for women," SGaWD shares with the NATIVE. Not only did this year's iteration create a safe and nurturing space for women and girls, it also brought together a community of creatives, entrepreneurs and professionals who are primed to expand the value and contributions of women in our community. By catering to a wide audience from various backgrounds, Femme Africa has once again successfully showcased women's undeniable contributions to the music, fashion and creative industries. It was the perfect end to an event social calendar for International Womens Month and with two festivals deep now, we're excited for what's in store in the coming years.
Featured image credits/NATIVE
---
Tamara Odibi is a connoisseur of all things woman and all things wellness. Alongside her work in branding and communications, she contributes to the female wellness community through her passion project – @matteabyher on instagram.