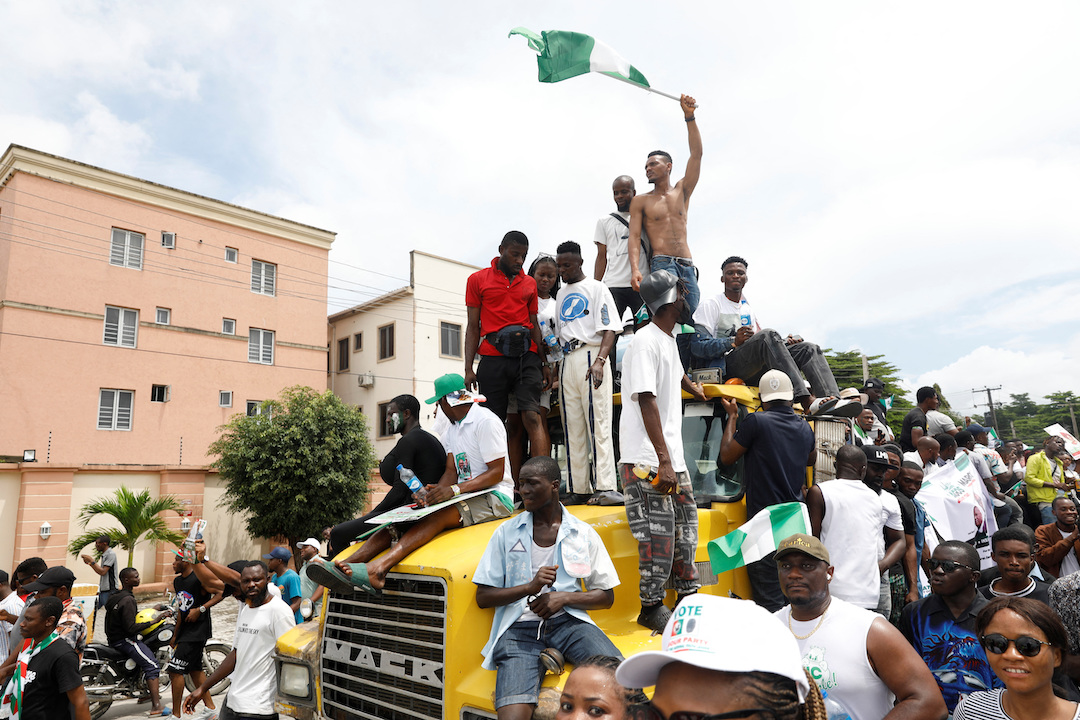 What's Going On: Elections in Nigeria, African Union Reaffirm Suspension & More
notable headlines from around the continent
"What's Going On" Tallies Notable News Headlines From Across The Continent — The Good, The Bad, And The Horrible — As A Way Of Ensuring That We All Become A More Sagacious African Generation. With This Column, We're Hoping To Disseminate The Latest Happenings In Our Socio-Political Climate From Across The Continent, Whilst Starting A Conversation About What's Important For Us To All Discuss. From Political Affairs To Socio-Economic Issues, 'What's Going On' Will Discuss Just That.
---
ELECTORAL CAMPAIGNS HIT UP ONE WEEK BEFORE THE VOTE
With the 2023 Nigerian presidential election scheduled for Saturday, February 25, the candidates in the race gearing up for a major push to convince voters. Last year, the Independent National Electoral Commission (INEC) announced that more than 90 million people registered to vote for their preferred candidate to take over from President Muhammadu Buhari.
The ruling party All Progressives Congress (APC)'s candidate Bola Tinubu went through the streets of Maiduguri in northeast Borno state on Saturday promising a government of accountability. Tibubu, a political veteran and former governor of Lagos State, is expected to stage a final rally in his hometown on Tuesday.
Came out of my salon just in time to catch Obidients on their march. The energy was high. Obidients have really tried this season. I'm super proud to be associated with you guys. Peter Obi for President 🙏🏽 pic.twitter.com/7m094cEAui

— Ndi Kato (@YarKafanchan) February 18, 2023
Opposition candidate Atiku Abubakar of the Peoples Democratic Party (PDP) also met supporters at the Mahmud Ribadu Square in the city of Yola, Adamawa State, where he promised to restore peace and security to the country. Supporters of Peter Obi of the Labour Party (LP) took to the streets in the capital Abuja, marching in colourful attires, chanting and blowing vuvuzela horns.
In the midst of all this, violent protests have broken out in major cities as angry and frustrated bank customers attacked and vandalised banks and blocked roads. This is a result of the shortage of physical cash following the Central Bank of Nigeria's decision to swap old bills for new, re-designed ones. In a national broadcast on Thursday, Buhari described the naira policy as a "positive departure from the past" and said it represented a "bold legacy step" towards free and fair elections by helping to curb vote buying.
AFRICAN UNION INSISTS ON SUSPENSION OF BURKINA FASO, MALI, GUINEA AND SUDAN
The African Union insisted on Sunday that Burkina Faso, Mali, Guinea and Sudan will remain suspended from the pan-African organization following the two-day summit in Ethiopia.
Leaders of the 55-nation bloc met in the Ethiopian capital Addis Ababa to discuss the challenges facing the continent, including coups, conflict and climate change. Mali, Guinea and Sudan were suspended in 2021, and Burkina Faso was suspended a year later. The suspended countries have been ruled by military leaders following coups.
"The assembly reaffirmed zero tolerance against unconstitutional change (of government)," said Bankole Adeoye, its Commissioner for Political Affairs, Peace and Security. "The Commission is ready to support these member states to return to constitutional order, the idea is that democracy must take root and must be promoted and protected. It is necessary to re-emphasise that the AU remains intolerant to any undemocratic means to political power."
At the summit, the African Union's chairperson and Comoros president Azali Assoumani also revealed that the union had agreed to accelerate the implementation of the African Continental Free Trade Agreement (AfCFTA), which is billed as the biggest in the world in terms of population, gathering 54 out of 55 countries on a continent with 1.4 billion people. "I shall leave no stone unturned to ensure that this becomes a reality," Assoumani said.
TUNISIAN COAST GUARD INTERCEPTS OVER 400 MIGRANTS
The Tunisian coast guard announced on Sunday that it had intercepted in a single night 423 migrants trying to reach Europe by the sea in 16 separate operations off the country's coast.
"During the night between February 18 and 19, coast guard units in the center, north and south managed to thwart 16 attempted crossings and rescue 423 people," the guard said in a statement. It added that the migrants include 71 Tunisians and 352 nationals of sub-Saharan African countries. 
Some portions of the Tunisian coastline are less than 150 km (9o miles) from the Italian island of Lampedusa. Lampedusa is a much-favoured departure point for Tunisian and other African migrants seeking entry into Europe. At the moment, Tunisia faces an economic crisis, which has forced both young people and whole families to seek greener pastures outside the country.
According to Italian authorities, more than 32,000 illegal migrants including 18,000 Tunisians reached Italy from Tunisia last year and earlier in the year, Italy and Tunisia vowed to fight illegal immigration. The Tunisian coast guard reported on Friday that the spike in crossing attempts was due to "improving weather conditions."
CHRISTIAN ATSU'S BODY ARRIVES IN ACCRA
The remains of former Ghana international footballer Christian Atsu who died in an earthquake in Turkey were on Sunday received by the family, government officials, and the Ghana Football Association. At a solemn ceremony at the Kotoka International Airport, the remains were accompanied by his family and Ghana's ambassador to Turkey, Francisca Ashitey-Odunton onboard a Turkish airlines flight.
Atsu, 31, was caught up in a 7.8-magnitude quake that rocked Turkey and Syria on February 6, killing more than 44,000 people in both countries. Initially, the former Chelsea and Newcastle United player was believed to have been rescued a day after the quake, but those reports turned out to be false and his body was found on Saturday.
The mortal remains of the late Christian Atsu returns home.#GhanaMFA pic.twitter.com/WMfGHnIweo

— Ghana MFA (@GhanaMFA) February 19, 2023
After news of Atsu's death broke, tributes poured in from around the world. "We will not forget you, Atsu," the player's club Hatayspor tweeted. "Peace be upon you, beautiful person. There are no words to describe our sadness. Rest in peace." Atsu scored the last of his 33 career goals in Turkey's Super Lig on February 5, hours before the quake struck. 
"The Vice President of the Republic, His Excellency Mahamudu Bawumia who led the Government delegation expressed his condolences to the bereaved family and praised the late footballer for his good deeds and the joy he brought to many people around the globe," the Ministry of Foreign Affairs and Regional Integration revealed. "Nene Kofi Twasam III, Head of the Twasam family of Ada, on behalf of the family of our late compatriot, expressed appreciation to the Government of Ghana and all individuals who have stood by them during the demise of their beloved son."
Featured image credits/