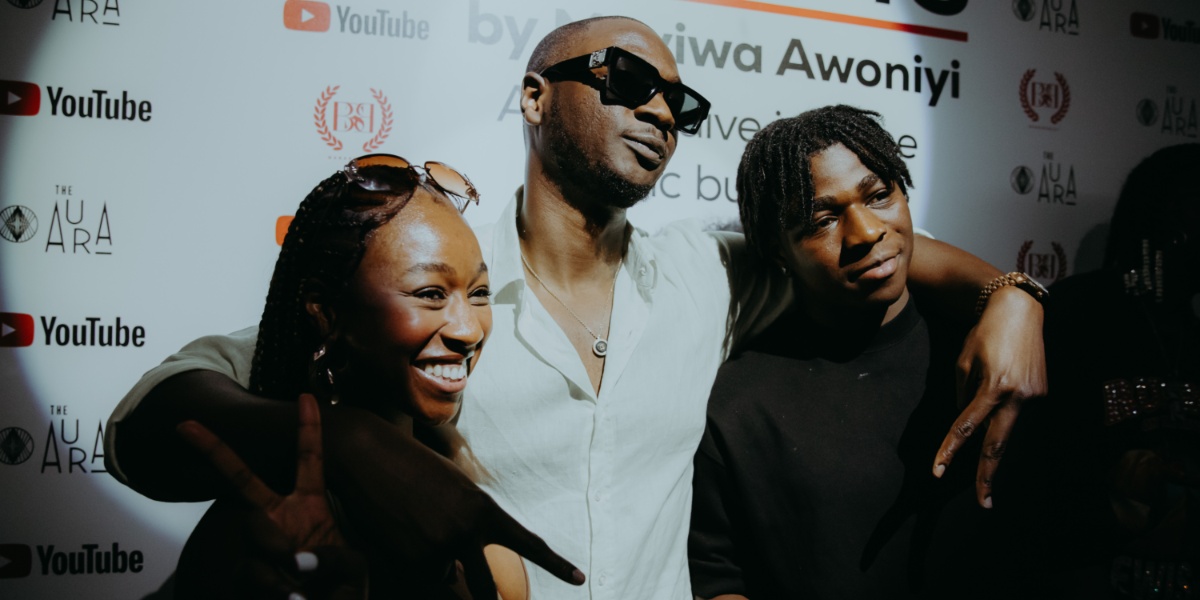 Where Were You: Muyiwa Awoniyi's music insider session, Insights comes to London
an insider session for budding execs
Great artists aren't created in the ether. Instead, behind every prolific hitmaker is a high-level and professional team consisting of game changers who are able to pull the necessary strings behind the scenes to create the perfect story. Muyiwa Awoniyi, fondly known as Donawon is one of the emerging members of a new creative generation, harnessing his innate business acumen and well-thought out provoking strategy to push the envelope in the music industry.
When he's not managing Grammy-award winning artist, Tems and raking up accolades in the music industry, he's leading and spearheading an independent agency called BSB Agency–a labour of love which provides valuable knowledge about the business side of music production. With over a decade of experience in the music industry under his belt, Awoniyi now has his sights set on unveiling insider knowledge about the industry and routes to finding success.
Last year, Awoniyi kicked off Insights, an intimate panel session offering practical insight from key players in the music industry and providing real-world networking opportunities for budding music enthusiasts, A&R's and music execs. After hosting successful iterations in Lagos and Ghana last year, Awoniyi brought the event to London last month where he imparted key insights from his journey and that of seasoned industry professionals. The event took place on June 22 at Aura, London with an all-star roster of guest speakers and artists including Dave, Juls, JAE5, Ms Banks, Teezee and Alex Boateng, the co-president of Def Jam UK.
View this post on Instagram
The event which was slated to kickoff at 6pm faced minimal delays due to the large number of eager attendees being ushered into the venue. Once inside, guests were welcomed into the cosy restaurant venue arranged to host the intimate fireside chats and questions and answer sessions. The DJ added to the already buzzing atmosphere as we anticipated our host's entrance. Before long, he took centre stage accompanied by the Nigerian DJ-producer, Jess Finesse.
Awoniyi kicked the evening off by explaining the reason for creating Insights–an insider session born out of necessity and his desire to create a platform that allowed industry experts to engage in open dialogue with music enthusiasts and industry stakeholders, providing their valuable knowledge and findings. After the brief introduction, Jess initiated the first round of discussion—a Q&A session with the host. She posed a series of questions to which he offered a rich trove of insight on the music business alongside his personal experiences. "What is your why?" she asked Muyiwa. "The whole point of living is to liberate your mind. I wanted to know what I could become based on me chasing my interests. I felt I couldn't do that in a bank. I realised music or entertainment in general was the widest place for networking," he shared candidly. Through a series of light hearted back and forth, Awoniyi shared his wisdom and experiences with a mix of humility, humour and sincerity. 
As the session goes on, Awoniyi speaks a bit more about developing discernment as an essential tool to obtaining the most out of the industry. "Discernment is basically what is good for me, but not necessarily what I like. The path to self development has to focus on what's good for you. You can only find out who you are when you undergo discipline. Put yourself under pressure to find out who you are. Your emotions are your navigational tools. When you do this, you'll have a very good understanding of your values." In addition to understanding what methods work best for an individual, Awoniyi also shared the importance of understanding one's self worth. He recalls when an event manager offered $300 for a Tems performance before she was recognised globally. " Always highball with your prices. The truth is, you have to be a leader to set standards," he advised.
After an hour filled with insightful gems from Awoniyi and his co-host, the night progressed with much chatter and good energy. Soon enough, guests were welcomed to ask their burning questions about the business of music. The tone of the evening remained relaxed, intimate, and light-hearted, with drinks and food still circulating. The guest lineup, as expected, was just as impressive as in previous events, if not more. The attendees had the privilege of sharing the space with renowned producers Jules and Jae5, NATIVE Records co-founder, Teezee, co-president of 0207 Def Jam, Alex Boateng, Ebi Sampson, Dave and Ms Banks.
View this post on Instagram
After the main sessions, guests had the opportunity to mingle and interact with the artists and executives in small groups of two or three. All around me, people posed questions ranging from "How can I determine the best producer to collaborate with?" to "What's the best approach to releasing my artist's debut single?" Some attendees even sought advice on establishing their own presence in the industry, seeking insights into whether they should prioritise releasing a music video or focusing on creating a solid body of work. Others were keen to understand how both music executives and artists effectively built their teams and expanded their reach. The DJ resumed spinning bangers, from Davido's "Unavailable" to new singles from Asake's "Work of Art," creating an amazing ambiance.
For the panel members and music enthusiasts alike, the event in London was a valuable opportunity to understand more about the wheels of the business. This effort, particularly in the current climate, is admirable as it serves as a reminder of how far the Nigerian music industry has come together as a whole. Awoniyi's Insights event fosters community and serves as a much-needed reminder to keep going and grinding against the grain. With its third iteration now complete, Awoniyi has created an important outlet for disseminating knowledge that will surely help the next generation seeking to enter the music industry.
Featured Image Credits/The NATIVE