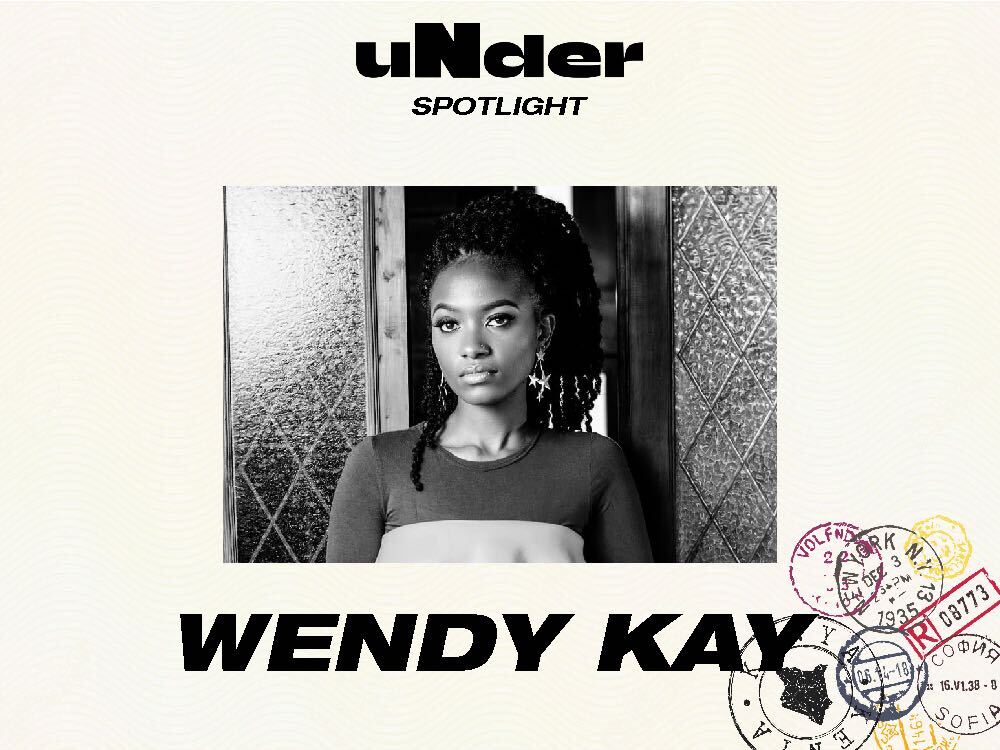 uNder spotlight: The Soulful Message of Wendy Kay
"I am basically my everything." 
uNder is our monthly column committed to spotlighting the Best New Artists from around our musically diverse continent. Each month, we'll be taking a step further to highlight the artists featured on uNder by offering in-depth interviews and exclusives about their music, their journey's and their plans for taking their sound from this side to the world watching.
---
When Wendy Kay graduated from high school, she wanted to act in musical plays. "Broadways, musical plays," she describes them. She was only two plays in when someone suggested she join a one-year artist development program called Sauti Academy, to sharpen her singing and songwriting. "I was like, 'okay, fine,' I mean it's free so let me go and learn something," she said to the NATIVE last week.
That same year, in 2012, Wendy Kay was introduced into a community of like minds. Through the programme, she rubbed shoulders with many rising talents—some of them household names in Kenya now. During her time in artist development, she realised many people had enrolled to better their own qualities, and that healthy push of competition worked to reinforce her self-confidence. "I just found myself going through with the music and I've never stopped since then," she says. 
Born Wendy Kemunto, the artist makes music that is laser-focused on uncovering her true self. The lucid wisdom in her songs recalls the music of her earlier years: R&B, Lingala, African traditional choir music, Jazz—"All that mixture," she says with a light chuckle. Those were however cut from the tastes of elder family members which inspired her early foray into music. Now, Wendy has fashioned a sound that is decisively personal, minimal, and updated with contemporary stories. 
While Wendy Kay finished university, Wendy performed with live bands, getting some money while finessing her artistry. "I was mostly doing covers," she explained, "because at that time I was very shy. I wasn't confident in playing the songs that I'd made. But I used to do cover songs with different bands, so we'd sing Rock, we'd sing Reggae, we sang Country, we sang Indian, so we were singing everything. That has really helped my vocals; it really helped me a lot.
Sometime in 2017, she got into Coke Studio as a backup vocalist. "It was actually life-changing," she says of the experience. "I never thought I'd make it to Coke Studio but I got the chance; I met so many amazing musicians and got to work with them. I got to see them in their element. It even developed my work ethic because we used to do so much work in short periods of time. People don't really see the behind the scenes, but there's a lot that goes into the production". 
Wendy Kay released her first single just before the end of Coke Studio's own premier season, which gave her the reaffirmation that she didn't want to be just behind the scenes. Her debut record "Made In Kenya" was created alongside Joe Motoriah and CS in-house producer Young DLC. She got to perform that on the show's main stage as well, a crowning end to her time on the Coke Studio show. "It was one of the best days of my life," she says now with exhilarating fondness. 
As you'll glean see from the song's Youtube page, Kemunto used to be Wendy Kay's artist's name. Before then, it was Miss Kemunto. After that, Wendy Kemunto and, finally, Wendy Kay. So in some sense this particular artist we see today has been constantly evolving, and this portends her most mature version of herself yet. Much of the music released under her earlier aliases aren't available on streaming platforms except SoundCloud.
"I am very much independent," the artist responds when I ask if she's signed to a record label. "I am basically my everything."  Wendy Kay, however reveals she just inked a distribution deal with Platoon. Kay's independence pours into the music, the reason why her two projects are titled 'My Way' and 'My Way: Volume II'. The first was an EP released in 2020, and showcased the bold and evocative voice of Kay through the prism of colourful Kenya-influenced sonics. Standouts were the affirmative "My Way" and the ethereal swing of "Samahani," which apologises to a departed lover. "Why didn't I treat you better?" asks Wendy in the chorus of the song, while Rigga delivers a stark verse about the nature of the world, asking "why do smart people do stupid things?" 
Earlier this year, in May, the uNder alum released her debut album, continuing the 'My Way' title. It contains twelve tracks, with features from Njerae, Steph, Reign SA, MR. LU and Scar Mkadilani, who appears on two tracks, "My Way (Remix)" and "Safe Space." The soundscape is even more colourful than its predecessor, but here, those flagrant bursts are handled more masterfully. Wendy Kay's singing has developed admirably as well, her vocals expressing several moods–nostalgic, regretting, groovy, heartbroken–throughout the album's 37 minutes runtime. 
Whether crooning sweetly about adult-rated desires on "Fantasies" or raising a fist to Kenya's political struggles on "Pewa," Wendy Kay excels in her mode of expression. "This album took three years," she says. "It was such a process; so many songs didn't get on the album, I was going back and forth. And then again, you know, this was my first time handling a whole album on my own—like where do I even begin, following up on different people, pushing, planning–so honestly it was a lot, but I learnt so much about myself. And I was like, after this album, I'm definitely going to take a break". 
"A young girl in Nairobi, just trying to hustle her way out," she offers as the album's reality. Wendy Kay wrote the songs from a feminist perspective, and the characters inhabiting its world are riveting models from real life. "Trying to pursue the unthinkable and sticking to what you believe in. And in the process you meet some good guys, you meet some bad guys, you fall in love, you get heartbroken, your leaders let you down, you have to look for other alternatives of income—things that we are going through".  
"Life is about the moments you're in, wherever you are. For me though, I love staying near the water, I love the ocean."
Her family resides in Nairobi but Wendy Kay calls herself a nomad. "Just before the corona happened I wanted to go on a little mid-year road trip around Africa," she says. "Not the whole continent, but just some countries. Then [the pandemic] happened and I started travelling around Kenya more, and my country is so beautiful. But for me, where I feel a sense of peace, a sense of, you know, people accept me for who I am—that's home for me". 
Stream 'MY WAY: VOLUME II' below.