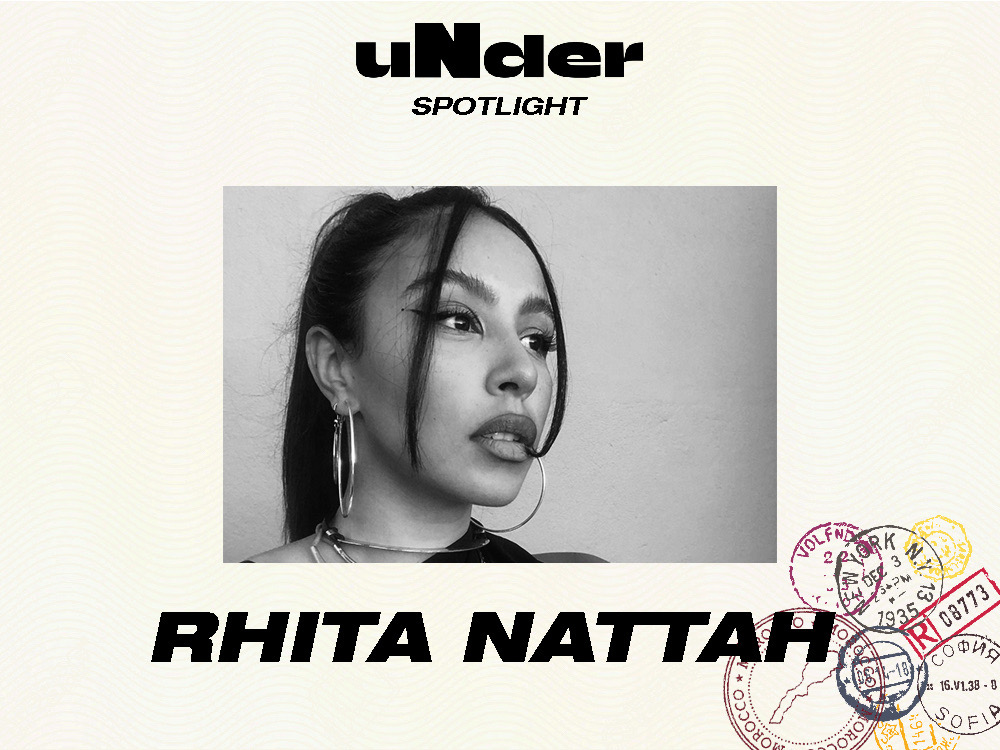 uNder Spotlight: Rhita Nattah's Music Channels The Personal & Political
"Music is first and everything comes after."
For Rhita Nattah, music—citing Nigerian Afrobeat legend Fela Kuti—is "a spiritual thing." The Moroccan artist, whose entry into the music industry began with an unsavoury experience and who continues to grapple with bad policies in her home country, has managed to keep her head above water and her eyes fixed on the grand prize: making music that impacts the lives of her listeners. "You gotta respect the art. You got to respect music. That's what I feel," she says. "[Music] is first and everything comes after. Money and fame don't come first. Never."
Nattah's debut EP 'INNER WARRIOR,' which was released last month, encapsulates all her ideals and beliefs. Over a bedrock of traditional Moroccan music—Aissawa and Ahwach—sprinkled with Western influences in the forms of R&B, Soul and Hip-Hop, Nattah digs into herself to unearth powerful yet catchy songs about self-belief and her experiences as a woman in Moroccan society. "I am gonna tell you things about myself/I didn't know before/Things I hide from myself, from myself/Oh, some days were dark," she sings on the EP opener "Garden." Nattah, who appeared in the NATIVE's uNder column for February, revealed that she wants to be "a voice for the people, a friend, a sister, through my music and words."
View this post on Instagram
Born in Fez, which is the oldest of Morocco's imperial cities and served as the country's capital at least five times in its history, Nattah grew up listening to traditional Moroccan music. As a teenager—and with the help of computers and YouTube—her music expanded to accommodate more names: Amy Winehouse, Sarah Vaughan, Dinah Washington, Sizzla, Queen Omega. Courtesy of YouTube, she taught herself English (the languages spoken in Morocco are Arabic, Berber, French and Spanish), how to play the guitar and how to compose music. 
In 2016, while she was a master's student, the Swiss electronic band Kadebostany contacted her to write and compose a song for them. The song "Save Me," which is one of the band's most popular songs, has ten million views on YouTube, has over ten million plays on streaming platforms and has been remixed by artists in Greece and Germany, amassing over a 100 million views. Despite the success of the song, Rhita Nattah didn't get any publishing credit. Rather than let disappointment destroy her passion for music, she decided to seek more knowledge about the music industry.
"I spent a lot of time trying to learn about the music business, about author rights, about neighbouring rights, about distribution, but I just discovered with time that in Morocco, they respect nothing about [rights] too," she says. "That's why that [Swiss] group took advantage of me because here [in Morroco] organizations are very fucked up. Big actors [and] big actresses in Morocco never get their rights. When it comes to art, it's very bad. So even though I learnt about the rights and everything related to the music thing, I get nothing [in terms of royalties]."
Throughout her journey in music, Nattah has had Samir El Bousaadi by her side. He's her musical collaborator and husband. They met while she was a university student in Rabat. Nattah had needed another guitarist for a concert she was billed to perform and found Bousaadi in her Facebook contact list. "He accepted and we met for rehearsals, and then we played together," Nattah says. "We loved the vibe and then we started meeting more often to play music together, just to discover what we can do, just jamming in general." Nattah and Bousaadi's friendship deepened as they spent more time fine-tuning their craft. In 2017, they got married.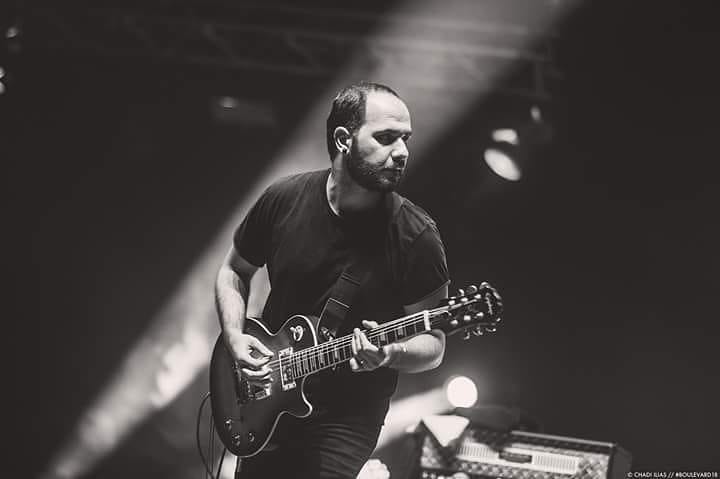 "I trusted him because I really love to work with people who listen to good music," she says about Bousaadi. "And also because he's a musician. I love producers who can play instruments. He can play guitar, bass and piano. And for me, this is important. If you're a producer, you should know how to play instruments. He [Bousaadi] listens to a lot of metal and grunge. He used to play with several groups and when he plays the guitar, I feel it. The way he plays is very emotional and that's the thing that I loved when we first met, before knowing everything about him."
Between 2017 and 2019, Nattah and Bousaadi wrote and composed music, while trying to find their unique spot sonically. They also did covers of music from other artists—mostly Nigerian Afrobeats musicians. In the videos, Bousaadi, strumming his guitar, would sit beside Nattah who would belt out the songs. They covered songs from Wizkid, Tekno, Melvitto & Oxlade, Kizz Daniel, American singer Khalid and Syrian musician Bu Kolthoum. Although Nattah received offers from Afrobeats producers, she turned them down because she had no intention of being identified with one sound. In 2019, she and Bousaadi felt it was time for her debut.
Nattah's debut single "Not the Same," which Nattah's friend on social media Jamie Portier mixed and mastered for free, was the precursor to 'INNER WARRIOR.' It tells the story of a woman ruing a failed relationship but determined to let go of her hurt and forge ahead. At the time, Nattah had completed her master's degree and Bousaadi worked as a graphic designer/director in a French bureau in Rabat. When a job opportunity as a teacher (and with great pay) in a Catholic school appeared, Nattah turned down the offer to focus on her music. Bousaadi, too, quit his job. 
"It was a very hard and crazy decision because everyone around us was very intrigued and they took us for crazy and childish people," Nattah remembers. "They were like, 'You know, in Morocco, we have nothing. We don't have the industry. What are you doing?' We [Nattah and Bousaadi] were believing. We had no idea of how we were gonna do the things, but we [knew] that we [could] have something. We just knew inside of our hearts that we can give something."
Amid the resounding effects of the COVID-19 pandemic, Nattah and Bousaadi were holed up at home making music. They turned their room into a makeshift studio, with two tables, a computer and a mic. Nattah's favoured place to record in the room was a closet. With Nattah singing and Bousaadi handling production, they finished recording the songs for Nattah's EP in 2021 and sought the assistance of Talal Bouroki, who with Bousaadi, is a member of the Moroccan Rock band General Rest In Peace. The process of mixing and mastering the songs with Bouroki lasted from January 2022 to July 2022 because Bouroki had another job and could only work on the songs on Saturdays. 
The recording process for 'INNER WARRIOR' was heavily collaborative. "Sometimes Samir starts working on a beat and I'm like, 'Oh, this is interesting,' and I just start doing toplines and melodies," Nattah says. "[Then] Samir takes more time to make the beat and then when he finishes, I put words to these melodies." An instance is "The Calling," whose melodies for the verse and chorus Bousaadi had created before Nattah infused the words. According to Nattah, it's all about the feelings the songs evoke in her and Bousaadi. 
"On My Own" is Nattah's most personal song on the EP. She reveals that it is a snapshot of a particular moment in her life as it cracks a peep into old decisions. In the first verse, Nattah sings, "I've been smoking lately I know bad (sir)." While she no longer smokes, she defends its importance in the song for her honesty in opening up about a habit she adopted during a stressful situation. 
In a 2012 report, The New York Times noted that generations of creatives in Morocco earn paltry sums in royalties, even if they are lucky enough to get anything. Under the government, the Moroccan Bureau for Copyright, which "is supposed to find solutions and ensure respect of intellectual property, including the piracy" has been accused of withholding the royalties of artists. Eleven years later, the situation remains the same. 
"The main problem [is] the fact that governments before and even [current] governments ignored art and culture because of [religious] thinking," Nattah says. "And the people who were famous in Morocco [and] came before us didn't prepare the path, didn't find solutions, didn't talk about it. Some people were [also] bought; they [governments] gave them a little bit of money and they shut their mouths." 
The Moroccan music industry has lacked a proper structure to collate the financial rewards that each artist deserves from their works. Although Nattah's music is played by radio and TV stations in Morocco, she hardly receives any royalties. "Sometimes they choose to pay you with no details like it's a salary. and sometimes, they don't. It depends on their mood, I guess. Yeah, it's very fucked up," she says. "But I can't stop making music because I chose this path, you know; no excuses."
Nattah is already at work on her album, which she hopes will feature guest appearances from artists in Morocco, the UK and Nigeria. She and Bousaadi also have an EP in the pipeline with Canada-based Moroccan act Sami Chaouki. Nattah, who is an indie act, dreams of touring the world and performing in countries such as Germany, Turkey, the UK and the United States, where the streaming metrics say she has a loyal following. 
With increased visibility in her career—featuring as Spotify Africa's Equal Artist of the Month and a billboard appearance in New York's Times Square—Rhita Nattah's path to success is widening. "I'm just waiting to see what life has in store for me," she says. "I'm just working on my music, minding my business [and] doing the things that I love. Hundred per cent following my heart, believing since day one and that's it."
Stream Rhita Nattah's 'INNER WARRIOR' below.
Featured image credits/NATIVE