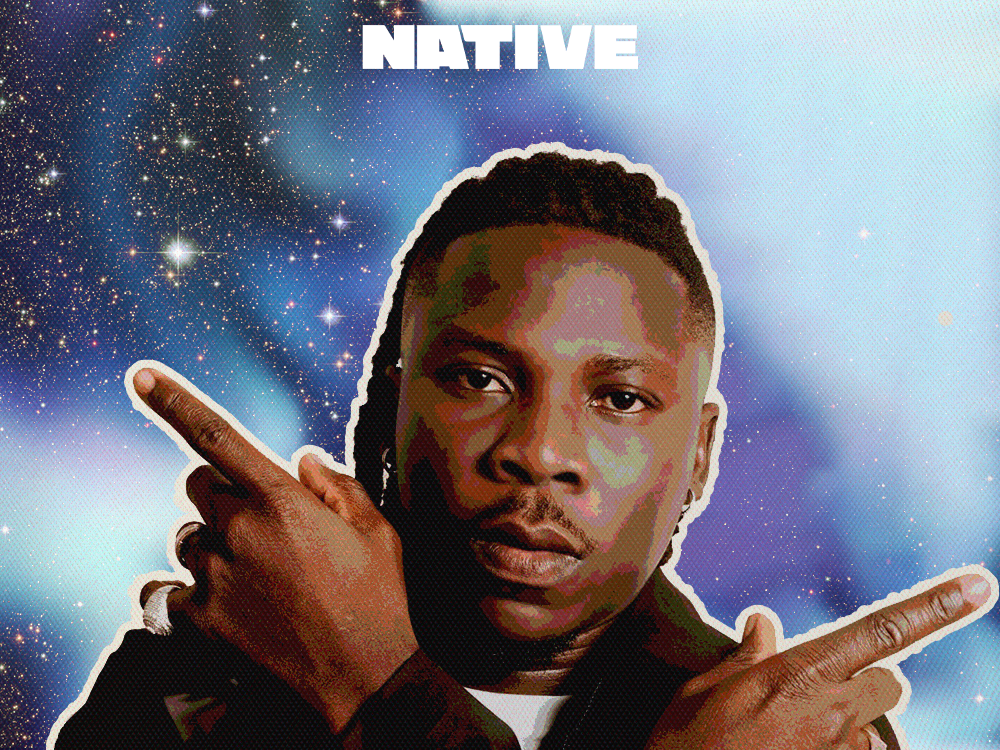 NATIVE Exclusive: Stonebwoy is Entering His Fifth Dimension
the iconic Ghanaian artist continues to break new ground
Different shades of blue outline a ship. A strip of red clothing rolls down the middle. This is the visible image when Stonebwoy gets on Zoom, joining the NATIVE from London where he's currently situated as in Europe-wide listening sessions to promote his forthcoming album, '5th Dimension'. The Ghanaian superstar and BET Award winner is undoubtedly a busy man, but as we unfurl the details of his life and music, he's relaxed on the sofa, and speaks with zen calm. 
Livingstone Etse Satkela was born in Ashaiman, one of the biggest cities inside Accra, the Ghanaian capital. Coming from a neighbourhood he recently likened to the Bronx, it was everything he needed to be stone: multiracial and multi-class, and his locale soon became a resourceful field of experience which he would translate into his art and lyrics. Residing in a country which has vividly contributed to African music, pristine sounds would have been a regular occurrence for Stonebwoy, but on that eventful day when he picked on the piquant melody of Lucky Dube's "It's Not Easy", it made him stop and think. 
"I felt very emotional," he tells the NATIVE, some moments after harmonising its chorus. "I wasn't sad but I remember so well, it just got to my spirit so much". In primary school, he knew already he wanted to be a musician. He was involved in writing and acting dramas, music in church, holding a familial and social life. "I started very early," he recalls now. In junior secondary school, when faced with a decision about his future profession, he soon realised his path was laid down all along. "It was one of those ones that made me think 'okay, if I really want to become a musician, what would it be that I would want to do?" 
View this post on Instagram
Reggae and its offshoot genre Dancehall provided the answers. A sound which traces back to Africans who were enslaved in Jamaica before the 16th Century, it turns pain into triumphant meditations on freedom and love. Like Dube before him, Stonebwoy looked at the social fabric of Ghana and could hear its heartbeat was akin to Caribbean, meanwhile it's no surprise they're both coastal areas. 
"The little that I understood of Reggae and Dancehall music at the time, being a conscious kind of style, I actually loved it," he says. He draws a distinction between both genres, the latter being faster and the former more meditative, gently teasing where the other pushed through. He listened to a lot of the greats: Bob Marley, Majek Fashek, Beenie Man, Alpha Blondy, Capleton. "Brother," he calls out, "Collections of reggae music. Tons and tons of those. The only thing that can teach me is music. It's just like you want to be a doctor, and a carpenter is teaching you, you cannot end up to be a doctor na. So definitely, music was my teacher."
In 2012, Stonebwoy made his bow in the Ghanaian music scene with the 'Grade 1 Album'. He was signed to a record label owned by Samini, who was one of his forebears in Reggae. Under his mentorship, Stonebwoy released an album which fittingly captured his talents. His sensitivity was evident on songs like "Rat Race" and "Kiss n Cry", harping on romantic themes which was translated in the inimitable Reggae flavour of Stonebwoy.
The album proved a stellar starting point. Earning Stonebwoy Ghana Music Awards were the records "Ghetto Love" and "Climax" featuring Irene Logan and Samini respectively. From then on, it was obvious a blazing new star had appeared on the horizons of African music. With Patoranking yet to make his mark, and Burna Boy operating more vividly in the afro fusion sphere, Stonebwoy was the quintessential purveyor of ragga styles in African music. 
'Necessary Evil' was released two years later in 2014, introducing more pomp to Stonebwoy's music. From the opening record "Pull Up" to mid-album cut "Party Again", it was quite obvious that Stonebwoy was positioning himself as the vanguard of Afro Dancehall, a term he popularised due to his incursions into the flagrant melodies of afropop. "Pull Up" also references the aforementioned Patoranking; by wrapping welcoming arms around the Nigerian artist, Stonebwoy lived on the practice of 'one love' that he would come to preach concerning the often beneficial but sometimes tumultuous relationship between the neighbouring West African countries. 
"I've been very intentional about it from the get-go," he tells me now about his multifaceted style, "Because that is what would set me apart. That is what would make me bring something new onto the table and I think that is what I represent. I always love to bring something new. What are you bringing? It can be very difficult, but once it is unique, then that gives me the energy to continue to push it. I have actually pioneered Afro Dancehall music up to this point from all these years". 
This hybrid form wasn't readily accepted from the beginning, due to the novelty of the style. "We had to fight our way into it," he says, "By actually studying to show ourselves approved. Whereby everytime I jump on a reggae music, it was like 'Wow, this guy is Jamaican. No, he can never be African'. And anytime I blend it, they're like, 'Who did you feature on the song?' Then they began to understand that people actually do have the talent to be very diverse, you know, like myself". 
View this post on Instagram
In 2015, that talent was recognised in bigger spaces. Before then, Stonebwoy had championed the sound within Africa but with the proliferation of our music into global spaces, he cornered his own unique space way before many embarked on the journey. A year which saw him pick up over ten prominent awards, he got the BET nod for Best International Act, entering an elite list of African recipients which included 2Face Idibia (now 2Baba), his countryman Sarkodie, Wizkid, Ice Prince and Davido. 
'Epistles of Mama' was his initial immersion into a biographical tradition. It was in honour of his mother who had passed two years before. The songs, even though permeated with sunshine, were audibly influenced by this most peculiar angst of a young man. From the heart-wrenching account of their relationship on "Bawasaaba" to the self-affirmative "Souljah", the Ghanaian icon charted an unchronological journey towards finding redemption. That album also featured Burna Boy on that classic Reggae riddim ("Take You Home") and a rising Amaarae, whose lithe vocals can be traced to this noteworthy performance alongside one of her country's greatest ever musicians. 
In its totality, the person and music of Stonebwoy stretches and successfully links up diverse eras and genres, to the past and future all at once. This was the direction he continued to chart in subsequent projects, including '5th Dimension'. 
View this post on Instagram
The visuals for "Le Gba Gbe," the lead single for 'Anloga Junction' features Stonebwoy in a rural setting. With blazing imagery of fire, the restriction of chains, and finally, a stretch of water, it's a stirring translation of one of the most poignant songs he's ever created. "If this is me alive, and it turns out like this," goes the proverbial chorus which is sung in his native Ewe, "How much more when I'm dead and laid in state for nations to file past?" 
That album broadened Stonebwoy's vision. Actually, it returned him home, a reverse journey that enriches an artist with great perspective. The features continued his cross-continental ambitions: legendary Ghanaian artist Kojo Antwi, the American superstar Keri Hilson, the Jamaican artist Jahmiel, among others. 
"The theme is to represent Africa in the era that we're in right now, without having to Westernise it too much," he told OkayAfrica in an interview. That vision was surely delivered with signature finesse and artistic grit, culminating in a soulful ode on "Strength & Hope", a song where he seeks divine empowerment to continue on the journey that started more than a decade ago, leading up to the fifth dimension. 
'5th Dimension' is more than an album for Stonebwoy, it's a renewal of his artistry. As an intentional creative, he's constantly opening up new mediums within him and shifting traditions, one step at a time. "If you are a very skilled and a talented driver," he tells me, "There is nowhere you cannot drive to, except cars don't go. This is the next level, this is the next destination that I am carrying the whole musical vibes to, which I refer to as the fifth dimension."
Live performances on Vevo have accompanied the release of "More of You" and "Far Away". Both songs are on the album, and are indicative of Stonebwoy's intimate leaning into his vocals. He's always been an astounding performer but watching him croon assuredly and with all the emotional inflections, it's a level that combines all his previous dimensions into a groundbreaking whole. 
The album's feature list is also a masterclass in big-hitter names. Sparing no punches, Stonebwoy calls up Angelique Kidjo, Tiwa Savage, Shaggy, Mereba, Stormzy and Oxlade, among others. An assemblage worthy of carrying his immense vision. "As much as it had to happen naturally," he says of the choices, "Technically, when you review it, you realise that it's actually a product in the end, that is supposed to continue to represent for the culture. And the only way people can know the culture is to be strategic about it, and be intentional about some of the moves that you pick with it." 
Considering this is Stonebwoy's first album since his partnership with Def Jam Recordings, it's another momentous era for the 35-year-old. With Afropop making its ascension into global spaces and rubbing shoulders with other cultures, it's more important than ever before to partner with people and brands that are able to champion our African heritage. Speaking about the partnership with Def Jam, Stonebwoy reveals that he's unwilling to compromise on parts of himself to fill the bigger picture. "As much as exportation is important in order to broaden the culture and win more souls, the global establishment is very important, the machineries and the institutions that articulate these things are not only of Africans. And it doesn't stay at music alone; what African export is not even music, its people, its resources. Now we have to be wise enough to develop our African music ecosystem." 
One of the ways he envisions that can be done is through replicating the establishments—award shows, charting systems, multimedia platforms—in Africa. "That way, there's going to be quality employment," he says. "Everything returning back home to the grounds". Stonebwoy certainly does his own part with his ownership of Burniton Music Group and the BHIM Nation fanbase (which he describes as more a nation with actual ideologies), for whom he organises an annual festival. He's an employer of Ghanaian talent, and coming from those streets himself, knows just how much creativity and the educational background can help the youths. 
Before our conversation ends, Stonebwoy manifests on the vision for '5th Dimension'. "I speak heights, I speak levels, because this is a musical journey," he says. "I can tell you now that, if we count African musicians who are actually representing for the continent in its very conscious form, we are only a few. God has blessed people wey get voice, but not all of us wey get heart to represent for the voice. And I see myself as one of those people who is like a Pan-Africanist with this. This album will open people's eyes to a lot of things. It will bring them to Africa. It will let them understand that everything has always started from Africa." 
Featured image credits/NATIVE
---