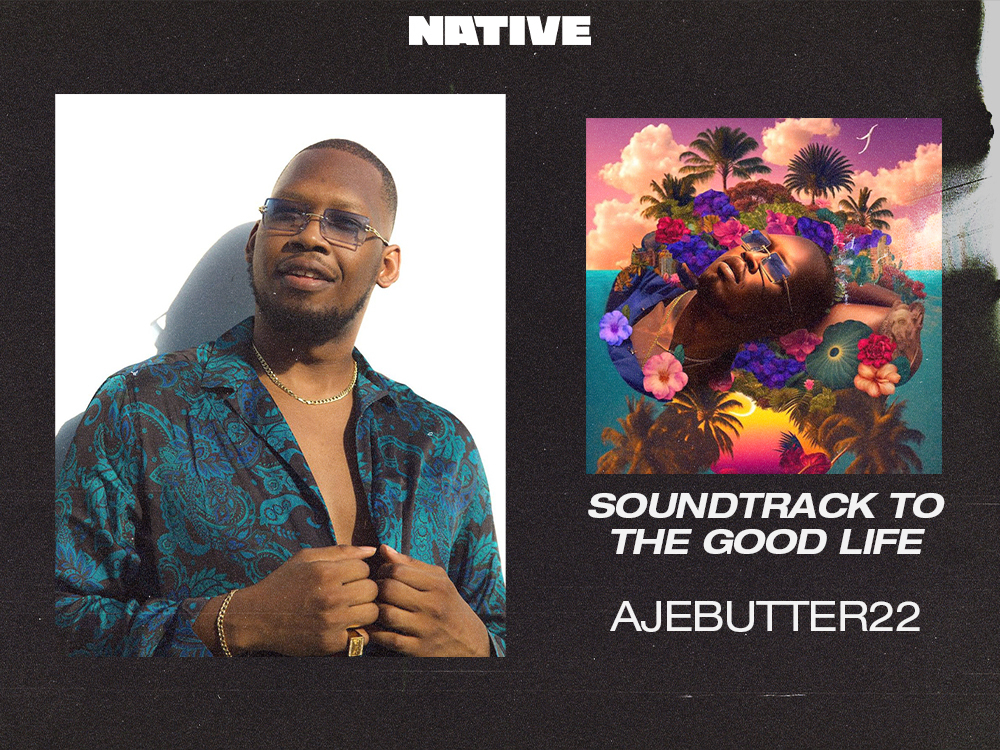 Track-By-Track: Ajebutter Breaks Down His New Album, 'Soundtrack To The Good Life'
A well detailed track by track breakdown
Ajebutter22 was always destined to create a project like 'Soundtrack To The Good Life.' Since his debut on the scene at the turn of the noughties, the singer and songwriter has created earworm bangers in Nigerian music conversations. Imaginative in his lyricism and exacting in his delivery, the singer formed a trademark identity segueing between Yoruba, English and Pidgin to tell stories about the excesses of Lagos.
With two projects under his belt including his debut album 'Anytime Soon,' and its excellent follow-up 'What Happens In Lagos,' Ajebutter22 has pieced together a wild collage that pulls from his mismash of interests–from working a 9 to 5 tech job to cruising round Lagos with his goons. Through the years, he's maintained a godfather like figure in the alte scene, working with close collaborators such as BOJ, Falz, Odunsi The Engine and more, with cool but confident verses that have soundtracked cool summer nights for many Nigerian millennials.
Now, 6 years on from his last body of work, Ajebutter22 is ready to expand his sonic world with new lessons learnt and new ways of expressing himseld. The 15-track body of work pulls from a range of different topics such as love, heartbreak, addiction, enjoying life as well as focusing on the positives. With production credits from a talented pool of producers including long-time friend, Studio Magic and Johnson IP, 'Soundtrack To The Good Life' is collage of vibrant sounds that will appeal to young (and young-at-heart) listeners. In an exclusive Spaces interview with The NATIVE, Ajebutter22 takes us through his third studio album, one track at a time.
View this post on Instagram
His words, which follow below have been lightly edited for clarity.
"Soft Life Manifestations" ft. Koromone 
For this [track], I knew I wanted something that would kind of set the tone for the album, and I had already written down the title even before creating an idea for the song. I ran into Koromone and we hadn't seen each other in a while but she said she'd like to be on my next project and I knew she'd be such a great fit, so I gave her the title and she did her thing. It took her about two months to finish it up but it was certainly worth it. Then, I got one of the producers Yung Z, and he just added the music. 
"Soft Life" ft. LadiPoe 
I knew I wanted this song on the album and I knew how I wanted it to feel but it took me so long to actually get the mood and tone right. I had to go to Abuja for three days just to record music with the producer, Ransom Beats and in the three days, that was all I did, and we finished my part of the song. I had the original idea for this in 2021 and I was able to come up with the hook but I finished it off in Abuja. When I had this done, I just knew I wanted a rapper that was blown enough to understand the life I was talking about and articulate enough to pen it down. It took Ladipoe quite a while to send in his verse, in fact I had to block him at the Mavin studio one night and he just did his verse. I initially wanted him to do 32 bars but then we switched it up, so he did 16 bars and did his thing for the rest of it. Making the new song took roughly about 6 to 7 months, if not longer. 
"Enjoyment" ft. Ajebo Hustlers 
There are a number of name similarities and this was based on the references to each other. At some point, I just heard [Ajebo Hustler's] music, and I knew these guys were such talented musicians and songwriters. My former manager hit me up to ask if I'd be interested in working with them and I was open to that but at this time, I was basically done with the album. So we got into the studio and we made two songs and yeah, "Enjoymemt" came about. 
"African Man" 
This is produced by Studio Magic and I actually recorded this in 2020 just before COVID hit. This was when I started forming the idea of Butter Nation. The whole song was really about just being proud of who we are as Africans. At some point it wasn't cool to be African but I've always been proud to be African, and I just made this to further embrace that. 
"Floating"
If you're an artist, you'll get a lot of beats and beat packs from producers. KC Freely used to send quite a lot of beats to my email and they were really good. I could just see him steadily improving, so I knew we had to work on something together for the album. I wrote "Floating" when I was in a good mood in Kigali, so I just decided to write something that takes me away from where I am and everything flowed really quickly. This is one of those songs that I settled down to write the verses and write bars. If you listen to the bars properly, there are a lot of crypto references and personal references and this is because I really took my time to write this particular one.
"Fire" ft. Jeff Akoh
I found Jeff Akoh on Instagram so I reached out and we linked up and made this song together. The beat I had already got from Spax a while ago so Jeff started the song and just did his thing and I just started adding more and more words to this. I wrote my verse and well that's how the song came together.
"Sumoju"
I found Johnson IP on Twitter a while ago. He just used to post a lot of fire beats on Twitter and what stood out to me was the fact that his beats are not noisy at all, so that just makes it easy for me to write to it. He sent me 3 beats and I just wrote to them really quickly because it was just so natural, I really love writing to his stuff.
"Light, Spark" 
"Light, Spark" is really interesting to me and another song I really took my time to write. It's about love and about addiction basically and the comparison between these two things. [It explores] the withdrawal from their constant supply and how they're both the same thing. The whole song is a double entendre, so I could be talking about love and I could be talking about drugs at any point in the whole song. On the song, I talk about relapsing and just comparing the both sides.
"Unconditionally" ft. Oxlade 
We just decided to link up and make something and Chillz also contributed to the songwriting process. Oxlade did his thing in the studio and in no time, he was done and he absolutely killed it. I took my own back and properly wrote down my verse when I had the time to do that. This is also one of my favourite songs based on how smooth the song is. 
"Finish Me" 
Before I made this record, I had asked Studio Magic to send me a Drake type international beat then I slept off. When I woke up, I saw the beats he sent and I just recorded and made "Finish Me" right there. After, I was playing the record back and it just seemed like something was missing. He came up with the Daddy Showkey idea and it just worked so well for me. 
"Confam" ft. Kida Kudz
This one I recorded deep in lockdown, this song practically puts the entire idea of the album together. I just wanted to take my mind to a place that was free. I sent to Kida and he did his verse and sent it back and he absolutely killed it. 
"Dey Ok" ft. Joey B & KiDi 
I was in Ghana for a bit and I recorded this. Joey has a studio and I had some free time before my flight so we just went ahead and did the record, we went off each other's energy and it was such a good time. KiDi actually did his verse when I had left Accra. He heard the record and he liked it so he just did his verse and they both did very well on the record. 
"King of Parole"
I wrote and recorded this song very quickly and it just worked. The guy that produced the record also produced the intro "Soft Life Manifestations" and "Amapiano x Shisha." The record was fast and so easy to record and I remember telling my people around that the song was going to be so big. It honestly was just so fun to make. I enjoyed that.  
"Amapiano x Shisha" ft. Toby Shang
Every time you go out in Nigeria, all you hear is Amapiano and then there's booze. I just had to capture that since this is what nightlife in Lagos is like now and Toby Shang is such a character. He just came on the record and showed himself. He brought his full energy and I loved that so much. 
"Hear My Sound" ft. Melissa & Not3s
I just wanted to talk about how Afrobeats is moving and talk about how far the sound itself has come, that was the idea I had when I wanted to make this record. Melissa did her thing and Not3s didn't hold back either. He brought his A-game and killed it. To me, it was just a great way to end the album, so yeah, we did that. 
Featured Image Credits/NATIVE