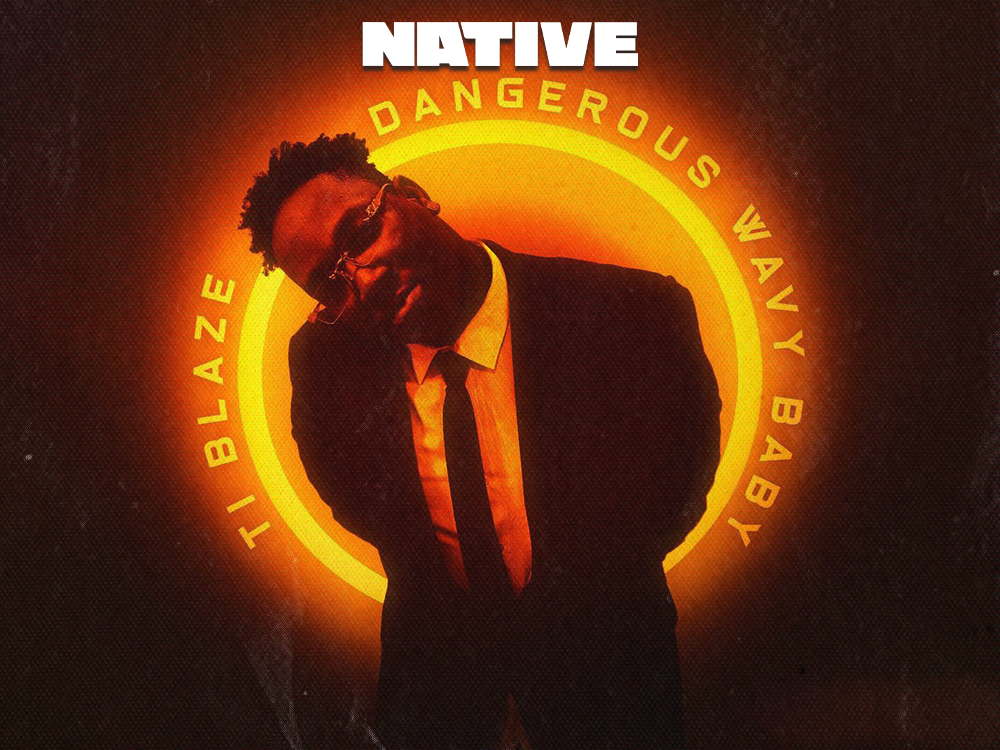 A 1-Listen Review of T.I Blaze's New Project, 'Dangerous Wavy Baby'
The singer's prowess continues to evolve
T.I Blaze is one of the most unique artists operating in the Street Hop tradition. Over the years, he's been able to bring listeners into his distinct world of sound, which merges influences from near and far to arrive at a singularly-suffused catalogue across afropop. This is the reason why, when T.I Blaze drops new music, we answer with eager listens, tapping into his interesting artistic vision. 
'Dangerous Wavy Baby' is the artist's second project, following from last year's debut album, 'El Major'. As he's done in the past, the title behind this new project suggests he's entering into a new character phase, bringing the attendant details of that universe into notice. Just as he's shown on hits like "Sometimes" and "Try", T.I Blaze's pen can be deceptively simple, yet remarkably evocative in how he captures moments that are typically hard to capture in words. The chilling lyric, "Why life come hard? And man no want to be bad," is one example in a career full of them, and no doubt I'd have my ears peeled for what he'll be saying on this one. 
View this post on Instagram
To usher in the new project, we give 'Dangerous Wavy Baby' the one-listen treatment. You already know the rules. All reactions are in real time while the music plays. No pauses, rewinds, fast-forwards, or skips. 
"MOTIVATE"
Amapiano shakes starting out this one; I'm faintly tired of the sound, but let's hear how T.I Blaze approaches it. He's keeping the drums away; he wants you to hear what he's saying. The flow is almost Seyi Vibez-esque, but there's more melody and measure here. "As I enter town, dem shout e my name" is a lyric that works gloriously considering the song's theme. Hearing "I dun sacrifice my life, sacrifice my time" is funny though, considering the recent Kanayo memes that's been going around. I like the focused atmosphere here. Blaze comes in blazing, while being reflective about larger subjects. 
"DADDY YO" FT. LOJAY 
The sound here still retains the minimalist edge of the opener. I like when artists have an ear for cohesion. But then again, T.I Blaze has always been the soulful kind of street G. He's shifted the tradition with this unique style, and it's refreshing to see him unlocking sweet spots within it still. Lojay's a cheat code for a feature; he's as expressive as a rapper but able to serenade even with the lyrical gymnastics, which is exactly what he does here. The host has come back to wrap things up, neatly I must add. His songwriting seems to have matured since his last project, and I'm loving the chill vibe so far. I love that he teased amapiano but didn't fully immerse himself in that familiar terrain. He's doing his own thing here. 
"ON D LOW"
Niphkeys tag at the start of this one tells you it's going to be a good song. The production is sounding very 2010s Nigerian Pop, from the rough edges to the scratchy way the synths are being used. It sounds a bit like House, a bit like amapiano, but the core would be recognisable to attentive ears. "We go ginger person for here" is a line that highlights the song's energy, that in-you-face and you-can-do-nothing-about-it vibe. The drums are really unique, and this feature verse; it starts a bit like the rapper on Ajebo Hustlers but these lyrics have Mr Eazi all over them. It's the words of a don. I like this song, and with the right production, it could really pick up on social media and all the regular channels. 
"POPORI" FT. BALLORANKING
Another high-tempo production. This one moves closer to the Street Hop core than any other song on here has. Balloranking is proving himself an auteur within that field, with the kind of energy he came into this with. T.I Blaze is singing now; he's picked up the energy, with his signature melodic base making an impression. I know the scene this song is made for, I can see the people who'd likely groove to it, but it's not my favourite song at the moment. Perhaps a revisit during groovy communal moments would set it in a new light. 
"WIRE"
I'm just learning now that this song dropped a while ago. These opening synths are majestic; love the violin and skittering drum flow—it sets an atmosphere that prepares you to be wowed. "Na once you go try am, na once I go disconnect," he sings on the opening lyric, a revealing sentiment pulsating through this first verse. Its themes are flitting, from the perseverance of the character to a pensive relationship, but it's all tied down by T.I Blaze's vocals. He's been dynamic across this project, going from sprawling rap-inflected cadences to groovy and now soulful, telling the story no one would tell for him. It's a song that resides close in the creator's heart. You can just tell he thought about this one for a long time and sat down to write it. 
"LOOKU LOOKU" FT. MAGIXX 
Smooth, relationship vibes here. The pacing on this project has been impeccable; how he starts with mellow beats and speeds things up, and is now slowing it again, running down to the end in cinematic style; slowly, but profoundly. I'm enjoying these "you" vocal runs; they have a bit of vintage Wande Coal in them. Magixx is on; he's a very solid artist, and I hope he hits those commercial highs very soon. This verse is solid, fluid delivery but coasting on those striking vocals of his. Both artists actually have great chemistry; it's not the kind of collaboration you'd usually expect, but their voices meld so well. Off this first listen, this is definitely one of my favourites from 'Dangerous Wavy Baby'.
"CHOP AM"
A bit of pomp to close out the project; I'm loving the bluesy feel in these drums. Actually, the production across this project has been flawless. Each has fittingly captured the range of T.I Blaze, through the several flows he's adapted on here. On this one he's freewheeling, taking the beat as it comes. He starts with his signature sing-songy style, but as the drums come in, he's entered into zesty mode, adapting a chant-like style that's almost Islamic in cadence. It's a fun song to listen to, and I can imagine the creative process being similarly fun. Really, there could have been no better song to end this project with. An imagery of the good life would always be a fixture in popular music, but T.I Blaze here constructs one of its more lived-in portraits. 
FINAL THOUGHTS 
It's easy to overlook the incredible things T.I Blaze is doing with sound. Different from many of his contemporaries, he's resident behind the scenes, not concerned with the buzz as much he's about working on the sound and creating moments for his fans. However, his melodic approach to the Street Hop tradition hasn't been anything if not novel and revelatory, earning him great critical attention and subsequent acclaim anytime he releases a new project. 
Over the years, the likes of 'El Major' and 'The Fresh Prince of Lagos' have burnished his reputation as a bonafide musician, easily upholding his individuality while making space for other artists to create with him. Thus the music has been like a colourful anthem rendered to afropop, with frequent splashes of existential concerns and immersion into his life and associated society. To his credit, 'Dangerous Wavy Baby' continues in that ethos, this time imbibing even more musicality than ever before.
The result is a concise, cohesive tape with bright edges and rewarding introspection. Each guest is purposefully placed, each song impeccably written to mirror the weight of the discussion. T.I Blaze reaches deeper into his artistry and emerges with a project that would easily be a contender for one of the year's best EPs. As someone who's deliberately receded from the spotlight all this while, it's a beautifully profound way to make his return.
---