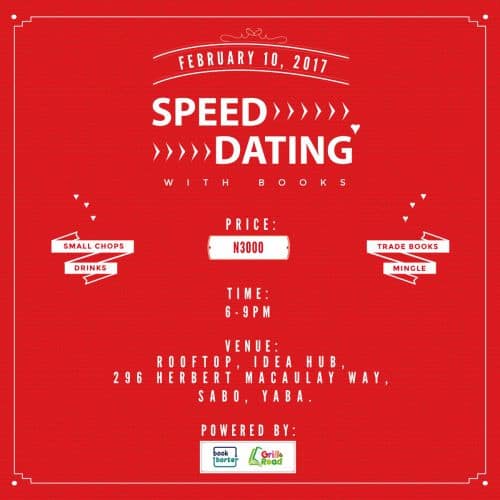 Speed Dating With Books Tonight At Idea Hub, Yaba
For the lovers of Illiad and chocolate...
I haven't gone on a speed date because I imagine they end up quite badly. Book Barter and Grill and Read came up with a new spin on traditional speed dating with a twist that makes it a whole lot better, a speed date but with books, just in time for Valentine's Day no less.
The idea behind "Speed Dating With Books" creates an avenue for people to share their love for literature and mingle with other people and they've created just that. Interested people would be paired off with each other with random book-related questions to ask to break the ice. For those uninterested in pairing up, there'd be games, giveaways, and books available for purchase. You could also bring your old books along to trade with Bookbarter.
"Speed Dating With Books" will hold this evening at IDEA Hub Rooftop, 296 Herbert Macaulay Road, Yaba, Lagos, Nigeria at 6 pm. Slots are limited and Tickets are available for #3,000 Naira and you can buy one on Paystack.com. The ticket covers drinks, chocolate and finger food.
See you there.
Header Image Credit: GidiGuide.com