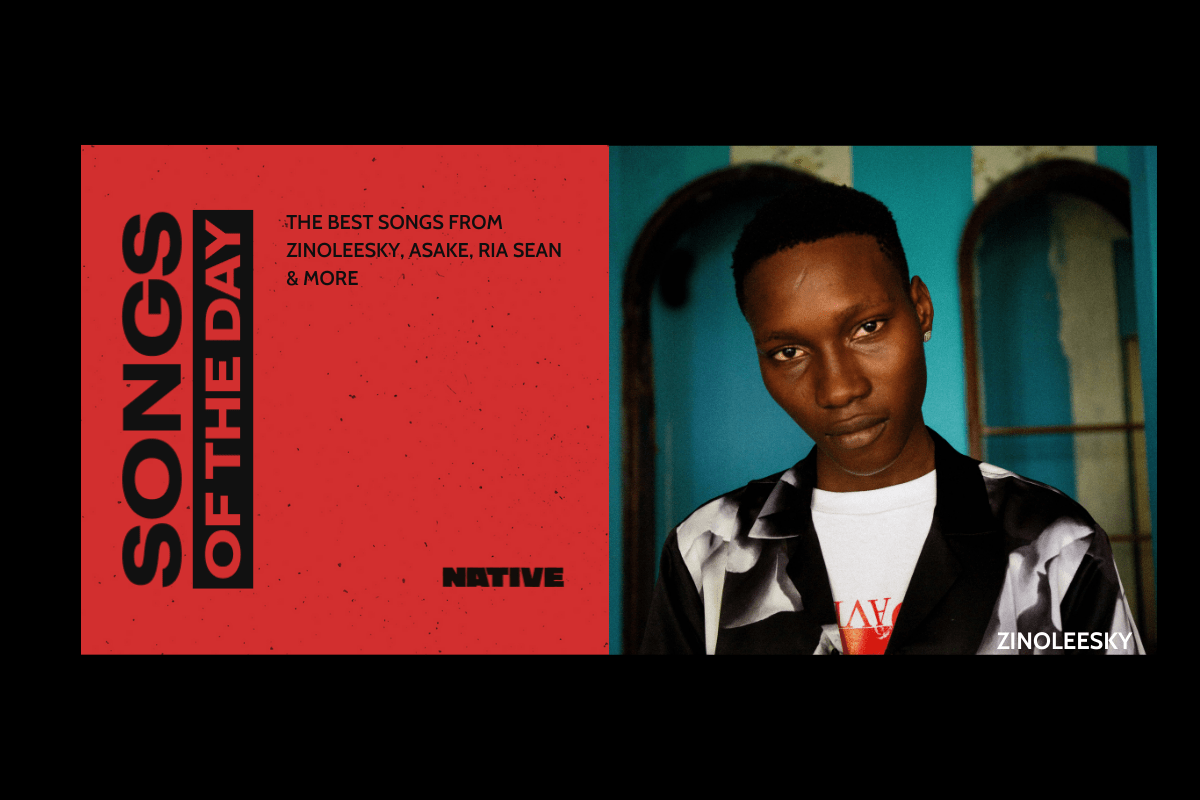 Songs Of The Day: New Music From Zinoleesky, Asake, Ria Sean & More
New music to kick off the weekend
2022 is no longer a new year, and Afropop knows that very well. As much as the previous year was packed with scene-defining achievements, especially within the context of global growth, the only way to keep the momentum from falling off is for artists to keep reaching into their bag for great music that holds the ears and captures the hearts of millions of listeners across the continent and well beyond. That's exactly what's been happening, so much so that there's hundreds of new singles, at-least one new must-hear album and a new smash hit every week.
Amidst this torrent of new music, the NATIVE is committed to highlighting the best releases you need to hear, and possibly add to your playlists. That's the essence of our 'Songs of the Day' column. Earlier in the week, we highlighted new drops from Cobhams Asuquo, Bella Shmurda, Stonebwoy, Zilla Oaks and more. Today's selection includes new cuts from Zinoleesky, Asake, DJ Spinall, Naya Akanji, Mavin records and more.
DJ Spinall & Asake – "Palazzo"
"Palazzo" sees producer and DJ Spinal employ the abilities of talented singer Asake. The new release is a blend of Spinall's melodic tune and Asake's aptly rhyming prowess. Merging Amapiano and Afrobeats on the soundbeds, the instrumentals add to the song appeal creating a dancefloor aura. Accompanied with crisp visuals directed by TG Omori, who creates the perfect backdrop for Asake to fire off his rapid-fire lyrics, nothing seems out of place.
Zinoleesky – "Love You"
Zinoleesky's playful melodies and charming vocals dominated his fresh new single "Love You". Publicly acknowledging his adoration towards his muse, he narrates his love and his willingness to do anything for her  while ignoring the outside world. Singing lyrics such as ".. Tell me what them haters gon' do oh no Idea them no get password to the WiFi they just want to know our lifestyle..," his exuberant song writing skills shine all through the Amapiano infused tune. 
Ria Sean – "Thai Food"
Ria Sean releases another sensational single, "Thai Food" which is set to feature on her forthcoming EP, the follow-up to 2021's debut release 'Fluid.' On new release, "Thai Food," she reminds listeners of her rapid-fire abilities. Over a percussive beat and a groovy backdrop, her soulful vocals are distinctive as she asks her lover to stay true to their desires.
Njeri – "Ecstasy"
Kenyan songbird Njeri navigates the highs and lows of love with her new single, "Ecstacy." Her honeyed vocals provide a soothing listening experience while she coaches listeners on the mechanics of romantic love. Featuring Albeezy, the upbeat backdrop compliments the drastic effects of love. 
Mavins – "Overdose" ft Crayon, Ayra Starr, LADIPOE, Magixx & Boy Spyce
Over the past 10 years, Mavin has released a catalogue of collaborations with notable numbers from the record label. From the defining "Dorobucci," to the cheeky "Jantamanta" video, Mavin has been at the forefront of housing continental stars. To celebrate their 10th year anniversary the label has released a romantic single "Overdose".
Featuring Crayon, Ayra Starr, Ladipo, Magixx and Boy Spyce, the artists use love as their subject matter while the soulful Ayra Starr dishes out boisterous lines such as "..trips to LA taking photographs if it's signed by me it's an autograph." The infectious hook gives an extra punch to the earworm track making it a must have on your playlist. 
Naya Akanji – "Closer"
Rising star Naya Akanji has released an earworm track titled, "Closer". The smooth single is tailored towards listener's sensitive side reducing the distance they could feel between themselves and their muses. Over a blend of R&B and EDM, "Closer" pushes past physical connection into the emotional realm.
Ruguru Tanya – "For Sheezy"
Ruguru Tanya is a Kenyan songbird who has been attracting attention for her silk voice and sleek R&B sound. Her ability to sing about a wide range of issues from love to God's presence in her life, has set the singer on a steady rise to stardom. Her latest release, "For Sheezy" is a love song dedicated to lovers and to having a good time.
Quamina Mp – "Attraction (Pinini)"
Sensational artist Quamina Mp released his self produced track titled, "Attraction(Pinini)." Here, he pledges allegiance to his muse and worships his lover with lyrics such as "..anyhow you move ago move.," asserting his intimate desires towards her. 
Featured Image Credits/DemolaMako