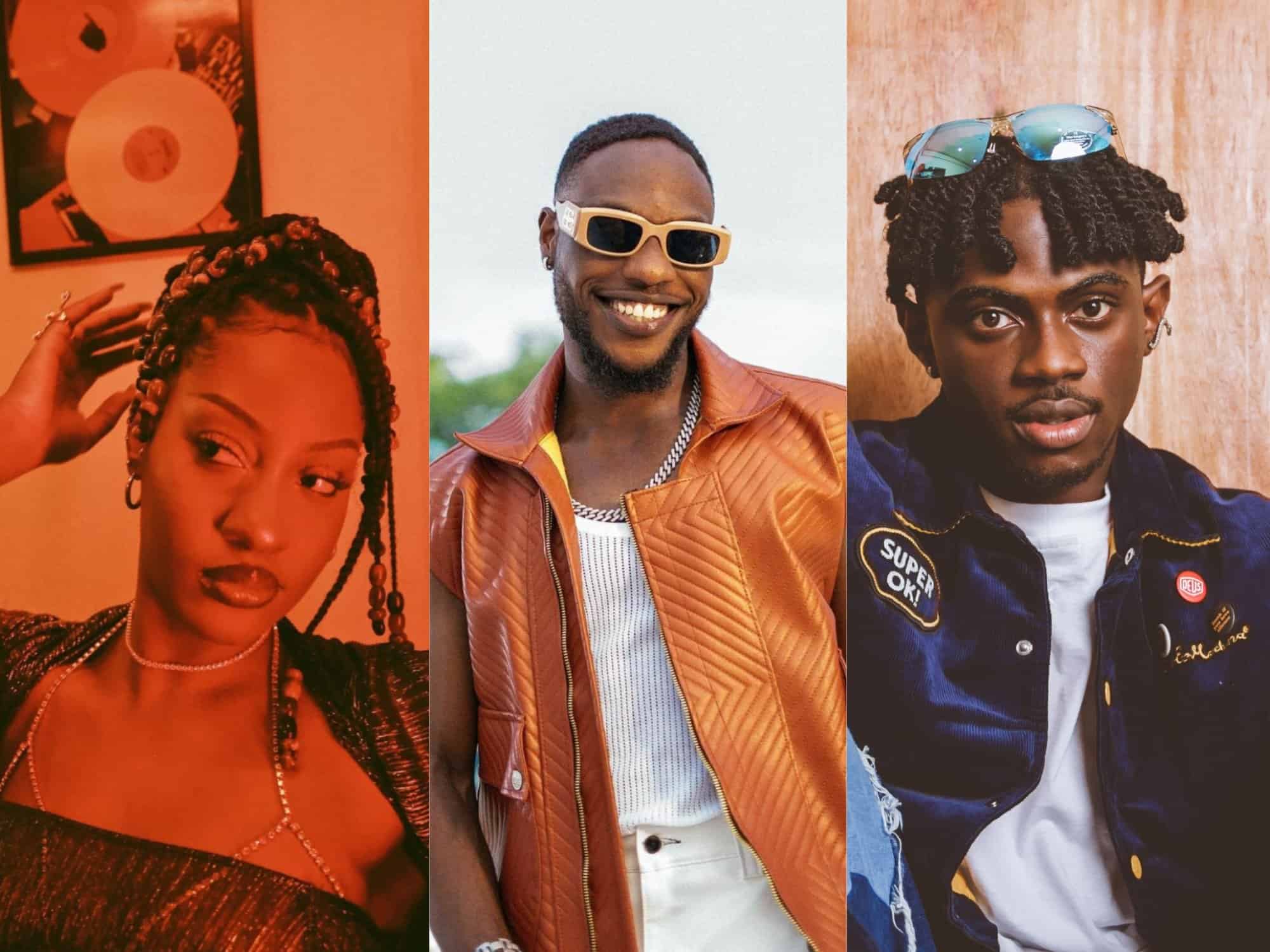 Songs Of The Day: New Music From Tems, L.A.X, Bryann & More
New music from all around the continent
More than most people, the team at The NATIVE knows that the sheer scope of music available to us at this exact moment in human history is mind-numbing but our goal is still the same as always: we don't want exciting music to be slept on. We simply cannot have that happen. That's where our Songs of the Day column comes in. We try to keep our fingers on the pulse of music from across the continent and beyond, bringing you exciting songs from talented musicians who are continuously trying to bounds of artistry with their music.
Song of the day is perfect for everyone who is a pioneer in developing their sound and taste. A tweak here and there in your library is always needed and encouraged from time to time. While expanding your music horizons, be that friend that puts others, so they can possess the soundtrack to your mind whilst elevating theirs. Earlier this week, we had songs from Drake and Tems, Styl Plus, Cheque, Wani, Buju, Ria Sean & more. Today's column brings you more music from Tems (again!), Naira Marley, PsychoYP, Olamide, Bryann, Tomi Owo, and many more. Enjoy.
Tems – "Crazy Tings"
As we continue to witness Tems' astronomical success post the release of her stunning feature on Wizkis's "Essence" and the remix with Justin Bieber, it's clear that the girl is on fire. Just a week ago, the Lagos-born artist came through with a stellar feature on Drake's highly anticipated album 'Certified Lover Boy' on 16th track "Fountains," a feat that has continued to earn her new levels of recognition as she garners new fans.
After teasing a new EP earlier this week, the singer has now shared the project's promotional single, the GuiltyBeatz-produced track titled "Crazy Tings." Over the song's intoxicating production, Tems delivers her usual melodies couched in her distinct Nigerian accent as she sings that "crazy things are happening". Here, she elucidates on the current levels of recognition that she is currently enjoying over calm, spacey guitar riffs. 
L.A.X – "Faster"
To end the summer in grand style, Nigerian rapper and Afrosoul musician, L.A.X is out with his fourth single of the year titled "Faster". On the high energy number, the singer delivers highly infectious vocals over a Smeez Beat-produced beat that provides a feel-good atmosphere. This groovy number serves as the perfect follow-up for the singer's earlier released single "Pepe" which could surely get the club raging. In a similar light, "Faster" is driven heavily by a drum-led production that further highlights the singer's penchant for club-ready hits.
Olamide & Eskeez – "Loose It"
Empire artist, Eskeez, has just dropped his first single this year since his debut track "10AM". On "Loose It", the singer features the Nigerian street pop hit maker Olamide who is the perfect indication for what is to come with his harmonious vocals on the track's intro. Here, both artists directly address a romantic interest who they constantly wish to shower with their affections as she's perfectly capable of making them lose their sense. While their love is clearly a motivation to serenade their respective lovers, both artists don't fail to also mention how they are entranced by their muses' body which has them ready to risk it all for moments of pleasure.
DJ Java, Remy Baggins & Pscyho YP – "JAZZ UP"
It is impossible now for anyone listening to an Amapiano beat, not to recognise it within seconds of listening to it. "Jazz Up" is no different in this regard as the Amapiano-inflected beat grabs listener's attention within the song's opening moments.  Remy Baggins eases us into the track with his soft melodious vocals, which pairs perfectly with the song's propulsive rhythm. The thrilling hook loops us in further as the track repetitively warns us to "Jazz up, no dey lose guard". PsyhcoYP elevates the track even more as he rides the beat with his effortless flow.
Tomi Owo – "Through The Never" (ft. Metallica)
The recently released compilation project 'The Metallica Blacklist' celebrates the enduring influence of the Rock/Metal band over 3 decades. With 53 covers from different artists covering the group's 1991 'The Black Album', 'The Metaliica Blacklist' is a sprawling celebration of the group's continued dominance, spanning different countries, people, genres, generations and cultures.
On Disc 3, Track 9, Nigeria's Tomi Owo delivers her own reiteration of the group's original song, placing her own unique spin on the number after all these years. Here, she turns Metallica's thunderous Rock anthem into a mid-tempo R&B cut that is by far one of the most magical transformations on the compilation. Joined by singer, Oma Mahmud on the infectious beat, she delivers a soft-sounding reiteration that already being heralded as one of the best tracks on the project, according to Louder Sound.
Skales – "I Dey Miss You" ft. Imanse
Nigerian rapper and singer, Skales is out with another single titled "I Dey Miss You". If anything, he has shown consistency in his craft and audience engagement with the steady release of singles each less than two months apart. From "Get Down" featuring Jhodie, to "Kayefi" and "This Your Body" featuring Davido, Skales is working harder than your fave. While there's no mention of a new project in the works, it seems like that's where all the effort will surely lead to. On the new number,  both artists go back and forth on the track, making promises to their respective love interests as they quip "I go kiss you all over your body when I see you/when I see you I go rock your body," over the song's hook.
Q2 – "Come Online Remix" ft. Zlatan & Naira Marley
With Zlatan and Naira Marley on a track, you already know you can expect a banger. From our longtime favorite "Sweet In The Middle" and "Am I A Yahoo Boy" to "Owo Osu" featuring female street pop artist Candy Bleakz, the duo always deliver a madness on any track they collaborate on and Q2's latest single is no different. "Come Online (Remix)" is a Drumphase-produced high-tempo track that has the artists switching seamlessly between Yoruba and English displaying great synergy as they plead with their love interests to come online.
Bryann- "Andale"
Following the release of his debut single "Longé" earlier this year, the sweet voiced singer, Bryann is back with a new single titled "Andale". "Andale", an expression in Spanish means "go ahead" or "let's go", and Bryann perfectly embodies the song's free message in his lyrics. Over the Spax-produced beat, the talented newcomer delivers euphonious vocals over a low drumming beat that makes you want to dance. The track is the first promotional single off his upcoming debut EP 'Iléké' slated to release later this year. 
Juliet Ariel – "Wish You Were Here (Reiann x Burssbrain Remix)"
Juliet Ariel, the Congolese artist made an impactful introduction into the music scene with her self-produced single "Take Me With You" in 2017, showcasing her unique sound and love-induced lyrics. Since the release of her March 2021 single, "Wish You Were Here" featuring Laylizzy, Juliet Ariel has been the gift that keeps on giving.
After the success of the preceding track, she released another version with the House music producer, Soa Mattrix giving the track the intoxicating Amapiano beat we didn't know it needed. Now, the singer is back in this slow-tempo track, this time delivering a new version produced by Burssbrain featuring Reiann. The pair blend effortlessly on the track as they address a love interest singing "Still I wish you were here/every time I cry don't you think that I don't want you near". 
Featured Image Credit/Instagram.
---
ICYMI: HOT TAKES: Tems on 'CLB', Orange Culture, Lukhanyo Mdingi & More.