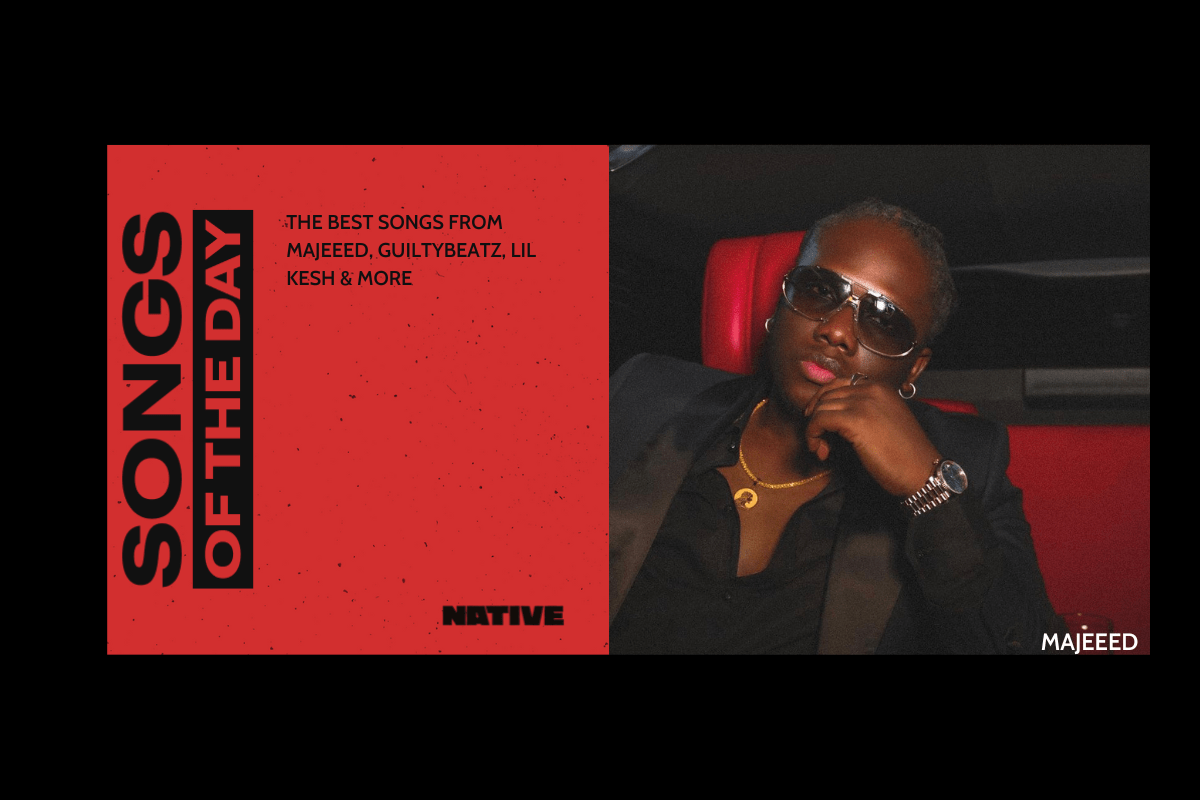 Songs Of The Day: New Music From Majeeed, GuiltyBeatz, Lil Kesh and More
New week, new releases
2022 is winding down, and it's been an eventful year for Afropop. There's been a torrent of great new music, spawning a massive stack of inventive smash-hit songs. From Highlife-infused Ghanaian pop, to the unrelenting force that is Nigerian street-pop to South Africa's indomitable Dance scene, to tantalising Drill explorations in East and Central Africa, and much, much more, we're living through abundant and musically expansive times.
Every week, many songs from African artists make their way to digital streaming platforms, and wading through them can be intense. That's where The NATIVE's Songs of the Day column comes in to help. We go through as many new releases as possible, spotlighting them here, two to three times every week. Today, enjoy new music from Yemi Alade, GuiltyBeatz, Lil kesh and more. Lock in!
GuiltyBeatz – "Little Bit" ft. Joey B
Ghanaian producer GuiltyBeatz is here with another uptempo number "Little Bit" and this time he's teamed up with Ghanaian rapper, Joey B. The feel-good Amapiano-infused track opens with heavy log drums which will have listeners moving and grooving before the verses kick in. Joey B holds down the track as he raps and slides over the bubbly production singing, "talk for a little bit, chill for a little bit/drinks on the house, maybe kiss for a little bit." 
Lil Kesh – "Talk & Do"
On his latest record "Talk & Do," Lil Kesh is focused on letting his actions do the talking to the people in his life. He offers up affirmations about his current standing in the game, his wealth and all his affection for his muse. Over the charming Niphkeys production, he says "She said what's my hobby, I said making money, making money is my motto/Everywhere I go, won fe yamin photo." 
Majeeed – "Stop Nonsense"
uNder alum Majeeed is making beautiful and incredibly produced lyrics. On his new single, "Stop Nonsense," the singer aims to set the record straight with honest lyrics. On the track, he expresses how money changes a lot of things and clouds judgement. Over delectable Afropop and Highlife keys, Majeeed delivers a stellar performance woven together by catchy lyrics and poignant intimate stories.
RnB Princess – "Perfect Girl" ft. MisterKay
Allow her to reintroduce herself–it's RnB Princess. For the past few years, RnB Princess has aired her series of romantic and personal frustrations on smooth-sounding tracks. Now, the singer is days away from a new project release which is set to reintroduce her to the world with new promotional single, "Perfect Girl," already expanding her worldview. The slow-tempo record finds the artist speaking directly to a toxic love interest while she tries to figure out their behaviour. She's joined by the prowess of MisterKay who steps in and sings to his muse about the hold she has over him. 
Teffy – "Special Love"
On the record "Special Love," R&B singer and songwriter Teffy shows off his loverboy tendencies. Over the melodic production of the track, he sings "Girl I wanna give you special love, she say Teffy sing it all night long," reflexively self-aware of the hold his lover has over him. Relatable to anyone who's worn their heart on their sleeve, Teffy explores the nebulous gray space between fleeting thought and attempt.
Spy Shitta – "Migraine" 
A year after his debut on the scene, newcomer Spy Shitta has released his debut self-titled EP. On the standout record "Migraine," he sings to his love interest and expresses his deepest feelings for her. Over the Blaise Beatz production, he chants "Girl if you give me love, I no go complain/but if you leave me, na kpeke oh baby." 
Etienne – "RomCom" ft, Moyoswrld & Ictooicy
For a couple of years, Etienne has been one of the front facing members of Forevatired, the kids next door who are pushing the boundaries on genre-mashing. For his latest solo record "RomCom," Etienne teams up with uNder alums Moyoswrld and Ictooicy. On the track, all three rappers at their most relaxed and laid back as they trade hard-hitting bars over the catchy and boisterous production.
Featured Image Credits/NATIVE