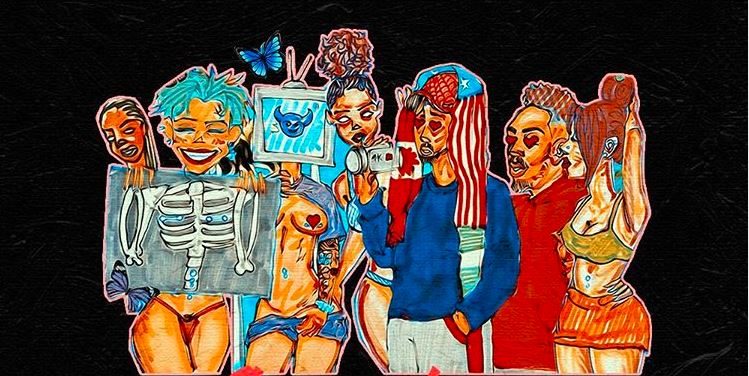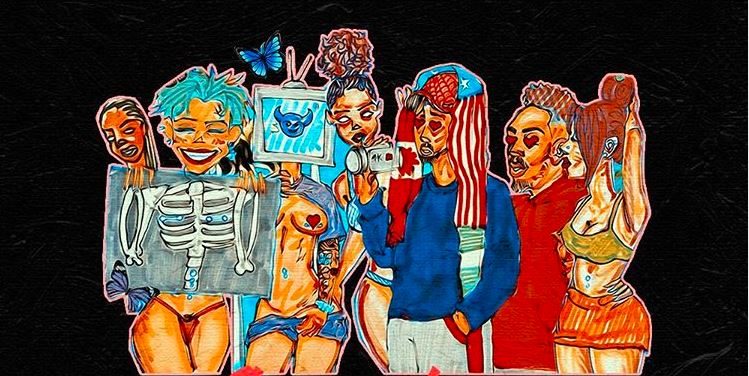 Best New Music: FOREVATIRED & Solis team up on nostalgic single, "Film Trick"
A bit of Sam Loco and chill
The Abuja-based music collective FOREVATIRED are redefining what it means to be a band in Nigeria today. Formed back in 2017 by Faith (Kyyd), the 11-piece act consists of rappers, vocalists, producers, and a number of other visual creators, who are uniquely primed to command our attention, owing to their wide array of sonic influences and also just by the group's sheer ambiguity.
With no faces to the many names, the inclusive-spirit channeled in their songs and online suggests that perhaps anyone could be a member of this cool new collective – I might be or you just might be – as the buzz around their ambiguity represents our closest thing to a collaborative indie family like Odd Future.
Their debut mixtape 'THOSE KIDS NEXT DOOR' arrived seven months after their debut and it's pristinely packed with versatile and atmospheric soundscapes which soundtrack the realisations that they have come to individually and collectively as a group during the coronavirus-induced lockdowns.
View this post on Instagram
Although 'THOSE KIDS NEXT DOOR' makes a defining moment for the group with repeat-worthy songs loaded with relatable lyrics over dreamy futuristic production, it's the synth-heavy second track, "FILM TRICK" that stands as the project's most intriguing.
Produced by Faith, the mid-tempo beat led by echoing synths and distorted lasers and keys lays the perfect setting for a nostalgia-induced romantic number influenced by the group's Nollywood phase during the current lockdowns.
Helmed at both ends by a running clip of Sam Loco's cringey, yet, humourous advances at a young woman, FOREVATIRED rapper, Pharoah along with Etienne and SOLIS capture a snapshot of the millennial dating scene by playing on our collective recollection of noughties Nollywood films with its grainy production and insane film tricks.
'She move like film trick, I'm glued to your move like pritt stick' sings Etienne, who opens the song describing the ethereal quality of a love interest that has them so intrigued and fixated like an adhesive. The chorus ends: 'They don't make no more like you', suggesting that the song is a reflection on a failed romantic relationship. Each artist brings noteworthy addition to the mix, with relatable lyrics that anyone who's thought 'right person, wrong time' can instantly attach meaning to.
As the ambient synths rock and swell with distorted frenzy, possibly to represent the rockiness of the relationship, SOLIS sings 'I move like film trick/dodging these bullets like matrix' offering what can be interpreted as the lover's response to why the relationship is no more. SOLIS (read, your lover) can't be tied down and protects herself such that, at the first sign of a red flag, she disappears just like the humorous special effects we grew up watching.
They're both joined by Pharoah who also airs his romantic frustrations, 'Told you it was love, I'm not capable of that/you were born to fly and I'm a fucking zombie' he raps, with a conviction which reveals that he's aware of the faults he raps about, however, he doesn't let them get in the way. He admits that he's got 'a couple tricks' of his own to protect him in this game called love.
With "FILM TRICK", FOREVATIRED reminds us that not everyone you love ends up being in your life forever, and just like bad movie special effects, the love you share with someone else can disappear in a split second for a myriad of reasons. Stay strong and keep your chin up, it can get savage out there.
Stream 'THOSE KIDS NEXT DOOR' below.
Featured image credits/Instagram
---
Tami is uninterested in what you have to say. Don't tweet at her @tamimak_
---