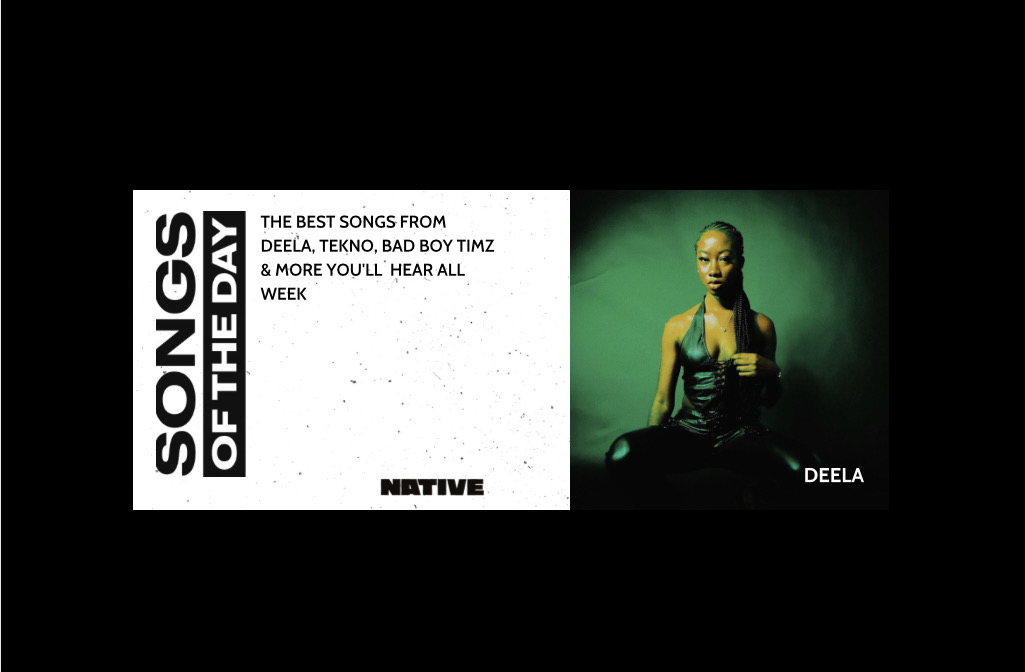 Songs Of The Day: New Music From DEELA, Tekno, Bad Boy Timz & More
new songs for your playlist
2022 is no longer a new year, and Afropop knows that very well. As much as the previous year was packed with scene-defining achievements, especially within the context of global growth, the only way to keep the momentum from falling off is for artists to keep reaching into their bag for great music that holds the ears and captures the hearts of millions of listeners across the continent and well beyond. That's exactly what's been happening, so much so that there's hundreds of new singles, at-least one new must-hear album and a new smash hit every week.
Amidst this torrent of new music, The NATIVE is committed to highlighting the best releases you need to hear, and possibly add to your playlists. That's the essence of our 'Songs of the Day' column. On Monday we brought you highlight selections from Young Jonn, Elaine, Dremo, Shane Eagle and more. For today here are songs from Skiibii, DEELA, Smallgod, Tekno, Badboy Timz and more.
DEELA – "GET A GRIP"
Nigerian-born UK-based rapper DEELA released her latest mixtape, 'DONE DEEL' to incredible fanfare last year. The tape which featured fan favourites such as "FIT" and "GET A GRIP", a track which sees the artist spitting fiery bars over a bouncy and catchy beat. Now, she's expanding the visual world around the project with the release of her debut music video for "GET A GRIP," its lead single. Arriving today, the video of the track sees the artist partying with a group of friends, getting drunk and having a great time, while she sings her lyrics in a colourful party scene. 
Tekno – "Jinja"
Arriving today is Tekno's latest single "Jinja", a mid-tempo track which sees the artist singing romantic lyrics to his love interest. Tekno delivers smoothering lyrics such as "I go treat you right baby, swear I go make you shine baby/I go make your life better", as he promises to make his muse happy. Accompanying the track is a colourful video, which sees Tekno in different settings as he performs his verse. He goes from taking his muse shopping and gifting her clothes, shoes and more to performing with his dancers where he showcases his dance moves and free spirit.
Bad Boy Timz – "One In Town"
Bad Boy Timz is on a roll. From "Move" to "Skelele", the number of hit singles coming from the singer's camp is undeniable. To continue this streak, he has shared new single, "One In Town". Over the melodious production of the track, the singer hypes up his muse, reminding her that she's the only one he sees and the only one in town. He sings lyrics such as "Baby na one in town, her body na coke bottle", describing his love interest's beautiful physique.
Smallgod – "Falling" ft Darkoo & KiDi 
Ghanaian singer and producer Smallgod is here with new single titled "Falling". This time, he has teamed up with British-Nigerian rapper Darkoo and Ghanaian singer KiDi for an irresistible number. The track is a mid tempo number which sees Smallgod delivering his romantic affections to his love interest with lyrics such as "I want to know where you come from, You're like a fantasy/baby girl you got a mandem tight, I'm falling". 
Lady Du – "Mandule" ft. Djy Ma'Ten, Mellow & Sleazy 
South African singer Lady Du has teamed up with Djy Ma'Ten, Mellow & Sleazy for new single "Mandule". The Amapiano track is an irresistible number with an even more catchy production. Featuring glitchy kicks and airy snyths, the song's productions provides the perfect backdrop for Lady Du to fire off her bars. While she speaks in her mother tongue, there's no missing her universal message of finding enjoyment and having a great time. 
Timaya – "Charger"
Following the release of the music video for "No Pressure," Afropop superstar has now shared his latest single, this time titled "Charger." The uptempo dance tune finds the singer operating in familiar territory, as he delivers a radio-ready jam. On the chorus of the track he sings, "anything when I put my hands must go well o/anywhere when I dey, I swear must dey well o", making subtle prayers and hoping for the best of life. 
Lovn – "Abena"
Newcomer and fast rising act Lovn is here with his first single of the year titled, "Abena". On this mid-tempo number, the singer  delivers a romantic number to his muse as he tries to win her over with sweet words. With lyrics such as "Oh baby, Casanova, no baby/Abena give me your love, Abena give me your love", he is unafraid to state his desire and please with his love interest for her time and affection.
Featured Image Credits/NATIVE