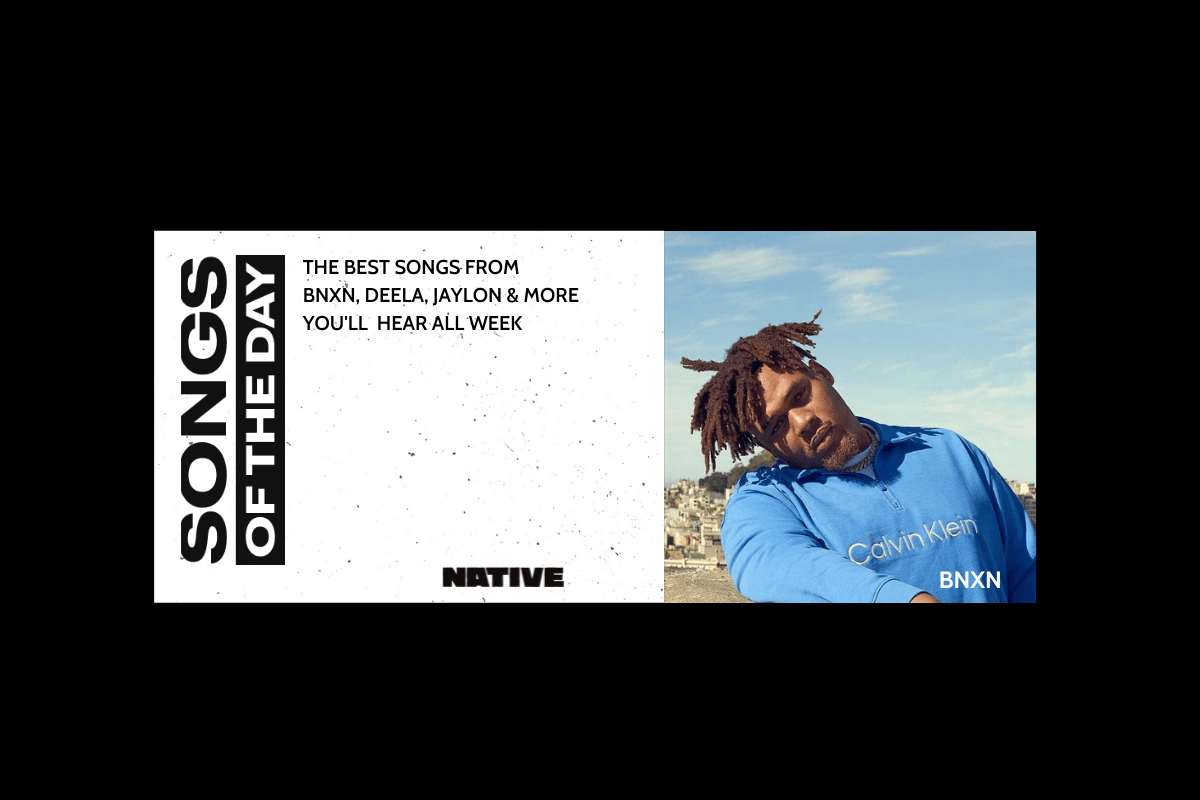 Songs Of The Day: New Music From BNXN, Deela, Jaylon & More
New releases to get into this weekend
2022 is no longer a new year, and Afropop knows that very well. As much as the previous year was packed with scene-defining achievements, especially within the context of global growth, the only way to keep the momentum from falling off is for artists to keep reaching into their bag for great music that holds the ears and captures the hearts of millions of listeners across the continent and well beyond. That's exactly what's been happening, so much so that there's hundreds of new singles, at-least one new must-hear album and a new smash hit every week.
Amidst this torrent of new music, the NATIVE is committed to highlighting the best releases you need to hear, and possibly add to your playlists. That's the essence of our 'Songs of the Day' column. Earlier in the week, we highlighted new drops from Masterkraft and Chike, Ceeza Milli, Portable, Nia Ramzy and more. Today's curations includes releases from BNXN, Zinoleesky, Deela, Jaylon, Chrystel, Ria Boss and more. Tap in.
BNXN – "Kilometer" ft. Zinoleesky
BNXN taps street pop artist and former NATIVE cover star Zinoleesky for the remix of hit record "Kilometer", off his debut EP 'Sorry I'm Late'. The remix makes the song a more enjoyable listening experience, as Zino captures audiences attention with quotable lyrics such as, "When I dey on speed mo ja kilometer/Kilo Kilo, what's my name Zino Zino Zino, Zino and Buju Benson, give me life Buju Benson."

DEELA – "Trapstar"
This accelerated number suits its title, DEELA is a Lagos born rapper who is unapologetic about her demeanour. In "Trapstar" she tears bar for bar, fusing Trap and Drill with braggadocious lyrics about sex and dominance. She raps, "My belly full still got some room for these lame bitches who testing me, but can't pass a test at school," audaciously speaking her mind without filter. The lyrically talented DEELA also dubs "Trapstar" as an entrance into her Trap twenties.
Ria Boss – "Somali Rose"
After a two-year sabbatical break, the neo-soul goddess Ria Boss returns with a new single titled, "Somali Rose." The new single opens this soulful track with a double entendre, singing "I smell the oil on your skin" to explain the calming effect of Somali Rose oil after which the song is named after. The song is a love letter celebrating romance in its pure form as Ria's honeycomb lyrics evoke an emotive response. The acoustic-like live set of the guitars, drums and bass brings a strong deeply confessional tone. "Somali Rose" is the lead single from her upcoming debut album 'Remember' set to drop on April 29th.
Jaylon – "Get Down" ft. Azanti & Chrystel
The Nigerian singer, songwriter and producer Jaylon comes through with a hypnotic number titled "Get Down". Over the track's earworm production, he employs Azanti and Chrystel who bring their strong technical writing ability to the number. Chrystel smoothly delivers her verse with a sweet-sounding voice as her vocals linger in the background amplifying the R&B track.
Khaid – "Ski"
The first few seconds into uNder alum Khaid's new single, "Ski" will have you running it back to catch out the intricacies. The gloomy piano keys serve as an introduction to the 17-year-old Afro-Trap singer as he grooves over the synthesised Trap beats. His gritty enunciation is distinct as he looks back at his past struggles and bleakly prophesies his future.
With an aim of normalising Trap music in Nigeria, Khaid gives an exemplary performance boasting his knack for writing with wordplay "I put my mask on like I am batman, I be shooting like Mad Max, all I can see is bad man" while showcasing his admiration for Grammy award-winning producer Rexxie. 
The Kazez – "Church Mind"
The raw, aesthetic talent of The Kazez is their stronghold and "Church Mind" is a testimony to this. Produced by Semiz, "Church Mind" thematically talks about The Kazez's interest towards their muse who already has a lover. With lyrics such as "you ain't have to go back when you are sober here is my shoulder you can put the blame on me," the upbeat, fun, and energetic track pairs complex rhythms, heavy percussion, and Pidgin English for an enjoyable listening experience.
Jess ETA – "Paralyzed" ft. Psycho YP
After a thunderous 2021 which culminated in him winning the Audiomack rising star challenge, Jess ETA is back with a thunderous new number. The first single off his sophomore project titled, 'Playing With Fire' is the incendiary "Paralyzed", featuring prolific rapper PsychoYP and produced by GT Beats. Jess ETA sets out to blow up his sonic template resulting in a zonked-out slapper with heavy vocal pitch modulations. The Afropop single is a compelling track where both artists trade bars about the uncertainties in their relationship which leave them paralysed due to the lack of security. 
Featured Image Credits/The NATIVE
---