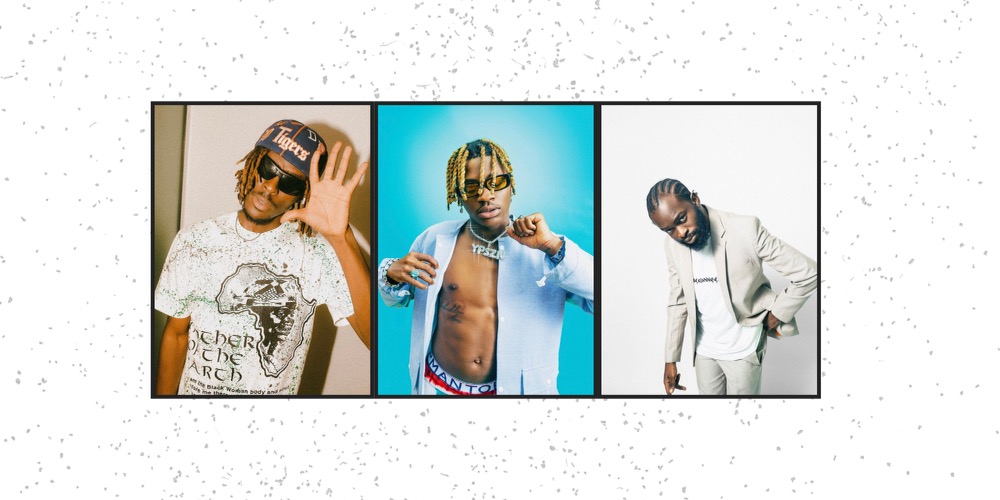 Songs Of The Day: New Music From Kofi Mole, PsychoYP, Tim Lyre & More
New releases to begin the year
After the many wins forged by Afropop last year, the musical landscape has never looked more promising. As such the fast and furious pace of new music releases makes it hard to keep track of all the good music coming out of Africa. That's where our Songs of the Day column comes in.
We're doing the work to stay on pulse with all the music coming out from across the continent and beyond, bringing you exciting songs of tomorrow: today. To start off the new year, enjoy these new releases from Kofi Mole, PsychoYP, Tim Lyre, Fiokee & more.
Kofi Mole – "Work" ft. Joey B
After rounding off last year with a stellar verse on Teezee's latest single "New Government" featuring Prettyboy D-O, Ghanaian rapper Kofi Mole has returned with his first official release of the year titled "Work". The newly released Hip-Hop record is assisted by fellow Ghanaian artist, Joey B and serves as the first official single from this rapper's forthcoming project titled 'Knackaveli,' slated for release next week. Over the catchy production, both rappers trade bars about getting their shit popping and making moves.
PsychoYP – "+234 (Daily Paper)"
To kick off the new year, Apex Village founder and Abuja based rapper PsychoYP is here with new video for his standout single "+234 (Daily Paper)" off his EP 'Euphoria'. The video captures YP in different settings, first performing in a garden and then in a work space, singing lyrics such as "I know they hate cause I'm famous, I know they hate cause I'm blessed/Starboy I make daily paper", as he expresses his gratitude for his accomplishments and putting his oops in check. 
Bankyondbeatz & Tim Lyre – "Jump On It"
Nigerian producer, Bankyondbeatz and singer, songwriter and performer Tim Lyre have teamed up for the romantic number "Jump On It". The mid tempo Amapiano infused track finds the artist singing lyrics such as "You can take my love if it's all you want/girl I promise, we can go till morning tell me when you wanna jump on it," as he converses with his muse and reassures her of his undying affections. 
Greencamp – "Yellow Fever" ft SmallztheDJ, Wy & Trill Xoe
For Greencamp's first-ever release as a talent management agency, they've teamed up with 44DB producer Trill Xoe, singer, songwriter Wy & SmallztheDJ to deliver the uptempo track "Yellow Fever". Over the melodious production of the track, Wy sings "Why you dey bleach o?/Why you dey bleach," encouraging listeners to be comfortable in their Black skin and love themselves the way they are.
FKA Twigs – "Jealousy" ft. Rema
FKA Twigs took the world by storm when she released the tracklist for her latest EP 'CAPRISONGS,' which boasted of collaborations with Nigerian singer, Rema, British singer, Shygirl, the Weeknd and more. Finally released last weekend, the new single with Rema titled "Jealousy" is a mid-tempo number that finds the artist speaking to her love interest about the hold he has on her. Rema's inclusion on the track is one of its strongest qualities with the Afropop wunderkind adopts a jaded, detached flow as he sings "I gave you the keys to my soul/Girl I'm sick and tired of your drama," describing his disdain for jealous lovers. 
Fiokee -Personal ft Bella Shmurda
To begin the year, Fiokee has released a new LP titled 'Man', a 14-tracker which features artists such as Simi, Oxlade, Bella Shmurda, the Cavemen and more. On the standout track "Personal", Fiokee teams up with Bella Shmurda to deliver an uptempo Amapiano infused number that will surely have listeners grooving and swaying to the infectious beat. "Don't take it personal, anything I do I do it out of love," quips Bella Shmurda melodiously over the song's hook, advising his listeners to always take the high road and live an exemplary life. 
BenjiFlow – "Ready" ft Juls
BenjiFlow is moments away from the release of his forthcoming project. Ahead of this, the singer has shared his first official release of the year titled "Ready" featuring Ghanaian producer and singer, Juls. On the chorus of the track, he quips "I told you I told you I'm ready, don't let this feeling pass away", as he explains his romantic intentions to his love interest.
Ade James – "Money For Hand" ft Liya
For Ade James' first official release of the year, he teams up with DMW's Liya to deliver "Money For Hand", a track which finds the artist speaking about unrequited and selfish love. On the chorus, he quips "All she wanna know is if i get the money for bank, all she wanna know is if i get kudi for hand/She want to play me wayo," before Liya steps in shortly and delivers a stellar performance. 
Featured image credits/