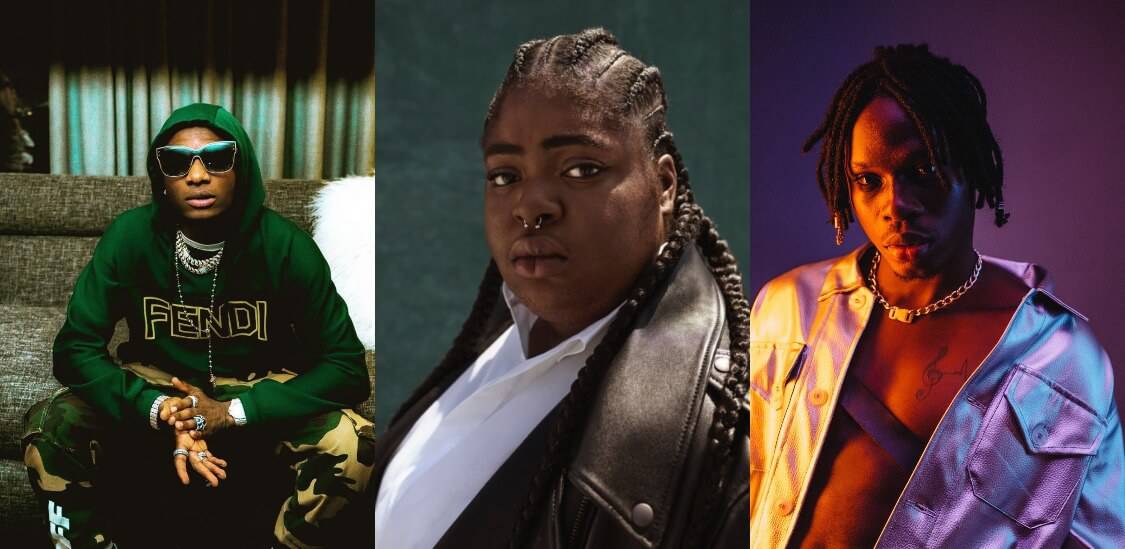 Songs of the Day: new music from Wizkid, Chika, Fireboy, DEELA and more
The best releases from the weekend
Music is one of the few constants that we have in the world today, as we're increasingly seeing more artists from around the continent roll out their new singles and projects, in an effort to make these unprecedented times a little less difficult. Whether it's upbeat music that'll have you bopping your head constantly or mellow music to wind down to, we've got you covered. That's why we've decided to help curate a list of the best new music from all around the continent that is sure to give you the much-needed detox from social media.
Our weekend curation included new music from Tiwa Savage, again, Yemi Alade, a collaboration between BOJ, Davido, and Mr. Eazi, and much more. To start off the new week, we've got a new selection from Dj Tunez x Wizkid, Chika, Ictooicy, Ms. Fu x Anae, Ilaye, DEELA and many more. You're welcome. Enjoy.
Dj Tunez – "Cool Me Down" featuring Wizkid
I think I speak for all of us when I say that the wait for Wizkid's 'Made in Lagos' has been brutal. While we're all nursing our trust issues for everyone's favourite Starboy, we have Dj Tunez to thank for a new Wizkid feature primed to keep us satisfied as we wait for his most anticipated project till date. "Cool Me Down" is a bouncy, catchy track, which sees Wizkid in his usual element – toasting all the pretty girls at the party, which is exactly what we see him doing in the Earthboi-directed video.
Cracker Mallo – "Wickedest Wyne" featuring Fireboy DML
It's definitely Fireboy DML season and producer, Cracker Mallo knows this all too well as he enlists the budding star for his latest single, "Wickedest Wyne". Ahead of the release of his project 'A Friendly Introduction to Sound', Cracker Mallo shares a new single to whet our appetites for what's to come and we're definitely intrigued so far. Atop swelling and shimmery harmonies, Fireboy sings: 'I don't want to love nobody else but you', addressing the beauty and allure of the muse he sings about.
CHIKA – "U Should"
Nigerian-American rapper, Chika has just released "U Should", her first release since her 7-song debut project 'Industry Games' released last year. For "U Should", she shows off more of her softer, mellow side where she soundtracks the all-consuming feeling of having a new crush. 'I've been watching you across the room, I wanna dance/Baby you're so damn fine' she sings amorously before switching the mellow lyrics for sharp, clear raps that sees her celebrating the beauty and irresistible allure of her muse. Looking for more LGBTQ+ artists to get into? Chika is the girl for you.
Dj Lambo – "Bella" featuring Lady Donli & Iyanya
Ahead of the release of her debut project 'A Tale of Two Cities' on August 21st, Chocolate City's Dj Lambo has just released a new single, "Bella" featuring Lady Donli and Iyanya. The catchy upbeat track is a radio-ready hit with its infectious drum patterns, jingles, and memorable lyrics. This song will surely get you dancing around the house this week, with sweet lyrics to match Afropop's fixation with romance.
Blac Cousins (Ms Fu x Anae) – "Closure"
Two of Ghana's finest, Ms Fu and Anae have come together to form a music collective now called Blac Cousins, and they've made this official with the release of their debut project 'Pillow Talk'. The 11-track EP which delves into themes of love, loss, growth, and more, is heavily detailed with their mental process while recording the project, as they have included a commentary to accompany each song off the EP.
One of the project's standouts is the breakup ballad "Closure" and as the title suggests, both artists muse about the romantic inefficiency of dating men, communication, and what leads to the eventual death of romantic relationships. 'It's like we need more conversation/Excuses got me blowing up your phone' raps Anae on the second verse, who pleads with a past lover to meet her halfway in mending their relationship but not at the extent of compromising herself. Throughout the mellow piano-led number, both artists remind us to be strong in our choices, no matter what.
DEELA – "The Game"
Luckily for me after I listened to the music, the question on my lips over the weekend was 'who is Deela and where has she been all my life?'. Armed with a voice that demands you to stop and listen when she spits, DEELA delivered a succinct and clever introduction to her world through the release of her self-titled debut, that she describes as being created 'for fun'. If her single "The Game" shows anything, it's that DEELA's pen game is anything but 'just for fun'.
'Not my fault you can't play the game/Ew you ain't worthy of my hit list/when I walk give him big chills' she raps, taking full command of the drubbing beat and riding it effortlessly as each line she delivers quotable punchlines that are sure to feature on Instagram captions soon. It's not every day someone exciting comes into the game like this, so we're fully stanning DEELA from here on, and you should too.
Yanó Rude – "Unconscious"
Atlanta-based Gambian artist, Yanó Rude has just released his debut single "Unconcious" ahead of the release of his debut project 'Kalashion' which is slated for an August 27 release date. He successfully soundtracks the feelings of uncertainty in new romantic relationships and shares with the NATIVE that "The feelings surrounding this record was recognizing the conflict of interest and how problems become a slippery slope in the absence of communication," Yanó explains, "the tempo and catchiness mixed with the afropop elements makes it an unorthodox tune that I'm cool with,". 
Featured image credits/Instagram
---
Hell hath no fury like Tami. Tweet her your fave female rappers @tamimak_
---