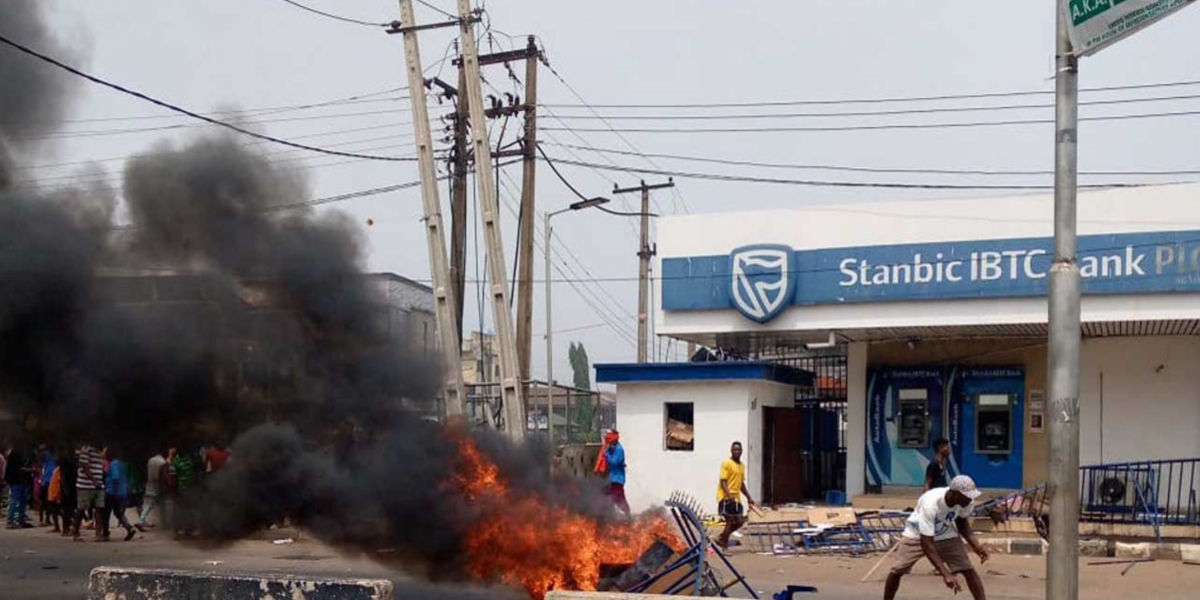 Protests continue in Nigeria over the ongoing naira scarcity
In Lagos, Ogun State & more.
For the past few weeks, Nigeria has been grappling with the changes brought on by the introduction of new Naira notes into her economy. This has been increasingly difficult for the country's citizens who already have a distrust of the banking system and have in some cases, opted to store their money in cash. In response to the new changes, many gruntled Nigerians have visited the banking halls across the country, demanding their way in to banks barely distributing the new legal tender. Videos have circulated online of this anger which is reverberating through different states in the country. Now after 3 weeks of outrageous 10% charges at Point of Sale (POS) machines, capped withdrawal amounts and exasperating queues at the ATM, Nigerians are once again fighting for their survival.
JUST IN: Civil unrest ongoing around Oke-Koto, Inwards Sofunde and Agbotikuyo between hoodlums in the area.

Advisory: Avoid the area until normalcy is restored. pic.twitter.com/d3Rajg0PKs

— Eons Intelligence (@eonsintelligenc) February 17, 2023
Alongside the unavailability of cash, Nigeria is also experiencing an extended period of fuel scarcity and with rumours of spiked prices at certain fuel stations, there is little resolve anywhere. The fuel scarcity which has been persistent for over four months, coupled with the ongoing cash scarcity leaves Nigerians more vulnerable than ever, as various means of livelihood are placed on hold and living standards worsened, despite the presidential election only 8 days away.
In response to the ongoing crisis, protests broke out in Ibadan, Oyo State a few weeks ago. Angry demonstrators took to the streets across the city and expressed their dissatisfaction with the closed banks and dearth of cash by destroying ATM's and torching tyres on public roads. Amidst the chaos, President Buhari in a nationwide address on Thursday, stated that only the old N200 notes would be used as legal tender for the next 60 days – April 10, 2023.
While news of the protests began fizzling out during the week, this morning, the demonstrations have resumed in Ibadan, and have now spread to different states across the country. Now spreading to Lagos, Benin, Ogun and surrounding states, news of smaller pockets of protests have broken out on social media with worrying clips of the ensuing chaos and rubble. Across Mile 12, Ketu, Ojota and more, residents and motorists on commute hurriedly redirected their destinations as aggrieved Nigerians set fire across several parts of town including Iyana-Ipaja market.
In addition, protesters in Ikorodu have torn down some campaign posters while others block the roads, hindering citizens from movement around the affected areas. On Lagos-Ibadan expressway, protesters blocked the highway, burning tires and threatening violence. The unrest also continues to spread to other environs across Lagos including Surulere, Agege, Iyana-Iba and other parts of the state, as well as Rivers, Port Harcourt. Elsewhere in the South West, over in Sango area of Ogun state, market women begin an "anti-Buhari" protest as they continue facing the same issues.
PHOTO STORY: Market women stage anti-Buhari protest over rejection of old N1,000 banknote and scarcity of new Naira notes in Sango area of Ogun State, on Friday morning. pic.twitter.com/PYZArteU2S

— LEADERSHIP NEWS (@LeadershipNGA) February 17, 2023
This is a developing story and will be updated regularly.
---