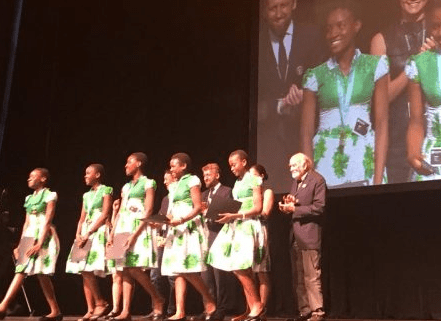 Nigerian teenage girls win Technovation world innovation challenge
Winning gold medal and $10,000
Every year, Technovation gathers girls from around the world to address and create mobile solutions to socio-economic problems of their choosing. The challenge is part of the technology entrepreneurship program organised by Technovation with the support of organisations like Google, the United Nations and the Peace Corps, to offer girls aged 11-18 from around the world the opportunity to learn programming skills they'd need in the emerging digital world. Since 2013, teenage girls from around the world have developed and presented Android applications created to address issues such as world hunger, waste management and adult education with the support of a volunteer mentor. According to the organizers, over 19,000 girls from 80 countries have participated so far.
"Save A Soul", a team consisting of five girls from Regina Pacis Secondary School in Onitsha, Anambra State won the Junior Gold medal at the 8th edition of Technovation's annual World Challenge. The girls, Promise Nnalue, Adaeze Onuigbo, Vivian Okoye, Jessica Osita and Neabukaky Ossai, represented Nigeria at the competition, which was held in San Francisco, California on the 9th of August and surpassed teams from USA, Spain, Turkey, Uzbekistan and China to win the gold medal and the cash prize of $10,000.
Motivated by the number of death by fake drugs cases they've heard of in their lifetime, the girls of Save A Soul, aged 12-14, created FD(Fake Drug)-Detector. According to their pitch, the FD-Detector "helps identify fake pharmaceutical drugs in Nigeria". The girls affirmed that over 70% of the drugs sold in Nigeria are fake and to contribute to solving this problem, they intend to partner with NAFDAC (National Agency for Food & Drug Administration and Control) to maximize the impact of the FD-Detector. The application, created under the guidance of their mentor Ms. Uchenna Onwuamaegbu-Ugwu, CEO of Edufun Technik STEM, detects fake drugs simply by scanning barcodes to verify authenticity and confirm expiration date.
Having emerged winners at the regional competition in Abuja in July, the girls swept through over 2000 applications until their final win on Thursday last week. Ms. Uchenna Onwuamaegbu-Ugwu, confirmed that this is the "first time a junior team Nigerian team is making it to the finals in Silicon Valley".
[mc4wp_form id="26074″]
---
"Tomiwa is figuring it out…" Tweet at her @fauxbella
---