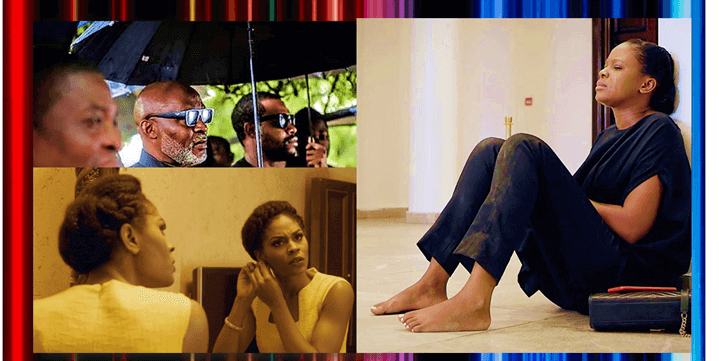 Here's a list of Nollywood titles coming to Netflix in April 2021
Including "Ojukokoro", "Oloibiri", "Awon Boyz", and more
Over the past few years, Netflix has committed to expanding their arsenal with something for everyone, including Africans all over the world with the acquiring of several films from the continent. In addition to commissioning new, upcoming projects, including impending adaptations of literary classics by Wole Soyinka and Lola Shoneyin, the on-demand streaming platform licenses new Nollywood titles at a frequent rate. Nearly every week, previously released films and, to a lesser extent, TV shows are made available to home-based and international viewers, opening these titles to potentially millions more.
Over the last few days, the comedy film 'Three Thieves', and 'Marked', a documentary on traditional facial marks, are the notable Nollywood titles to make it to Netflix. Keeping with the momentum, the streaming giant has announced the imminent arrival of nine Nollywood films that will be available to view on the platform this month. The Netflix release of these films will be scattered across April, giving people ample time to watch each title ahead of subsequent ones, and to get you prepared, so you can a lot your time wisely, here's a list of these newly licensed films by Netflix, along with important information, including the dates they will arrive on the platform, quick synopsis and trailers to each film.
Super stoked about the Naija titles coming this April. 🥳 pic.twitter.com/x5OACCb1jB

— Netflix Naija (@NetflixNaija) March 31, 2021
'God Calling' (2018) – April 2nd
As its title connotes, 'God Calling' is a faith-based film with Christianity at its centre. Written and directed by BB Sasore, the film is focused on Sade as she goes through the psychological ordeal of dealing with a painful loss that also tests her relationship with God. The all-star cast includes Zainab Balogun, Karibi Fubura, Richard Mofe Damijo, Nkem Owoh, Onyeka Onwenu, and more.
'The Fisherman's Diary' (2020) – April 4th
'The Fisherman's Diary' is the only non-Nigerian on this film, but is perhaps being marketed as such for publicity. However, this film was Cameroon's submission for Best International Feature Film at the upcoming Oscar Awards, and even though it didn't make the final nominees shortlist, it's an indicator that it might be a great watch for those who haven't seen it yet. Directed by Enah Johnscott, it follows the story of Ekah, a young girl determined to go to school in a village of fishermen where girls' education is deemed to be taboo.
'Ojukokoro' (2016) – April 9th
Dare Olaitan is regarded as one of the younger directors adding a fresh dimension to Nollywood. His two feature films thus far, 'Ojukokoro' (2016) and 'Knockout Blessing' (2018) were released to critical acclaim, and previously unfamiliar viewers will be able to watch his debut on Netflix this month. 'Ojukokoro'—the Yoruba word for greed—is a multi-genre film that combines crime and drama, as it follows a young, broke man who plans to rob the petrol station he works at. The cast includes Wale Ojo, Tope Tedela, Ali Nuhu, Somkele Iyama and more.
'Awon Boyz' (2019) – April 14th
To live in Lagos is to be conversant with its "Area Boys", a term broadly applied to street hustlers and louts deeply woven into the fabric of the overpopulated state. In this documentary film, director Tolulope Itegboje takes a wholesome and intimate look at who an Area Boy is, where they come from, and what makes them tick on a daily basis. The subjects are eight men spread across three rough areas in Lagos, giving listeners small but substantial sample size to understand one of the state's undying phenomena.
'Doctor Bello' (2013) – April 16th
Written, produced and directed by Tony Abulu, 'Doctor Bello' centres on an emotionally distraught cancer specialist who throws himself into work after the loss of his 10-year old daughter to cancer. In the course of his work, he bonds with 7-year old patient Sam, and he goes to desperate lengths to as Sam's health worsens over time. It stars Isaiah Washington, Vivica Fox, Genevive Nnaji, Justus Esiri, and more.
'Oloibiri' (2016) – April 21st
The story of Nigeria's oil rich Niger Delta region is one marked by pain, suffering and exploitation. The Curtis Graham-directed 'Oloibiri' is a depiction of how the Nigerian government, in collusion with oil companies, mistreated the inhabitants of Oloibiri, the small community in which oil was first found and the country's first oil well was drilled. Its cast includes Segun Arinze, Olu Jacobs and Richard Mofe Damijo.
'This Lady Called Life' (2020) – April 23rd
Written by Toluwani Obayan and directed by Kayode Kasum, 'This Lady Called Life' is a drama film which follows a young, single mother on her quest to become a chef. Critically acclaimed upon its cinema release last October, the film's cast includes Bisola Aiyeola, Lota Chukwu, Wale Ojo, Jemima Osunde, Tina Mba, and more. The film picked up several awards at the Best of Nollywood Awards last December, offering viewers further motivation to hit play when it makes its Netflix debut late in the month.
'Seven' (2019) – April 30th
Tosing Igho followed up his well-received debut feature film, "The Eve", with 2019's "Seven", a drama film about a rich heir given prerequisites by his deceased father before laying claim to his inheritance. Kolade, played by Efe Iwara, has been tasked to live in Ajegunle for seven days, where experiences in the rough hood will challenge his privileged upbringing and worldview. The film also stars Richard Mofe Damijo, Bimbo Manuel, Daddy Showkey, and more.
---