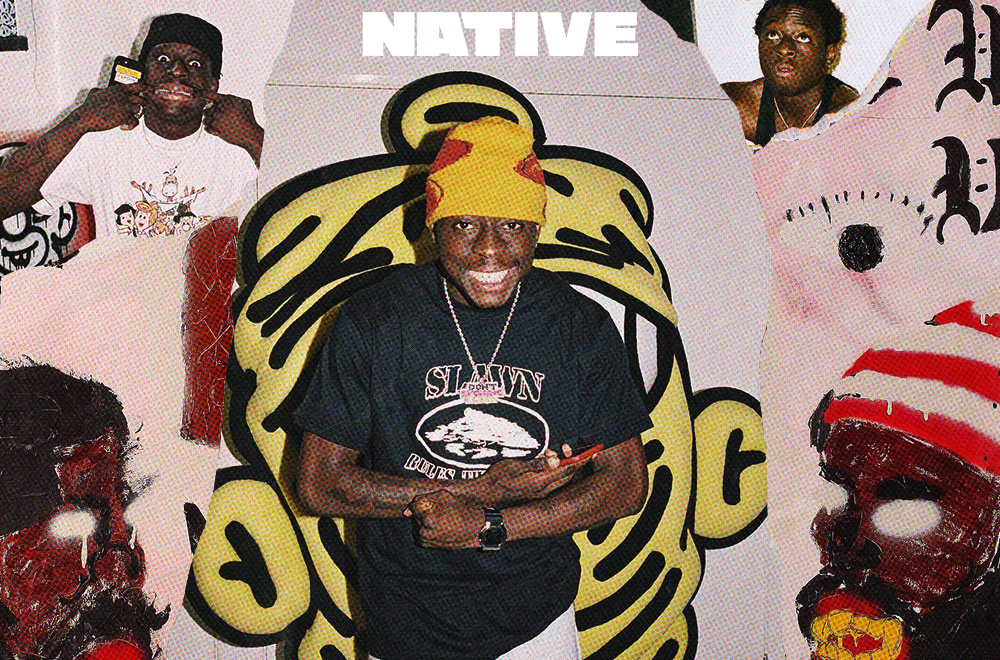 NCVRD: How Olaolu Slawn created Odumodublvck's 'EZIOKWU'
"Eziokwu means hefty as far as I'm concerned. Undeniable, hefty and very unapologetic."
"So I went to his studio, and he just started painting it. He just drew two faces on each side. ODUMODU looking at ODUMODU. Based on 'Omo, I don't need to look to anybody to know that I'm the truth. I don't need validation from anybody.'"
The business of music-making is a largely collaborative process. While it is one of the most essential elements, a number of other factors key into enhancing a listener's experience beyond the artist's chosen soundscape. In this post-digital wonderland, where every piece of music seeks attention, the value of a captivating cover art as introductory first impressions is as invaluable as ever. It preempts the sonic adventures across the album and sometimes hints at the themes explored across the album before the audience can hear the music. In some cases, it is also a reflection of an artist's personality, taste and in this instance, background. 
Considering the level of intricacy adopted through the music curation process, it is only right that the choice of a visual collaborator to accompany all the sonic elements is chosen with utmost care. The artist must have full understanding of the project's vision and thematic perspective, coupled with what is likely the most important aspect of collaboration —the creator's personality. In light of this, it was almost a no-brainer that Olaolu Slawn was the chosen creative mind to translate ODUMODUBLVCK's vision for 'EZIOKWU'.
View this post on Instagram
"I think they represent similar things in terms of their rebellious spirits, always speaking the truth and fearlessness. That's something I see in Slawn and ODUMODU. Being very close to both of them, I definitely get similar energies when I'm around them. I knew that making those two create something together would be extra special."  – Teezee
NATIVE: How did you and ODUMODUBLVCK meet and when did your relationship bloom?
Slawn: I heard his verse on a song and I was impressed so I tapped in with him. It blossomed from there. I kept on tweeting about him and it turned into a whole relationship. I also spoke to Teezee about him. At that moment, there was a lot of controversy on the internet about his verse on a song. When we went to Ghana and  finally linked up, I felt like this was my person. Then it came down to making the artwork and he was very free flowing. I was making the art while speaking to him so the energy that was in the room transmitted easily onto the canvas. 
NATIVE: A major comparison many fans can draw between you and ODUMODU is your relentless attitude to make what you want to make, whether or not audiences may be in disagreement. How did you feel when he approached you to make the mixtape cover?
Slawn: I was gassed but I don't even think I was approached. I told them I wanted to do it. I had listened to the tracks so I reached out to Teezee and was like "Yo, when is 'EZIOKWU' coming out? I want to make a cover for him." If anything, controversy wise, his energy reminds me a lot of Kanye West. I'm also hugely inspired by Josh Condor and I wanted to create that same energy with reference to our relationship and friendship.
NATIVE: Artist collaborations and commissions can be tricky regarding creative differences. To what extent would you say you were granted creative freedom to bring the visions to life?
Slawn: Well if you don't know the person, it's tricky. But I know ODUMODU and I know Teezee. They're my guys. They're like my brothers so it's very evident that it didn't take a lot for us to produce what we did. The energy is there. It was natural and it was organic.
Teezee: We just went to Sloan's studio and watched him make the artwork. We played the music in the background. Everybody was jonzing and he was doing his p.
View this post on Instagram
At the nucleus of ODUMODUBLVCK'S mixtape, 'EZIOKWU,'  Slawn inscribed a slew of symbols popularly known as Nsibidi. This symbolic system of writing, also known as Nsibiri, Nchibiddi or Nchibiddy, was common to the people of south eastern Nigeria. In an attempt to rewrite history, several texts have reinforced that prior to Western civilisation, Africans relied solely on verbal communication with little to no recorded languages. Speakingabout the inspiration behind the mixtape's visual identity and utilising such key parts of Igbo's ancestral heritage, ODUMODUBLVCK simply stated, "That's my heritage. That's the truth." 
"When someone says the truth, it covers everything. E even cover reach poverty because for some people, na their life be that. From the time wey we dey suffer to the time way we dey happy, everything is inside the body of work. All those symbols have to be there for people to see that this is what we're about for real."
NATIVE: What does the title, 'EZIOKWU' mean to you and how did you channel that into creating the mixtape's cover art?
Slawn: Eziokwu means hefty as far as I'm concerned. Undeniable, hefty and very unapologetic. Those are the best three words I can use to describe it. It's big energy.
NATIVE: Let's get into the details of the cover. At the centre, we have some Nsibidi symbols indigenous to Igbo culture. What inspired the choice of such symbols and how do they key into the vision for the mixtape?
Slawn: The white people at some point said we couldn't read or write, which is clearly a lie. We definitely had some form of communication which is Nsibidi and the name of the album is EZIOKWU, truth, so it felt right to do that.
NATIVE: The most noticeable feature is the symbol of two heads between a crown, one of which we can assume is ODUMODU for the iconic red, black and white striped hat (Okpu Isi-agu). What do these figures facing each other represent?
Slawn: Who ODUMODU is in real life is kind of the same person he is online. So 'EZIOKWU' is like him against himself but they're pretty much the same. One of them just wears the red cap and the other does not. When he goes home he's going to take off the red cap so he's not always wearing it.  It's him against himself, but it's still him regardless.
NATIVE: What informed this choice of a colour palette with red, black, white and yellow?
Slawn: So usually if I'm doing a painting like that for someone like ODUMODU, I want to make it powerful. I always cover up really good previous artworks of mine. I'll cover it and then the artwork that's under will seep through so you can see it. That's how that base colour came about. It wasn't a hard decision. I just covered up one of my favourite paintings. Red, white and black are also just his colours considering the hat he always wears. 
NATIVE: The release of this mixtape is a momentous occasion for ODUMODUBLVCK and the wider fabric of Drill music in Nigeria. What's it been like being a part of the creative process?
SLAWN: I'm just happy to be working with a friend. All that hard stuff doesn't really matter to me at the end of the day. I'm just happy to have been part of the whole process.
---
Interview by Chigoziri Ezeaku. 
---