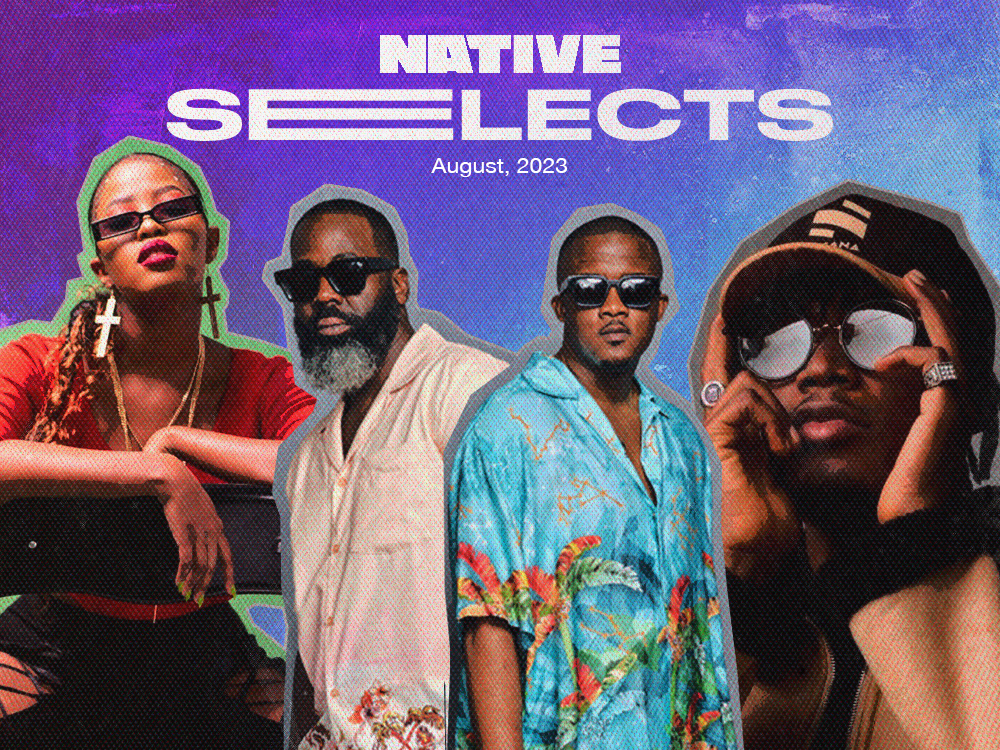 NATIVE Selects: New Music From Show Dem Camp, E.L, Muthaka & More
some new great songs to check out
Every week, new music shows up, sweeping fans and music lovers off their feet while artists gauge reactions to know the effect of their creativity. At the NATIVE, we are committed to keeping our ears on the pulse of the music scene and bringing the best sounds to your doorstep. In our last edition, we brought you new releases from Guchi, Diamond Platnumz and more. Today, we have songs that move from Afropop to Amapiano to R&B, with our select artists showcasing their unending talent and passion for creativity. Lock in!
SHOW DEM CAMP FT. BELLAH – "WYW"
Off 'Palmwine Music Vol. 3' from Show Dem Camp comes this new music video. A favourite among listeners of that sprawling, feature-laden body of work, here the rap duo translate its theme of a toxic relationship into a stirring visual montage. The looks are exquisite and the scenes packed with deliberation as much as action, and Bellah pulls off a riveting performance as the femme fatale. Everything works to beautifully extend the run of this record. 
TOLIBIAN – "Happy"
Abubakar Abdulmutolib Ottan, popularly known as Tolibian is a fast rising singer and songwriter from the North Central part of Nigeria (Ilorin, Kwara state). On his latest single "Happy," the singer delivers a perfect fusion of Afrobeats and Apala, which can best be described as tuneful and classic. On the new track, Tolibian attempts to paint a mental picture of what living a true happy life feels like with lyrics such as "We battle and survive/Wetin God design no fit collapse."
E.L – "SOBA"
One of the most consistent artists from Ghana, the music of E.L has always retained a funny, quirky outlook. "Soba" is his latest, colourfully rendering the azonto sound in a contemporary light. The result is a hit ready-made for online challenges, which should get the song's hype buzzing afterwards. Considering the celebratory period we find ourselves in this year, there are surely great prospects for the record going forward. 
MONSEEKA – "OVER THE RADAR"
Monseeka might be a newcomer, but she's clearly accrued experiences that glow under the heat of her pen. Her intense sensibilities are captured on this record, which details her floating towards the perfect place. Emo themes are increasingly fancied by young musicians; that is because the mental landscape offers so much narrative material. Helmed by the masterful Bigfoot, this is a sterling addition to that tradition. 
MUTHAKA & EMMA CHERULO – "TOUCHING ON MY BABY"
A consistent feature in the African music scene is the soulful excellence of Kenyan artists. The country has no shortage of artists adapting genres like R&B and Soul, matching their soulful core with the vibrant percussions within their popular music. "Touching On My Baby" benefits from that fusion, blending the impressionist voices of both musicians to tell a sweet-sounding tale of desire and protection. A vintage touch is present in the visuals, which references the eighties-evoking vibe of the record. 
KING PERRYY & IDA BANTON – "DENGE"
The Port-Harcourt sons unite for this scorching banger. "Denge" harkens back to the sound of Baba Fryo and his iconic dance, actualised through a contemporary filter which manifests in the zesty edges of its mastering. At its core, however, is a simple Dancehall riddim and a vocal sample, while both artists float assuredly over the record. It's expectedly light work for King Perryy who's in familiar territory, but it is 1Da Banton's verse, brief and boisterous, which brings the song home. 
JAY-WAY – "ONLY ONE I THINK ABOUT"
A thrilling sense of adventure follows every second of this record. Crafted with intimate observation and fun-paced progressions, it blurs sonic lines between bedroom pop and rap music. The Dutch-Ghanaian act has also put out a five-track EP of the same title, incorporating zesty touches from nearby genres of alternative rock and dubstep, all of them working towards the project's portraiture of a colourful, complex existence, which ostensibly belongs to the young. 
MOHBAD – "BEAST & PEACE"
Earlier this year Mohbad released the 'Blessed' project, unarguably his most important one yet considering the events which preceded it. Off that project, few songs captured its stark imagery as vividly as its opener, "Beast & Peace". The song, as its title suggests, presents both sides of the street reality while centering his own trajectory within those considerations. On the just-released visual he's dressed as someone who's just come off a fight, a telling allusion to the song's message of personal strength amidst the trials of being persecuted and picked upon. 
MAJOZI & MTHANDAZO – "MI AMOR"
On this jazzy track, the South African artists combine to pine about a lady's love. Cheesy, affectionately-drawn images are drawn with lighthearted touch, while the easy production reminds you of a rainy day. It's a beautiful song whose strength arises from its tenderness, which is evident from the guitar progressions down to the background vocals. Each element contributes to its dazzling whole, making this the perfect soundtrack to a loving moment. 
[Featured Image Credits/The NATIVE]