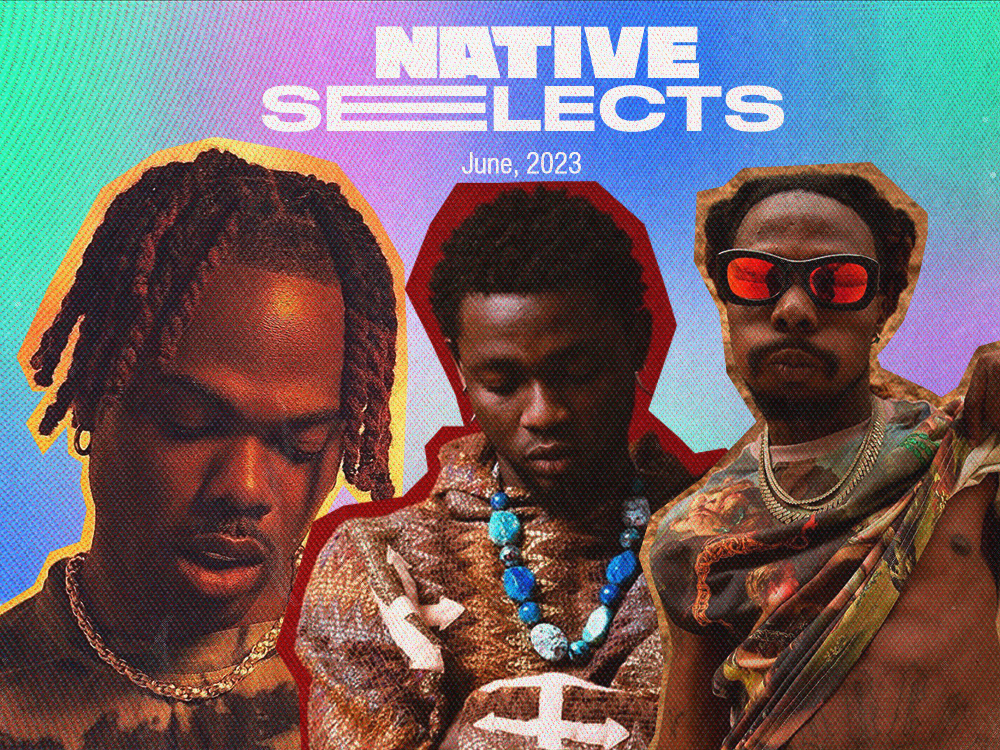 NATIVE Selects: New Music from Omah Lay, Libianca, CKay & More
new music for the weekend
Every week, new music shows up, sweeping fans and music lovers off their feet while artists gauge reactions to know the effect of their creativity. At the NATIVE, we are committed to keeping our ears on the pulse of the music scene and bringing the best sounds to your doorstep.
In our last edition, we brought you stellar new releases from Simi, Reekadi Banks, M.I. and more. Today, we have songs that move from Afropop to Amapiano to R&B, with our select artists showcasing their unending talent and passion for creativity. Lock in!
ASAKE – "MOGBE"
Mr Money needs no introduction. Following his debut album 'Mr. Money With The Vibes' with 'Work of Art,' Asake with a mix of Yoruba, and English tells stories of his birth, and successes since he took the Nigerian music industry with catchy amapiano-fused sounds. With the 14-tracked album, Asake emphasizes his zeal for creating music that delights his audience across the world. "Mogbe" is one of the standout cuts.
CKAY – "NNEKA"
After ending 2022 with his debut album 'Bad Romance,' CKay returns with the deluxe version and four new tracks: "capture my soul" with Joeboy, "nwayi," "NNEKA" with Tekno and "HALLELUJAH" with Blaqbonez.  The most recent of the tracks "capture my soul" and "NNEKA" possess boundless energy; on the former, CKay and Joeboy serenade their lovers with praise and affection, and on the latter, CKay and Tekno lace their affection for their lovers with sexual fervour. The songs are a reminder of CKay's musical ingenuity and versatility. 
OMAH LAY – "reason"
Extending the successes of his debut album, 'Boy Alone' Omah Lay has released a deluxe edition of the album. The six-tracked album has "reason," "It's Yours," "Come Closer," "Imagine" featuring Aitch, "Joanna" and "Soso Remix" featuring Ozuna. With 'Boy Alone Deluxe,' Omah Lay continues with delivering fascinating storytelling with themes of heartbreak, sex, and romance. 
NISSI – "HIGHER"
Known for her scintillating vocals, Nissi has garnered a core fanbase. That section of listeners would surely be grooving to "Higher," the singer's new record. Coasting over mid-tempo percussions with stuffy 'piano-tinged bass, it's an ethereal medley carried on her edgy songwriting. Nissi continues to demonstrate her musical talent, possessing several traits which reveal her unique sensibilities as an artist. 
LIBIANCA – "JAH"
Since her breakout single, "People", Libianca has kept her releases short and sweet. Her new single flows with assured ease, appreciating the encompassing role of God in her life. If her entry was carried on wings of melancholy, here she strips the weight, obviously living life in a better place. The sonic choices embody that progression as well, striking an optimistic tone alongside the honeyed tone of Libianca. 
KELVYN BOY – "VERO" 
Ghana's Kelvyn Boy captivates with his latest tune "Vero," a groovy love story where he expresses his deep affection for a woman named Vero. The song showcases Kelvyn Boy's unique style and infectious energy, crafted with heartfelt lyrics and production by Ghanaian producer Master Maison.
MZ KISS – "BP DROP"
Amapiano is the foundation for Mz Kiss' latest effort "BP Drop," a playful account of the Nigerian nightlife lifestyle. Mz Kiss alternates between social commentary and sensual needs as she touches on the dynamics of wealth and the good life between men and women. While laced with some seriousness, "BP Drop" is a fun, enjoyable track.
FIRSTKLAZ & HITSOUND – "I LIKE GIRLS"
Nigerian musicians Firstklaz and Hitsound—both creatives under Black Butter Records—team up for the catchy tune "I Like Girls." Based on the social media-generated maxim of "Fear women," singer Firstklaz and record producer Hitsound turn the saying in its head to celebrate their love for women. Amidst an infectious production and backing vocals, Firstklaz and Hitsound show signs that they are a promising duo to keep an eye on.
SUKAH – "JUNE"
There's no doubt that Nigerian music is operating at high levels. Beyond the glitz of the mainstream, a number of musicians are creating exciting sounds, and one such act is Sukah. Infusing spacey Victony-reminiscent melodies and progressions into his songs, he is consistently enjoyable. "June" is a mellow bop, basically about waiting on a lover, but it's the dreamy-eyed singing that makes the song stick. 
Featured image credits/NATIVE