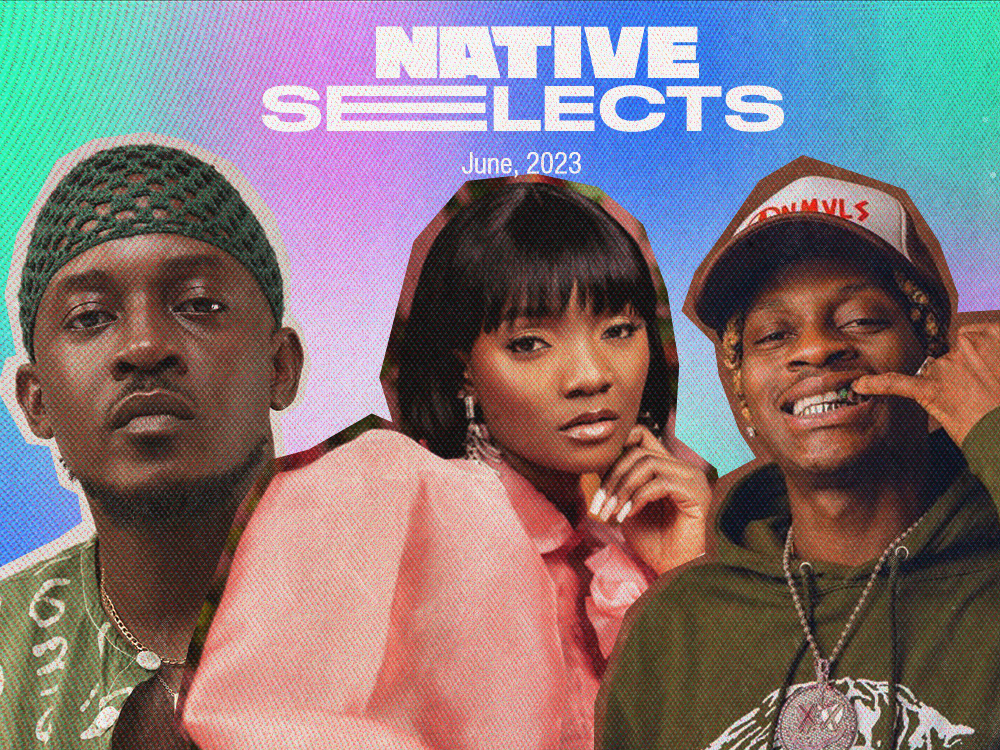 NATIVE Selects: New Music from Reekado Banks, Simi, M.I & more
tunes to kickstart your weekend
It's that time again. Every week, new music shows up, sweeping fans and music lovers off their feet while artists gauge reactions to know the effect of their creativity. At the NATIVE, we are committed to keeping our ears on the pulse of the music scene and bringing the best sounds to your doorstep.
On our last edition, we brought you stellar new releases from Amaarae, Oxlade, Tiwa Savage and more. Today, we have songs that move from Afropop to Amapiano to R&B, with our select artists showcasing their unending talent and passion for creativity. Lock in!
REEKADO BANKS FT. ADEKUNLE GOLD & MALEEK BERRY – "FEEL DIFFERENT"
While Reekado Banks has had a fairly quiet couple of years, he's made an admirable comeback with a slew of releases this year. Adding to the catalogue, he tapped Adekunle Gold and Maleek Berry for an upbeat, groovy track with subtle log drum embellishments. Reekado starts off the track emotionally sore from the consequences of love gone wrong as he adamantly steering clear of catching feelings. He holds the track's intoxicating hook with supporting harmonious vocals from Adekunle Gold while Maleek closes the track out on high notes, reiterating the message of a new romantic feeling and its dangers. 
SIMI – "STRANGER" 
Simi tracks always come with a promise of spell-binding vocals and her most recent release is not different. Leading in with mellow piano keys, the sombre tone is instantly set on the love-themed track. The song's message is clear as Simi delivers a heartfelt rendition on the vulnerability of love and its ability to make one do bizarre things. Midway through, she dabbles between Yoruba and English with background vocals expressing feelings of love and loss. 
L'RAIN – "NEW YEAR'S UNRESOLUTION"
L'rain makes a promising comeback on "New Year's UnResolution" after a break since the release of her 2021 album, 'Fatigue.' At the start of the new number, we're met with a futuristic instrumental reminiscent of sounds moving through time and space. Her dulcet vocals take over the track as she harmonises with the help of a slow paced drum pattern. Through the course of the track, her vocals are airy and almost trippy, transporting listeners into an other-worldly soundscape. 
BAABA MAAL – "FREAK OUT (BABA ALI'S REMIX)"
Following the release of his extended play earlier this year, the Senegalese heavyweight is back for the remix of one of the project's lead singles, "Freak out." This time, he taps into Baba Ali for an upbeat rendition rich with punk and disco elements. Mid way across the track, the eccentric production shines through as the vocals take back stage in a repetitive, mid-tempo pattern. 
Y'AKOTO – "WMYT (WHAT MADE YOU THINK)" 
Y'akoto embraces an engaging narrative style as she introduces her recent release paired with a bubbly instrumental. Fitting well within her discography, "WMYT" is a seamless blend of rhythmic, laidback vocals and Y'akoto's sultry vocals.
M.I ABAGA – "PLAN B"
Veteran Nigerian hip-hop singer, M.I Abaga has started the year with a single "Plan B" which provokes the consciousness of the Nigerian listener. With its enthralling sounds and lyrics, M.I takes a deep introspection to the different issues affecting young Nigerians. He draws attention to the political, socio economic, and religious actions that play a role in our development. Against the backdrop of the administration in power, "Plan B" is a call to action on the various problems that need solution.
PSYCHO YP & AJEBO HUSTLERS – "NOT MY FAULT"
Introducing the track with sweet-sounding instruments, PsychoYP taps the talented duo Ajebo Hustlers for "Not My Fault" with its catchy beats and lyrics. Ajebo Hustlers and PsychoYP share sizzling verses, blending their styles and sounds perfectly which lays credence to their creativity. Produced by Thrill Max and Ramoni, "Not My Fault" uniquely captures and complements the vocals of PsychoYP and Ajebo Hustlers in this groovy track.
ULOKO – "NSOGBU"
New artist on the block, Uloko reflects on the travails of life "Nsogbu" and highlights the problems of life and preaches tenacity as a way of overcoming and taking control of your life. He captures the spirit and energy of artists who are charting new paths with their craft. "Nsogbu," which is Uloko's first single, is proof of his musical prowess. 
Featured Image Credits/The NATIVE