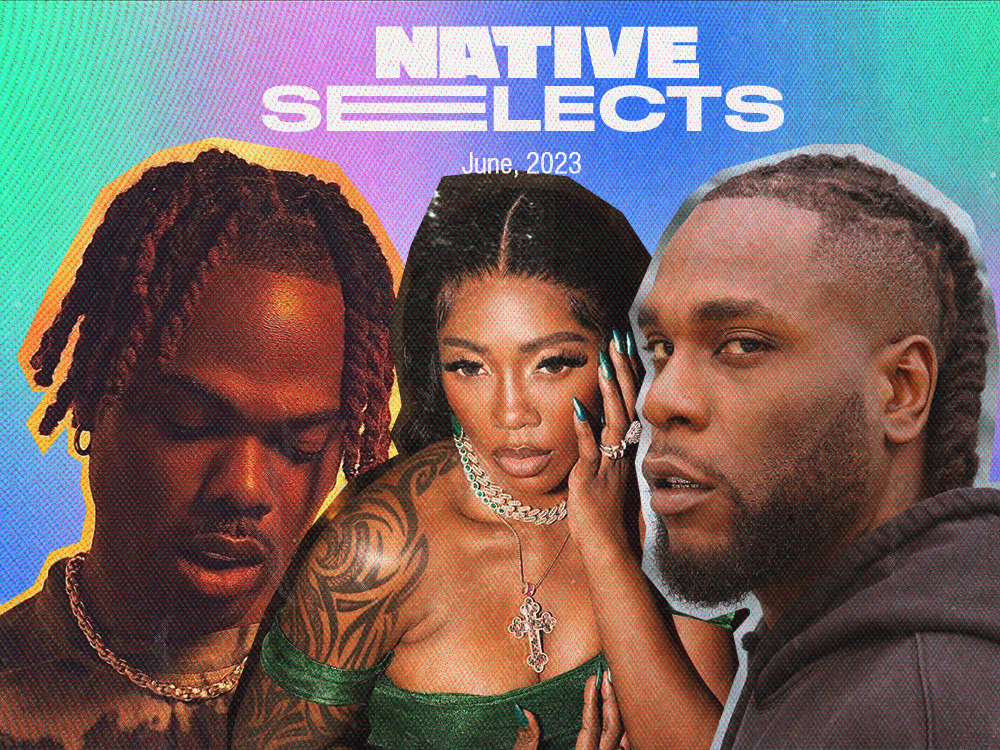 NATIVE Selects: New Music From Tiwa Savage, Bloody Civilian, CKay & More
some exciting new songs to get into
It's that time again. Every week, new music shows up, sweeping fans and music lovers off their feet while artists gauge reactions to know the effect of their creativity. At the NATIVE, we are committed to keeping our ears on the pulse of the music scene and bringing the best sounds to your doorstep.
On our last edition, we brought you stellar new releases from Amaarae, Oxlade, Tiwa Savage and more. Today, we have songs that move from Afropop to Amapiano to R&B, with our select artists showcasing their unending talent and passion for creativity. Lock in!
TIWA SAVAGE – "PICK UP"
Having got off the year to a great start with "Stamina", Tiwa Savage is consolidating on its success. She calls up the magic fingers of Blaise Beatz, whose Amapiano production is polished with breezy flourishes. Tiwa's writing accounts for a lover's unrequited style, choosing to move forward with her own heart intact. It's a powerful record with groovy finishes, indicating that this one would rock the dance floors sooner than later.
BLOODY CIVILIAN – "ESCAPISM"
Ahead of her scheduled debut EP, the talented Bloody Civilian has shared a new record. "Escapism" is much like the music she creates; with the contemporary touch of log drums, the sonic landscape is broadened through the infusion of ethereal elements in the background. There's also the progression of EDM-esque synths and vocalisation, proving the auteur appeal of Bloody Civilian's music. With the songwriting obscure and yet focused, it's a beautiful record that sets up her imminent release.
BURNA BOY – "SITTIN' ON TOP OF THE WORLD"
Years deep into performing around the world, Burna Boy has reasons to be celebratory. His new clinks glasses to that mood, right from the statement of its title. Slightly referencing "Last Last", he samples Brandy in this early noughties R&B-reminiscent number. His vocals layered with precision and feeling, it's a feel-good capsule ready made for summer. 
OLAMIDE FT. ASAKE – "NEW RELIGION"
It has been barely weeks since the YBNL duo featured on a song together, but they're already consolidating on that creative run. This time it's Olamide featuring Asake, both artists giving a quintessential account of their skills. With Asake's word bending meeting an assured rap verse from Baddo, it's a song with obvious cues from the corridors of power. As Olamide raps, "Only dead fish go with the flow". 
KCEE – "OJAPIANO"
In the hands of Nigerian artists, amapiano has been constantly updated and paired with other sounds. However, KCee might just have curated the most innovative pairing yet. "Ojapiano" merges the spiritual grooves of the Igbo flute oja with amapiano log drums. The result is a vivid reconstruction of legacy genres, creating an effervescent mood that sounds ready made for TikTok dominance. 
ZINOLEESKY – "A1 (FEELING DISORDER)"
Zinoleesky has been in the news lately for non-musical reasons, from the tiff with Seyi Vibez to buying a new Ferrari. But as he's been known to do, he's very intent on associating his person with the music. "A1 (Feeling Disorder)" revives that motivation; with bouncy drums from frequent collaborator Timi Jay, it's a sensual record which would light up a dancefloor as easily as it does the bedroom. An A1 song, literally. 
ODEAL & BRAZY – "BE EASY"
After months of teasing the snippet across social media platforms, the highly anticipated track is finally here. Odeal enlists Brazy for a breezy tune which samples the latter artist's standout single, "Attends," within a mellow, slowed down soundscape. Still retaining the track's iconic hook, "Be Easy" showcases Odeal's dulcet vocals, accompanied by rhythmic piano chords and repetitive clapping embellishments that give the track an undeniable edge.
SIGAG LAUREN & RIC HASSANI – "MINDS ALREADY MADE UP" 
Ahead of a forthcoming project, musician Ric Hassani and EDM producer Sigag Lauren have released a new single. Hassani's passionate vocals find solid footing in the fleeting synths of Sigag's production. As he's demonstrated from variant angles, Ric's writing is influenced by romantic conflict, and here the mood of a character who's decided to mood on enters the music. By all means a fine pairing, this sets up the project very well. 
GUCHI – "ALL OVER YOU" 
The underrated tag is one that's been thrown around recklessly in recent times, but if there's one artist who hasn't gotten their deserved flowers, it's Guchi. With several hit songs and affecting deep cuts under her belt, her acclaim somewhat falls short of her talent. Her latest two-track release which includes "All Over You" aims to resolve that. A breezy love account, it's a vivacious record with dramatic flourishes. 
PHEELZ – "YOLO" 
Since breaking out as an artist, Pheelz has supplied a good number of bubbly records to Afropop. "YOLO" extends that vision: with signature crowd vocals, it's a song which celebrates the primal instinct to live life. Of this mood, Pheelz creates an elaborate musicality around, not only thrilling on a writing level but visceral as well. 
JAE5 FT. LOJAY & LIBIANCA – "I WISH"

Increasingly collaborating with African artists in recent years, Jae5 features the emotive duo of Libianca and Lojay on this one. "I Wish" bares all the hallmarks of the heartbreak song, introduced by Lojay's dulcet vocals and polished with a serenading verse from Libianca. With a stripped atmosphere, it's a record crafted with cold nights and wine in mind. 
CKAY – "NWAYI" 
Never one to take his foot off the gas, CKay has been typically prolific this year. Following up on the Blaqbonez-featured "HALLELUJAH", he's now returned to the mid tempo terrain he flexed on his 'Sad Romance' album. Incorporating endearing Igbo phrases to the verse, he crafts a sweet record that embodies the head-spinning highs that comes with being in love. 
MOONLIGHT AFRIQA – "LOVE DIMENSION" 
One of the most promising young talents around, Moonlight Afriqa has released his debut single "Love Dimension". A riveting single, it showcases Moonlight's fine grasp on contemporary Afropop, in sound and language. His singing bares all the emotive qualities of the classic love song, though his is brilliantly situated in the context of Nigerian experiences. Primed to become a superstar, Cosign Music has someone solid in their books. 
RUKMANI – "SO FINE"
Having released her single not long ago, Rukmani has proven herself as an artist to watch out for. Her scintillating vocals carry her sharp sense of self, as heard on her new record. Featuring Duduboy, it's a stripped account of infatuation and celebration, an ode to the attributes of a love interest. Her guest amplifies the narrative quality, presenting an alternate perspective on the topic. 
1DA BANTON – "OMOTOLA" 
Releasing the '1Da Shall Never End' a short while ago, 1Da Banton has now premiered visuals for "OMOTOLA". The song is a vivid reinterpretation of afrobeat, carried on the musician's distinct vocals. Considering the myriad successes 1Da Banton has recorded over the year, this is a fine extension of his acclaim. 
BASIIL – "VIBRATION"
The soundscape of Afropop has seldom had a more vibrant scene. Partly due is the influx of rising artists whose sound colors outside of typical expectations; one of such musicians is Basiil. His new song "Vibration" flexes his vocals over a distinct production, while his writing aims at an impressive level of relatability, at some places quite reminiscent of Adekunle Gold. You should check this out. 
COZY KIYO FT. KONDÉ OKO – "I.J.G.B"
One of the more visible names creating bedroom pop, Cozy Kiyo has been expanding his artistry. That development is evident on "I.J.G.B," his new single which features Kondé Oko. An atmospheric number, it's a groove with smooth movements and narrative clarity. It situates dramatically a character in the fore, with both artists singing endearing her personality on the minds of listeners.
Off his 'HI, I'M LULU' comes this personal record. In conversation with the themes of psychological distress that's rife in modern Afropop, it's a striking account that's delivered with sufficient evocation. The songwriting culls the nuances from Pidgin English, demonstrating the Abuja based singer's grasp on the language of now. In all, it's a noteworthy project.